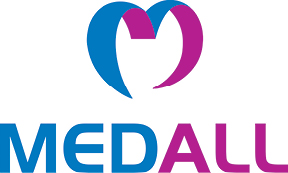 With many clinical and technological innovations – such as health on wheels, Medall, the leader in integrated diagnostics services, is trying to create niche in diagnostic area. With over 600 outlets providing services in 9 states across 71 districts, the company is trying to create tangible difference in delivery of patient care to people at large.
Diagnostics market in India is growing in rapid manner at around 17 percent annual rate and estimated to be at $10 billion. Awareness among doctors and public is increasing in unprecedented manner and diagnosis in general is now becoming an integral part of any consultation provided by doctors today.
MEDALL'S JOURNEY
Medall was started in 2009 with the objective to become one stop solution for all diagnostic services. Since then it has been catering people with passion, competence and commitment. Providing the best health services at an affordable cost is its mantra.
We put together a group of passionate and committed radiologist and pathologists who want to a make a substantial difference in delivery of care and today Medall serves over 10 million customers every year both in PPP and the private segment of the business.
With over 600 outlets we are providing services in 9 states across 71 districts, dominating southern part of India. Accessibility and affordability are some of our biggest differentiators. We complement with home collection services so that people don't have to spend too much time travelling to get the services.
Medall is a leader in integrated diagnostics services. Our aim is to become top provider which contributes to create a healthy India.
Stay aware and stay healthy is the mantra that we follow. We focus on to increase awareness about health and wellness concept among common people.
Medall serves patients who belong to economically weaker sections of the society with same passion, competence and commitment that are usually made available to private patients. They are being catered with same dignity, respect and quality as patients of higher echelon who are financially strong.
Through PPP contracts in Andhra Pradesh, Telangana, Jharkhand and Tamil Nadu, we serve the poorest of the poor people. We are also reaching out to the lower middle class through products and services that are accessible, affordable and cost-efficient as well.
With an objective to make every individual to stay aware and stay healthy, Medall is planning to move significantly into the preventive space. We have packages like SASH for an individual to know his / her health score, HMP – a complete family health monitor and privilege card.
State Governments are also actively promoting healthcare to the citizens by becoming a payer and not a provider allowing private service providers to participate in private public partnership to provide better diagnostic services.
To accomplish all of the above objectives, Medall has incorporated many clinical and technological innovations – such as health on wheels, service at door step, mobile lab collection vans, teleradiology, error proofing in lab processes, digital dashboards for process monitoring, and IT-enabled internal and external quality routines.
PPPs are all about balance: maintaining equilibrium between public and private, risk and reward, cost and impact. Understanding this balance is especially important in regions with extreme poverty, where access to infrastructure can mean life or death.
JHARKHAND LACKS DIAGNOSTIC SERVICES
Jharkhand, a low income State in eastern India, faces a significant shortfall in public health delivery services aggravated by a severe lack of diagnostic services.
The lack of quality and standard diagnostic services forces people to either forgo them or purchase services from private facilities of mostly poor and varying quality, while incurring heavy out-of-pocket expenses and additional costs related to travel and over-testing.
In a bid to address these long standing issues, and driven by a desire to provide equitable access to quality and affordable diagnostic services to its residents, the Department of Health, Medical Education & Family Welfare of the Government of Jharkhand has proposed to set up advanced pathology diagnostic centers in all the 24 district headquarters hospitals (DH) and three medical colleges (MC) in the state.
It seeks support from International Finance Corporation (IFC) to structure and establish the pathology centers through a public private partnership (PPP).
In Jharkhand, Government's aim was to develop and manage a network of advanced radiology and pathology diagnostics services under public- private partnership in all 24 district hospitals and in the three state-owned medical colleges.
The challenge was to ensure that the technical configuration and project structure aligned with the Government of Jharkhand's overall strategic vision for augmenting health services, while ensuring it also was tailored to local conditions and requirements.
After competitive bidding, the project for 12 districts was awarded to Medall Healthcare Private Limited, which is one of the most reputed and largest players in the diagnostics sector in India.
The concession agreements were signed with Medall, and the company was expected to start operations within nine months. Medall Healthcare Private Limited was supposed to be responsible for financing, equipping, operating and maintaining state- of-the-art pathology laboratories across Jharkhand, and providing quality services to its citizens. We are passionate to serve the denizens of Jharkhand. Our mission is to serve poorest of the poor.
All the 12 labs in Jharkhand are high end advanced labs with NABL accreditation. Patients now have access to advanced tests in biochemistry, haematology, immunoassay, cytology, microbiology & histopathology with consistent TAT.
We have the highest number of pathologists, microbiologists and biochemists located in each district and dedicated to the state for timely and diligent approval of the patient reports. Skills of our phlebotomists and lab technicians are constantly upgraded. Our quality systems go through rigorous Internal and External Quality Assurance (EQAS).
Medall's operational excellence strives to enhance customer experience and customer intimacy.
As we move forward we will continue to leverage our proven processes, methodology and practices that we have built over the years to become India's largest diagnostics company by increasing our footprint in more states in India and Internationally.