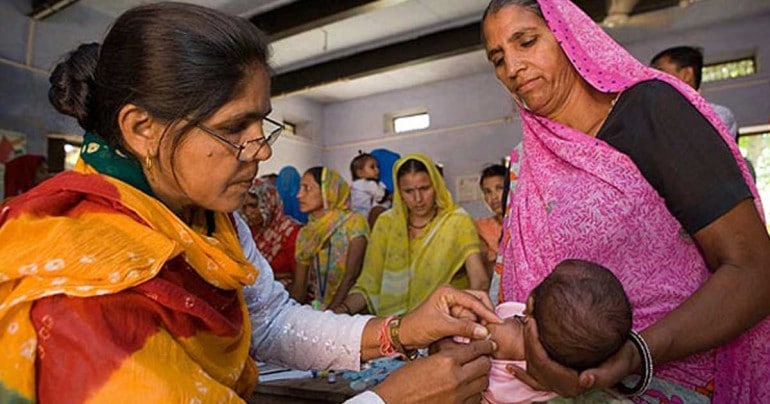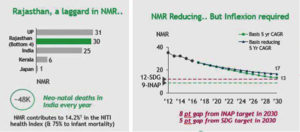 The Chirayu programme was launched in Rajasthan with a set goal of reducing the neonatal mortality rate, which is among the highest in India, with sharp focus on eight high burden districts of the state. After completing one year, there are clear indications that it has strengthened the infant related systems and processes for good, writes Vivek Ratnakar of Elets News Network (ENN).
Of the 1,000 babies born in Rajasthan, 30 would die during the first 28 days of their birth. Even as this abysmal figure of neonatal mortality rate (NMR) is higher than the average of 24 for India"making the country as the 12th worst in terms of NMR in the world" Rajasthans laggard performance on this crucial health parameter continues to undermine the efforts being made in other sectors.
This required an inflexion to achieve targets set under the Sustainable Development Goals (SDGs)"a set of 17 goals aimed at ending poverty, fighting inequality and injustice, and tackling climate change by 2030. But since in Rajasthan there were no structured NMR-focused programmes or review mechanism, it was a tall order for the government.
The Chirayu programme, therefore, came into being with a set goal of reducing NMR with sharp focus on eight high burden districts of Rajasthan, namely, Barmer, Dholpur, Jalore, Karauli, Rajsamand, Sawai Madhopur, Sirohi and Udaipur. Four development partners and 16 office mentors were also assigned to make the programme effective.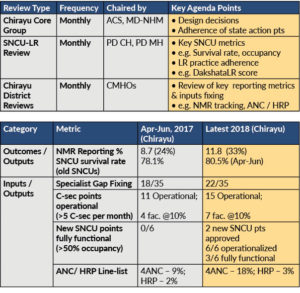 Key Focus Areas under Chirayu
The most important aspect of Chirayu programme is to prepare an action plan to prevent neonatal deaths. The Health Department has taken steps to strengthen the healthcare services for neonates at sick newborn care units (SNCUs). Also, the department focuses on operationalising C-section points in districts to ensure that the pregnant women with complication receive caesarean deliveries facility immediately at the time of need.
Under the flagship neonatal programme, the health department puts emphasis on providing referral transport to ensure availability of vehicles for pregnant women. There is a provision to conduct line-listed tracking of deliveries and neo-natal deaths. Conducting still births and neo-natal death reviews is also an important part of the programme. Fixing accountability by taking punitive action against worse performing community workers is also built into it.
Basis expert advice and global researches, the following areas have been prioritised under Chirayu:
1. Ensure Special Newborn Care Unit (SNCU) coverage and improve SNCU practices
2. Improve labour room practices and improvement of high delivery points
3. Ensure First Referral Unit (FRU) operationalisation (improving C-section performance) and referral linkages
4. Improve Antenatal Care Coverage (ANC) coverage, Horseradish Peroxidase (HRP) identification and delivery planning
5. Fix Neo-natal death reporting 6. Ensure accountability and reviews
Governance mechanism
To drive key focus areas under Chirayu, a comprehensive governance mechanism has been setup. The ultimate aim is to improve team behaviour in a holistic manner rather than one area. A sharp focus on transforming the practices and infrastructure is key to ensure success of the programme.
In addition, Chirayu key metrics and progress against target are also reviewed in the CMHO VC review chaired by ACS and MD-NHM.
Translating efforts into results
The Chirayu programme has completed one year in June this year, and there are clear indications that the focus on newborn mortality reduction is now percolating to the field.
Thanks to Chirayu programme, a new lease of life was given to a newborn at SNCU Dholpur earlier this year when the child weighing only 830 grams managed to survive all odds and was discharged after 56 days weighing 1.3 kg. It is one of the many success stories that will go a long way to establish the credibility of the programme.
At district and block level, Chirayu reviews are running independently enabled by automated dashboards provided by the state.
Under the programme, the infant related systems and processes are being strengthened, including data systems like PCTS, SNCU and LRMIS. The network of newborn services has been bolstered at primary health centres, community health centres and at district hospitals across the state.
As many as 53 sick newborn care units (SNCU) were set up in the state to provide necessary health services to neonates. The units were provided with radiator warmer, phototherapy machine, syringe infusion pump, pulse oximeter and other necessary equipment for the child care.
The Health Department also appointed trained staff to treat underweight neonates and premature babies and children suffering from various diseases such as breathing problem, infection and jaundice. Besides, newborn stabilisation units have been set up at select community health centres to prevent neonatal death due to birth asphyxia, infection, diarrhoea and hypothermia.
Transformation through Innovation
In a bid to close the yawning gap between the demand and availability of specialists, the National Health Mission-Rajasthan recently conducted a bidding process to appoint specialist doctors for operationalisation of First Referral Units and Comprehensive Obstetrics and Neonatal Care Centres.
Under the initiative, a salary of upto 2.5 lakh/month was offered to suitable candidates. Of the 150 applications received, 27 specialists were offered jobs through the process and six have joined their respective neonatal care facilities. Many labour rooms and Newborn Stabilisation Units across the state were given a facelift in order.


Follow and connect with us on Facebook, Twitter, LinkedIn, Elets video