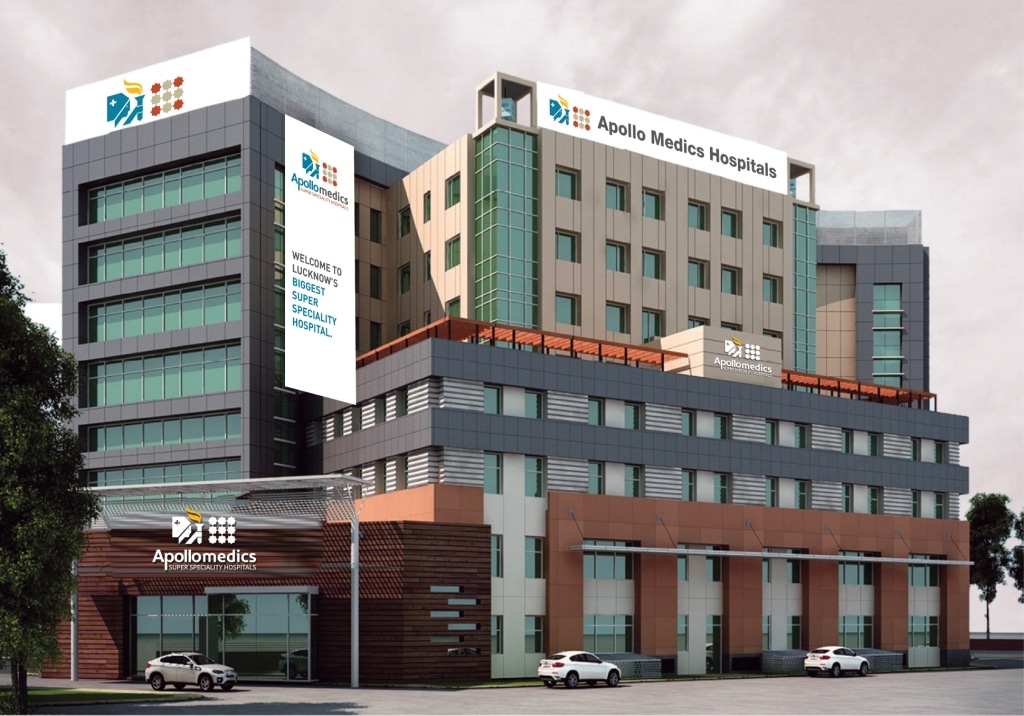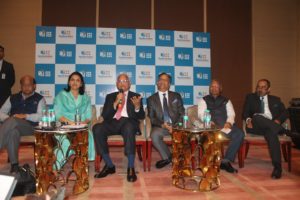 The healthcare infrastructure in the State of Uttar Pradesh got a major boost today with the collaboration between Apollo Hospitals and Medics Super Speciality Hospital coming together to form ApolloMedics – a 330 beds quaternary care hospital. ApolloMedics Super Speciality Hospital is expected to be commissioned by the third quarter of the current financial year. It will offer an integrated and comprehensive suite of healthcare services – from preventative to curative to continual home care and follow up. ApolloMedics will provide world class healthcare delivery services for all socio-economic strata of society in the region. The hospital has been designed make the patient and work flow systems as per international treatment methodologies and best in class patient care experience.
The Doctors on-site come with rich clinical experience and are leading professionals in the field. Medics, founded and promoted by Dr. Sushil Gattani, is one of the leading cardiologists in Uttar Pradesh. He will be assisted by other leading Doctors such as Dr. Mayank Somani, a highly accomplished Senior Physician and Critical Care Medicine expert; Dr. Kavita Somani, a leading histopathologist & Mr. J. P. Dhoot.  ApolloMedics will not only provide world class technologies, leading healthcare experts and benchmarking practices, but also an unparalleled high quality patient-centric experience.

Dr. Prathap Reddy, Chairman, Apollo Hospitals Group commented, The state of Uttar Pradesh is the heart of India. The partnership with Medics Life Sciences is indeed a very special one for us as we look at enhancing our presence in this region. Im privileged and humbled to have such eminent medical experts like Dr. Sushil Gattani, Dr. Mayank Somani, Dr Kavita Somani and their team as part of this journey. Im confident that Apollo Hospitals will gain immensely from their experiences and our proven global practices will augment cutting edge innovations in healthcare. I wish the team innumerable success."
Dr Sushil Gattani, Founder & Co-Chairman, Medics Super Speciality Hospital termed the association as a monumental step in the healthcare ecosystem in Uttar Pradesh. The institution aims to deliver world class treatment to the masses which were accessible only in metropolitan cities in the country till now. In addition, there is potential to develop Lucknow as a cost effective Medical Value Travel destination, with direct flights to Middle East and South Asia every day.
Sangeeta Reddy, Joint MD, Apollo Hospitals Group stated "We are delighted to have Medics Life Sciences as our partners in the state of Uttar Pradesh to deliver high quality healthcare to the people of Uttar Pradesh. As Indias foremost integrated healthcare providers, we look forward to bringing our global treatment methodologies, futuristic technologies and holistic patient care to this region. We are confident that this partnership will enhance the quality of healthcare in the state significantly and set new benchmarks of excellence.
In terms of hospital infrastructure, Apollo Medics will have 330 Beds, with 110 devoted to critical care. A combination of future-ready technologies integrated into world class equipment, viz: MRI, Pet-scan, Tru-beam LINAC, 128 slice CT scan, cardiac and neurocath lab with state of the art laboratories and emergency facilities. The Hospital will provide 24*7 round-the-clock super specialty treatments with specialist doctors available at night also. Super speciality work viz. cardiac care, cancer care, trauma care, orthopedics, gastroscience, kidney, critical care with all other affiliated specialities and sub specialities will be the hallmark of Apollomedics.

Follow and connect with us on Facebook, Twitter, LinkedIn, Elets video