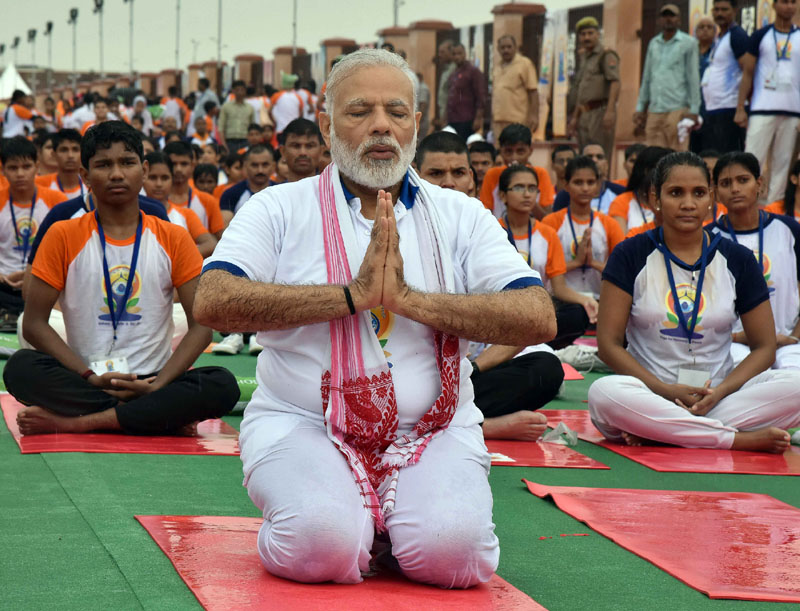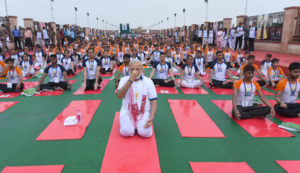 On the occasion of International Day of Yoga " 2017, the Prime Minister Narendra Modi today participated in a mass Yoga demonstration event in Lucknow. While the President of India Pranab Mukherjee inaugurated a mass yoga demonstration to commemorate the 3rd International Day of Yoga at Rashtrapati Bhavan today.
Thousands of people gathered for the event at the Lucknow's Ramabai Ambedkar Maidan despite continuous rain in the city.

Addressing the enthusiastic and vociferous gathering, the Prime Minister conveyed his greetings from Lucknow to all those joining the Yoga Day celebrations across India.
He said that tod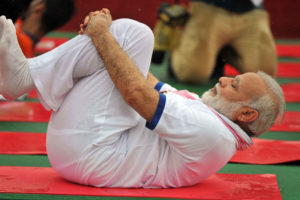 ay, Yoga has become a part of many peoples lives. He said Yoga's popularity is high even outside India; and Yoga has connected the world with India.
The Prime Minister said he is glad to see several Yoga institutes take shape over the last three years, and noted that the demand for Yoga teachers is increasing. In addition to fitness, wellness is important, the Prime Minister said, adding that Yoga is a medium to achieve wellness.
Urging everyone to make Yoga a part of their lives, the Prime Minister said that Yoga is about health assurance, and it is not even expensive to practice.
Earlier, welcoming the Pri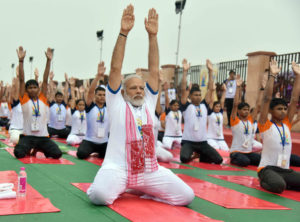 me Minister to Lucknow, the Chief Minister of Uttar Pradesh, Yogi Adityanath, said that Yoga is a part of our tradition and it integrates us.
Speaking on the occasion, the President Pranab Mukherjee said that on the initiative of Prime Minister Narendra Modi the UN had declared June 21 as International Day of Yoga. This year, the 3rd International Day of Yoga was being observed. He said that yoga is an ancient Indian practice which is very useful for curing many diseases and health disorders. It is a holistic approach to physical and mental health and well- being. He welcomed all participants to the mass yoga demonstration and urged them to practice yoga everyday as a fit mind and fit body is the abode of God.
Officers, staff of Rashtrapati Bhavan and their family members as well as residents of the Presidents Estate participated in large numbers in the mass yoga event.

Follow and connect with us on Facebook, Twitter, LinkedIn, Elets video