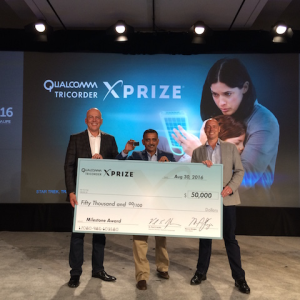 American Megatrends IndiasTeam Danvantri creates history in the global healthcare industry by becoming one of the top five innovators towin milestone achievement award at the ongoing Qualcomm Tricorder XPRIZE by creating a patient-friendly mobile device capable of ensuring self-management, self-diagnosis and self-monitoring.The ongoing competition will announce the final winner at the end of the year.
As an ardent advocator of preventive care and creating systems and technologies to enable patients to become an active administrator of their health, such a recognition at the world level once again corroborates the commitment of American Megatrends towards preventive care.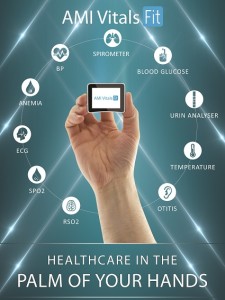 Understanding AMI VitalsFit™
A stylish, accurate, portable and easy-to-use health monitoring device.
Can be used in the comfort of the home environment.
Offers real-time insight into a wide variety of vital health statistics.
Can be used to diagnose a set of 15 diseases, including anemia, diabetes, tuberculosis, hepatitis A, etc.
Has undergone several modifications in terms of design and functionality. As a result, it is a highly advanced design, ready to address the inefficient, expensive and inertia-bound healthcare system.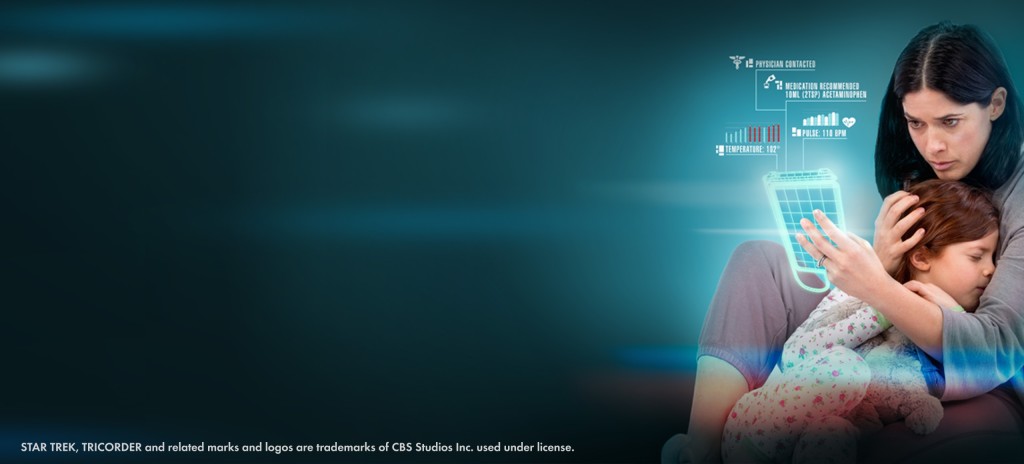 Qualcomm Tricorder XPRIZE – Overview
Qualcomm Tricorder XPRIZE, launched in 2012 and inspired by the concept of tricorder (multifunction hand-held device) in Star Tek movies, is a global competition sponsored by Qualcomm to develop a consumer-friendly patient-operated mobile device capable of diagnosing and interpreting about 13 or 14 common medical conditions and capturing the vital health matrix. Tricorders enable self-assessment, self-diagnosis and self-monitoring. Unlike the tricorders in Star Tek series that were used by the physicians, these tricorders are being designed to be used by patients themselves.
The contest aims to increase access to quality care from geographical and modality or reach of information direction, i.e. all information needs to be entered in the electronic medical record (EMR). With the information embedded in the tricorders, patients will have access to data related to their biological functioning. This will allow patients to seek information and seek early prevention.
In 2012, 300 teams registered in the competition. The competition initially extended recognition to the top 10 teams for their innovations, which has now been strategically decreased to only top 5 teams. The aim of the competition is to recognise those 5 companies for their remarkable achievements in last few years in diagnostic services despite all hurdles like clinical and regulatory hurdles. It also highlights such diagnostic devices and their ability to interact with patients. Patients now despite lack of knowledge are able to take care of their health due to their basic understanding of smartphones. The selected teams will be exposed to the healthcare ecosystem and industry.
Gene Kallenberg, MD, utive Director, Center for Integrative Medicine, Chief, Division of Family and Preventive Medicine (FPM), Professor of Clinical FPM and Medicine, University of California, San Diego, was also present during the event.
Why Tricorder?
Modern technologies and EMR have made the concept tricorder the next step in the healthcare industry. Tricorders enable patients to be aware of their biological functioning and make informed decisions. The presence of such informed patients is the disrupting force in healthcare or medicine. As patients are largely responsible for their health, they need to be informed.
Tricorders allow patients to focus on prevention than cure, as well as promote self-management than self-care.

Follow and connect with us on Facebook, Twitter, LinkedIn, Elets video