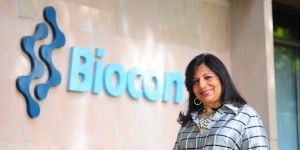 Biocon has launched advanced novel therapy for the treatment of Hepatitis C at a lower price.
CIMIVIR-L, a fixed dose combination of Ledipasvir 90 mg and Sofosbuvir 400 mg, will be made available to Indian patients at a fraction of the global cost of the innovator brand, said Biocon Ltd in its statement.

A 12-week course of the combination therapy in the US will cost US$ 94,500 (about Rs 63 lakh).
According to Ravi Limaye, President-Marketing, Biocon, the introduction of CIMIVIR-LTM will strengthen the company's present portfolio of virology products. It will further Biocon's commitment to offering affordable therapy for unmet patient needs in debilitating and life-threatening conditions.
CIMIVIR-L is an equivalent of the innovator product commercialised by Gilead Sciences in the US.
Biocon last year had entered into a licensing agreement with Gilead to manufacture and commercialise its chronic Hepatitis-C blockbuster product range, Sofosbuvir and Sofosbuvir-Ledipasvir combination in India and in selective emerging markets.
The Drugs Controller General of India (DCGI) had recently approved the sale of Sofosbuvir-Ledipasvir combination, which is being manufactured in India under a license from Gilead.
CIMIVIR-L will offer a convenient, effective and safe alternative to people infected with the Hepatitis-C virus. It is indicated for Hepatitis-C Genotype 1 patients who account for 25 per cent of the total estimated HCV patient population of 18 million in the country.

Follow and connect with us on Facebook, Twitter, LinkedIn, Elets video