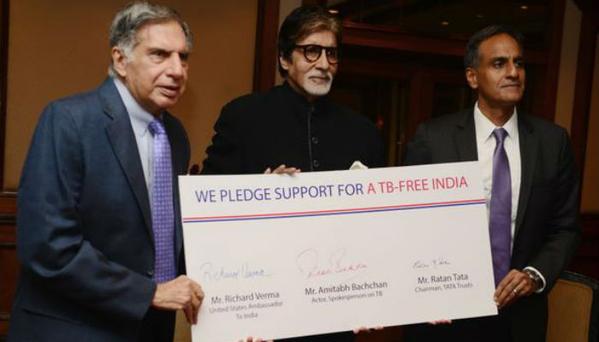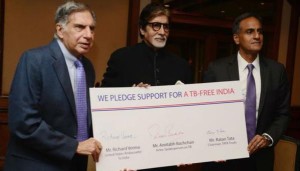 Awareness being key factor to battle against tuberculosis, Megastar Amitabh Bachchan and business tycoon Ratan Tata lent support to the government's "Call to Action for a TB-Free India".
Launched the "Mumbai Dialogue: Towards a TB-Free India" which attempts to bring in the strong support of corporate companies for the cause.
"I had already worked on tuberculosis in the city of Mumbai for the Municipal Corporation of Greater Mumbai. We have started the campaign and several films have been made and the propaganda is on. I felt morally, socially, individually attached to it," he said.
Revealing that he himself was a sufferer of tuberculosis Bachchan said," I suffered tuberculosis in the year 2000. It was detected quite by accident. But the fact is that I did undergo a certain course of action. It took about a year with heavy dosage of tablets and medication but the fact is that I stand before you cured of tuberculosis. If it could happen to me, it could happen to anyone."
About the action taken through this initiative, Big B said: "There is a cure for it and we've just had a wonderful meeting with several medical heads of the country and corporate heads where we've discussed many of these issues."
About the stigma attached to TB patients in our country he said, The part that is unfortunate is when the TB affected individual gets discriminated from society especially married women. Marriage proposals go wrong..and if you are already married then you are almost thrown out of your house. This can be corrected and the stigma of making you an alien in society can be put to an end through our campaigns if we destroy the myth that women shouldnt be treated as barriers in society and TB itself can be cured with proper medication."
Stressing that  TB should be eliminated like polio.We made India polio free after eight years, thanks to the efforts taken for it. We need to choose dedicated workers who should be encouraged and given facility for bringing to our notice where help is required. I am happy to cooperate, Big B added.
Taking part in the initiative, Tata said: "It is more than just a campaign for me. It's an issue being involved in a national cause. TB has been a silent killer in the country and has assumed proportions that most of us should be extremely concerned about. As a citizen of the country I feel very committed to play my role, however big or small it might be to help in this partnership with the government."

Follow and connect with us on Facebook, Twitter, LinkedIn, Elets video