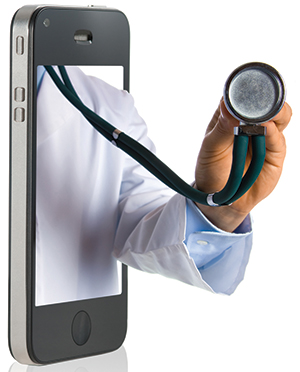 Given the fast increasing reach of mobiles in India, the healthcare industry is coming up with innovative models of integrated care processes, thus giving the whole concept of healthcare delivery a patient-centric turn.Romiya Das of Elets News Network (ENN)explores the emerging trends and the gateway of opportunities leading to the growth of the mHealth industry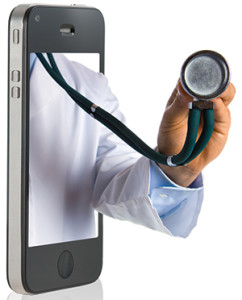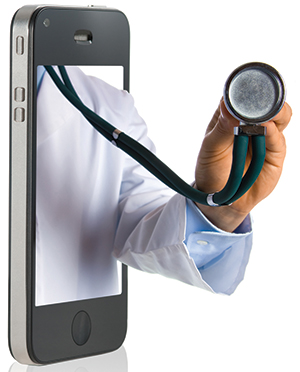 Mobile devices are makinga huge difference inpeople's lives across theglobe. Internet-enabledsmartphones and tablets provideaccess to information and a channelof communication to the users. By the year 2020, India will have 1.4 billion mobile subscriptions, states a recent Ericsson Mobility Report.
Mobile technologies for healthcare or mHealth is escalating its presence in health services and information addressing various healthcare issues.It has led to the transformation of thehealthcare services across the worldrendering the growth of mHealthmarket. The continuous growth in coverage of mobile networks,advances in mobile technologies andapplications, increasing life style diseases, and growing awareness among patient population in emerging economies are some of the factors expanding the mHealth market globally.
"In the next five years, mHealth will take over 15-20 per cent of the physical consultations especially those of follow-up consultations and reviews.Improved internet speeds and mobiledevices that will increasingly supportmonitoring vitals such as pulse,blood pressure will provide impetusto further growthâ€, says Anil Kumar,CEO of SmartRx. "We are seeing that roughly 70 per cent of the discharged patients from the hospitals we have tied-up are choosing to receive post discharge instructions andcare through mobile which is their first brush with mHealth. They are receiving instructions for their diet,nutrition, do's and don'ts, reminders etc. through mobile,†he added.
Dynamics of mHealth Industry
The major portion of the mHealth device market is collectively commanded by BP, blood glucose and cardiac monitors. The large share of these monitors can be attributed to the increased affordability of mobile compatible devices, integrated of innovative technologies in monitoring equipment and the increasing lifestyle diseases such as diabetes, stroke, COPD, ischemic heart to name a few. Within the mHealth services, diagnostic, monitoring and treatmentseptember / 2015 ehealth.eletsonline.com 38 mHealth services collectively hold about 74 per cent of the market. The rapid growth of mHealth services market is attributed to the rise in government initiatives, increasing the mHealth awareness programmes in rural and semi-urban areas.
Indian market:
In 2014, India showed its might in the smartphones domain with companies launching a plethora of affordable devices, and is on the verge of surpassing the global market leaders to become the world's largest smartphone market. In a recent study, conducted by Wipro and the Internet and Mobile Association of India (IAMAI), found an increase in the consumer demand for mHealth in India. With mobile technology playing a significant role in the provision of healthcare services globally, the Indian mHealth sector is predicted to lead revenue opportunity worth ` 3,000 crore by 2017, as reported by PricewaterhouseCoopers (PwC). Changing disease profiles, increased adoption of smartphones, advancements in mobile technology and a greater focus on health and wellness are certain factors contributing to the growth of the mHealth in India.
Dr Nitisha Rai, utive Director, HITLAB, New York says, "The future of healthcare in India is going to be through mobile phones wherein people will have 'handheld clinics' which will not only revolutionise the healthcare system, but also benefit people with better services.
Global Scenario:
The global mHealth market in 2014 was valued at US$ 10.5 billion, which is expected to escalate at a CAGR of 33.5 per cent in the time span of 2015-2020, reported by Allied market research. In the global mHealth market the blood pressure monitors hold a larger share followed by glucose and cardiac monitors. On geographical terms, North America and Europeconstitutes the two largest markets for mHealth, which collectively accounted 67 per cent market revenue in 2014. Both the countries are expected to hold the leading position in this domain. The Asia- Pacific region is projected as the fast growing market in this sector registering a CAGR of 35.9 per cent during the 2015-2020 tenure. In these regions, an early adoption ofinnovative technology, large patient population and high capacity to pay for services are the key drivers to the growth in specific mHealth market. In 2014, the United Kingdom, France, Germany collectively accounted 45 per cent share in the Europe mHealth equipment market. The cardiovascular and diabetes mHealth application market remains a lucrative segment for manufacturers.
mHealth Integral Part of Healthcare
Use of Information and Communication Technology (ICT) in Healthcare ie eHealth is becoming an integral part of healthcare systems across the world. While mobile Health ie mHealth is one of the segments of eHealth that basically covers delivery of healthcare services and information etc via mobile, smartphones, mobile apps, and integrated devices.
In India, given a very wide scale penetration of mobile subscribers- around 90 crores mobile connections- mHealth possess huge potential for efficient and effective delivery of services and information in different segments of health care in both rural and urban areas.
The mHealth services vary from simple applications such as SMS based health information, online appointment scheduling, basic test at home, online consultation, video consultation over 3G, information to frontline health workers (FLWs), health programme monitoring etc. to a more sophisticated services such as remote patient monitoring through Internet -of-Things, wearable devices, machine-to-machine technologies etc.
In line with the given potential, Ministry of Health & Family Welfare (MoHFW), Government of India has undertaken various initiatives to harness the potential of mHealth in various areas including information dissemination, preventive healthcare, disease monitoring as well as mentoring of healthcare workers.
mHealth applications through National Health Portal
National Health Portal (NHP) has been designed keeping in the view mobile friendly access and is fully compatible with WAP browsers for mobile devices. It has recently launched "NHP Health – Directory Services†mobile App to benefit the Indian citizens under the mHealth initiatives. This application has database of hospitals and blood banks across India. The user friendly application accesses the user location and enables a person to find nearby hospitals and blood banks.
mHealth for Tobacco Cessation
MoHFW in partnership with World Health Organization (WHO), has initiated implementing a mHealth application for Tobacco Cessation as part of the WHO 'Be Healthy Be Mobile' initiative to reach out to tobacco users of all categories who want to quit tobacco. This encompasses sending a series of standardised and tested messages to the registered users for supporting them to quit tobacco use. This initiative is rolled all over India, however during initial phase, the messages will be sent only in Hindi and English languages.
mHealth under Reproductive & Child Health (RCH) Programme
Mother and Child Tracking System (MCTS) is a web based name based tracking system implemented across the States and UTs to facilitate timely delivery of antenatal and postnatal care services to all the pregnant women and immunization to all the children. Objectives of MCTS include to reduce IMR, MMR, TFR; promote and facilitate timely delivery of full services to beneficiaries; promote institutional delivery; improve service delivery coverage; establish robust monitoring system at all levels. Total registration as on date in MCTS includes over 8 crores mothers, over 7 crores children & over 11 lakh FLWs (ANMs & ASHAs).
• Kilkari: Audio information (IVR) about maternal & child health delivered on mobile phones up to 16 months age of child. A phone service called Kilkari – or baby's gurgle – that calls the registered women with automated IVR calls. Families register for the service andmessages are then delivered over the course of pregnancy (from the sixth month) and the child's first month of life, at the relevant time. It has been successfully implemented in Bihar and piloted in Uttar Pradesh. National level adoption and implementation is underway.
•Mobile Academy: It is an IVR-based training and certificate programme which provides voice-based lectures and quizzes in nine chapters over 190 minutes, to increase FLWs' knowledge of healthy behaviours for mother and child health. It has been successfully implemented in Bihar and is being piloted in select districts in Odisha and Uttar Pradesh. National level adoption and implementation of Mobile Academy is underway.
Other key mHealth Applications
SMS based services are being used for communication with patients for monitoring as well registration in following eHealth initiatives:
Online Tracking of TB Patients – NIKSHAY In order to monitor individual TB patient, NIKSHAY, case-based, web-based application software has been implemented. The application includes monitoring & management of users and masters at National, State and District level. SMS based services are being used effectively for communication with patients and monitoring authorities for effective monitoring of Revised National TB Control Programme (RNTCP).Central Government Health Schemes (CGHS) A web based application under CGHS has been implemented for all the wellness centres across the country. It includes registration, prescription and pharmacy. SMS based services are being used for disseminating pharmacy and drug dispensing details to the beneficiaries.
Online Registration System (ORS) The Online Registration System (ORS) under the eHospital application has been recently launched under Digital India programme. ORS is a framework to link various hospitals across the country. The application provides important services such as online registration, payment of fees and appointment, online diagnostic reports, enquiring availability of blood online etc. ORS uses SMS based services for appointment update to citizens.
To realise optimal level of benefits from use of mHealth in Indian healthcare system, especially public health system, still much more needs to be done in mHealth ecosystem encompassing different stakeholder groups- consumers, hospitals, physicians, pharmacy, and insurance etc. Private health system having already significantly progressed in use of mHealth has an important role to play in terms of partnership, collaboration and knowledge or experience sharing with public
Authours: Jitendra Arora, Director (eHealth) and
Chandrasen Shrivastava, Consultant e-Governance Division, Ministry of Health and Family Welfare
"Till date e-consulting and online knowledge forums have captured the imagination of the doctors of the country. Also, recently many doctor discovery platforms have gained traction and are doing well. Of late, there has been a slew of companies who have come up to solve the healthcare conundrum in our country and the future really looks bright. In the next five years patient-centric interfaces like digitalised health records, booking appointments, telemedicine and wearable devices are expected to rise. For hospitals, better IT enabled apps with a scheduling system, improved MIS, EMRs and for doctors, apps providing news on the go, connections with other doctors, and collaborative learning, online CMEs is an expected trend. Pharma and medtech companies would start e-detailing features on mobile to reach out to doctors. Gradually, the Indian mHealth market might follow global majors like DXY, who had more than 50 apps at one stage clearly stating the need for one integrated platform. With the global market estimated to reach the 60 billion mark by 2020, it is a safe bet that India will account for about 2-3 per cent of the of the world's market share by 2017,†says Mudit Vijayvergiya, Co-Founder, Curofy.
However, the market outlook across the developing economies is favourable and strong, owing to the increasing awareness of chronic diseases, favourable government regulations and healthcare expenditure. Philips Healthcare, Bayer Healthcare and Sanfoni are among the major players with a strong foothold in the global mHealth market especially in the Asian countries. Some other aggersive players include Omron Healthcare Inc., Lifewatch, Cardionet Inc., Masimo Cooperation, Boston Scientific, AT&T Inc., and Johnson & Johnson.
Procuring Feasible Services
Irrespective of the advancement of the medical technologies and increase in income levels, healthcare continues to face challenges of affordability, complexity and access across the world. The adoption of mHealth is not unique, but is more complex than other mobile value-added services (MVAS) when incorporated in healthcare context, for instance, concerns regarding the poor network coverage. A patient cannot be left at the mercy of an underdeveloped mobile network. Also, the security and privacy of the healthcare information is a matter of concern. Low literacy rate and widely spoken regional languages come in the way of adoption of mHealth apps. The lower accuracy devices, technology infancy in middle and lower income economies, weak reimbursement coverage, uncertainty in government regulations in certain regions, and low adoption among ageing population is the major obstacle for the sector.
Saurabh Arora, CEO, Lybrate says, "For the mHealth market in India, less Internet penetration, slow broadband services and language barrier acts as a stumbling block on the efficiency of mHealth services. However, all the challenges are opportunities in themselves.â€
Nonetheless, with healthcare sector going through a plethora of challenges, there is an ardent need to devise techniques to improve the healthcare systems in the country. And, there lies the opportunity: the emerging concept of mHealth, which could be a boon for the Indian healthcare as mobile devices can help in quick conceptualise smart healthcare systems, more so, because of the fact that India is the second largest country of mobile consumers. The mobile devices have good penetration even in the rural areas where existence of other infrastructure components existence is negligible. From offering high-quality network access to managing end-to-end service delivery, telcos can facilitate theeffective delivery of mHealth services in various ways. This could encourage mHealth adoption in the country. But for that, telcos will need to deliver an assured, affordable connectivity especially in rural areas, where there is limited connectivity.
In 2014, the global mHealth market is estimated at US$ 10.5 billion and it is expected to grow at a CAGR of 33.5 per cent by 2020
Trending through mHealth
mHealth is accelerating trends, to the revolution of making the healthcare delivery more accessible, faster, better and affordable. Due to the rising revelation to technologies such as 3G and 4G networks in the industry the mobile network coverage and active subscribers have expanded, enhancing the growth of the mobile healthcare sector. The public sector provides better healthcare access and quality while the private sector gives it innovation and efficiency. The foundations of industrialisation of healthcare – electronic medical records, remote monitoring and communications, has set a platform for mHealth. It offers personal toolkits for predictive, participatory and preventive care.
"Medical apps have substantiated an advanced dynamics in healthcare landscape. In one hand, fitness apps have induced better lifestyle in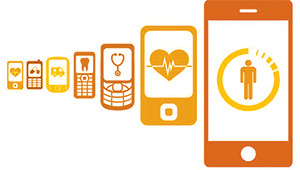 users, and on the other hand, medical apps have preffered intensity and agility in health care. The emergence of mobile applications in healthcare domain was inevitable as mobile gradually transformed into a lifestyle trait. The usage and advantages of mHealth have intensified its popularity with burgeoning users as well as number of health apps. However, still there is a chasm between demand and supply of healthcare throughout the globe as well as in India. Mobile devices, internet technology and applications can have substantial impact to reduce this gap and offer avenues to reach the unreached,†said Dr Anil Jindal, CMD, SRS Group.
There are various arenas where mHealth acts beneficial in promoting better care delivery such as promoting healthcare campaigns where SMS can create a profound impact among people. SMS can be used to educate the masses about various aspects like disease symptoms, disease management and precautionary measures.
Given the perceived value and that cost-effective, high quality healthcare services are not readily available in the market place, mHealth has the potential to be a substitute and a complement to traditional in-person healthcare services.
Follow and connect with us on