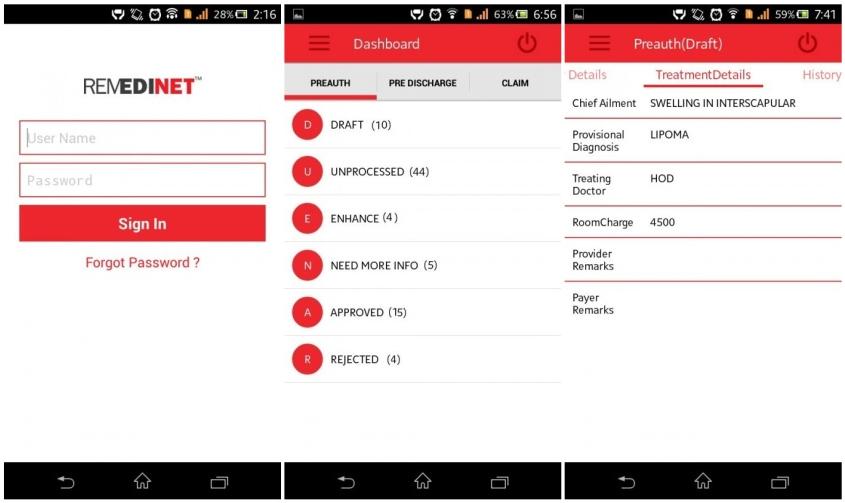 Remedinet Technologies launched its electronic cashless claims exchange for health insurance mobile apps for Windows 8.1 and Android platforms with Microsoft Visual Studio, for making information on the status of cashless health insurances claims easily available to patients and hospitals. Insurance desks and resources working out of hospitals can download Remedinet – Hospital mobile app to access information regarding claims adjudication while patients can download Remedinet – Consumer app to check the status of their claims.
Munish Daga, CEO, Remedinet Technologies said: Today, information is accessible at the fingertips, and we are trying to play our small role by enabling both hospitals and patients to monitor the status of their cashless claims on handheld devices. The aim of this launch is to make the entire cashless claims process as fast, fluid, and efficient as possible. Without a solid technology backbone, achieving efficient and transparent transactions is next to impossible. Microsofts solutions and the Windows 8.1 platform have enabled us to build these future-ready apps, and this makes the process of claim settlement easier and more consumer-friendly.
The Hospital app allows authorised people from the hospital with valid user ID to log in anytime from anywhere and check the status of their claim. While, the consumer app provides the patients and their family to access the latest status of their cashless health insurance claim at kiosks installed in hospitals. The application is easy to navigate and information can be accessed by entering either the name of the patient or the reference number of the claim.


Follow and connect with us on Facebook, Twitter, LinkedIn, Elets video