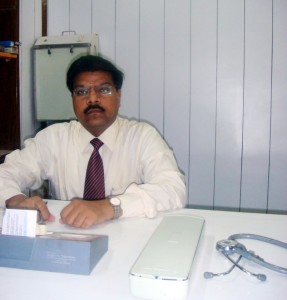 An urban lifestyle is very demanding. Women are excelling in all fields- be it at home or at work. She is in the role of mother, daughter, and wife etc. at home, while she is teacher, doctor, manager, businesswomen etc. at work. However, there is no field where she is not in the forefront. But to be able to excel everywhere, she needs to be healthy.
One of the most common cause of concern for any female during her child bearing years (under 30yrs) is the presence of lump in breast, most importantly because breast cancer is the most common cancer prent in todays world.
One must understand that all lumps are not always cancerous. Lumps often appear during menstruation or in women taking contraceptives, so they appear for a while and disappear later on. Action must be taken when the lump begins to enlarge and remains that way for a long period of time.
Non-cancerous, lump in breast are medically referred to as Fibroadenoma. Its prence is on increase. They occur in about 10% of all women.  It is usually seen in women under the age of 30yrs. With increasing age, the incidence of fibroadenoma decreases. It usually has a firm, rubbery consistency with well defined margins, and moves freely under the skin, though there are many which are too small to be felt. It can be easily diagnosed by clinical examination, and by ultrasound/mammography.
The chances of fibroadenoma being transformed into breast cancer are rare. Moreover, regression is frequent.
It is commonly seen that patients are advised surgical removal of the lump, though chances of recurrence remains post-operatively. But there is a therapy, which can cure, in other words dissolve the lump and its recurrence fully by medicine, without any surgical intervention. That science is Homoeopathy.
How Homoeopathy works?
Homoeopathy as a branch of medicine remains doubtful in respect of its efficacy, its scientifically in general and in various diseases in particular. Whatever may be the name of the disease, Homoeopathy offers a holistic way of treatment. This disease understands each disease holistically (mind-body-spirit) and tailors the treatment for each individual having a disease.
Homoeopathy treats the patient with the disease, not merely disease.
Undoubtedly, we consider the complaints of the patient but what actually caused the patient to develop that particular kind of disease is well taken into consideration. Besides the family history, the effect of emotional stresses of life plays a vital role in the development of Fibroadenoma. Stress occurs in everyones life- be it a stress of homework for a school-going child, stress to achieve highest for college student, stress of employer for a working person or stress of disease for an oldie. No one is bereft of stress. But reaction of each individual is different, and this reaction- how a person reacts to such stress, is considered in homoeopathy for curing the patient with the disease.
The recent PNI (Psycho-Neuro-Immunology) has also shown how it all happens in humans.
Studies reveal that fibroadenoma commonly occur in females with over-considerate attitude for others, who fail to care for themselves. As a result, they suffer in silence due to assortment of problems such as fibroadenoma.
There are many homoeopathic medicines which can be used effectively in the treatment of fibroadenoma such as Phytolacca, Conium, Silicea, Carbo-animalis, Sulph etc. to name a few.


Follow and connect with us on Facebook, Twitter, LinkedIn, Elets video