SRL diagnostics, in its recent report has highlighted the alarming facts and concerns on womens health in India. The brief report captures a snapshot of study done around anemia prent among women at a Pan- India level, at SRL labs over the past 3 years.
Results of the Study

·         Nutritional Anemia – major public health problem worldwide particularly in developing countries among women of reproductive age.
·         As per National Family Health survey, more than half of women in India (55%) have anemia, including 39% with mild anemia, 15% with moderate anemia and 2% with severe anemia.
·         Nearly 50 " 80% of Indian mothers suffer from anemia due to iron " deficiency in their diet.
·         Maternal anemia invariable translates into anemic infants and newborns. About 30- 40 percent of newborn suffer from low birth weight due to maternal anemia and malnutrition.
·         An alarming 600 million people in South-East Asia are suffering from iron deficiency anemia, predominantly affecting adolescent girls, women of reproductive age and young children.
·         In studies conducted in developing countries, adolescent anemia is the greatest nutritional problem.
Testing Procedure at SRL
· Testing for blood parameters like red blood cells and hemoglobin per cent (Hb) are widely accepted as routine tests for assessing anemia.
· The illustration given below shows the trend in the number of Hb tests performed at SRL labs pan India for women, during the period 2012-14.
· An encouraging upward trend in women accessing preventive health check up tests over the last 3 years has been analyzed through the report and study.

Anemia Study Analysis
As per pan India analysis of SRL test result data for the period 2012-14
SRL declares that 59.27% women are anemic in the country.
Eastern zone of the country have higher prence of anemia with an alarming 72.12% women having less than adequate blood haemoglobin.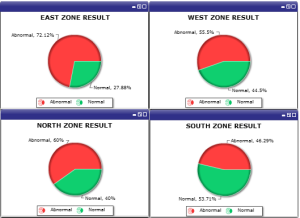 Follow and connect with us on Facebook, Twitter, LinkedIn, Elets video