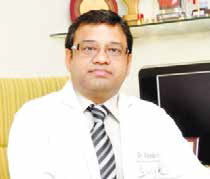 Extensive experience in the field of Cardiac Interventions and Electrophysiology, Dr Viveka Kumar, Director-Cath Lab, Sr Consultant-Max Super Specialty, Saket, talks with Ekta Srivastava, ENN, about the Cardiac disease scenario in India.

How technology is improving the cardiac related issues in India?
Technology has made life easy both for the cardiologist as well as the patient. New inroads have been made in the field of non invasive diagnostics as well as invasive therapeutics. Latest CT coronary angiography 256 and 320 slice machines are giving unparalleled resolution and insights into the coronary anatomy with much lesser contrast volumes and radiation exposure. Biplane cathlabs and hybrid labs are a reality and expanding the range of interventional and hybrid procedures to an unprecedented level. Aortic surgery, once the cornerstone of aortic valve disease management is gradually being challenged by percutaneous treatment modalities like TAVI. For the first time, the dreams of the interventionists have been realized in the form of the ideal stent i.e Bioabsorbable stent.
Maybe theres a medication in heart disease that comes into play. But thats all part of good management that you can do, right?
Yes, you are right. Its all about managing the disease efficiently. Being aware of the risk of heart disease is important because its the first step in taking action to lower risk. Being aware of personal risk and treatment options can empower a woman to live a long and healthy life. Female patients can make lifestyle changes and better select the right medications to help them avoid or treat heart disease. They can do a regular exercise for atleast 30 minutes every day and eat a heart healthy diet that includes fruits, vegetables, grains, low-fat or nonfat dairy products.
Maybe talk for a minute about heart disease in women who are diabetic?
If you have diabetes you are two to four times more likely to develop cardiovascular disease than people without diabetes. Hypertension, abnormal blood lipids and obesity, all risk factors in their own right for cardiovascular disease, occur more frequently in people with diabetes. Uncontrolled diabetes causes damage to your bodys blood vessels making them more prone to damage from atherosclerosis and hypertension. People with diabetes develop atherosclerosis at a younger age and more severely than people without dia- Most CVD sufferers in India are in their productive age betes. Hypertension is more than twice as common in people with diabetes as in people with normal blood glucose levels. People with diabetes are more likely to have a heart attack or stroke, than people who do not, and their prognosis is worse. If you have diabetes you can have a heart attack without realizing it. Diabetes can damage nerves as well as blood vessels so a heart attack can be silent that is lacking the typical chest pain. Premenopausal women who have diabetes have an increased risk of heart disease because diabetes cancels out the protective effects of estrogen.

What is the future of India in heart disease?
Cardiovascular disease (CVD) is the leading cause of death and disability worldwide. It is expected that by 2020, CVD would prevail as the leading cause of death and disability over infectious diseases globally. In recent years, demographics and health surveys have reported increasing malaise of CVD among individuals of all socioeconomic strata. According to recent statistics, incidences of CVD-related death and disability in low-income countries have grown at an alarming pace. The seriousness of current scenario could be gauged by the fact that most CVD sufferers in India happens to be in their productive age which may potentially impose huge socioeconomic burden and devastating consequences over the coming years.
Follow and connect with us on Facebook, Twitter, LinkedIn, Elets video