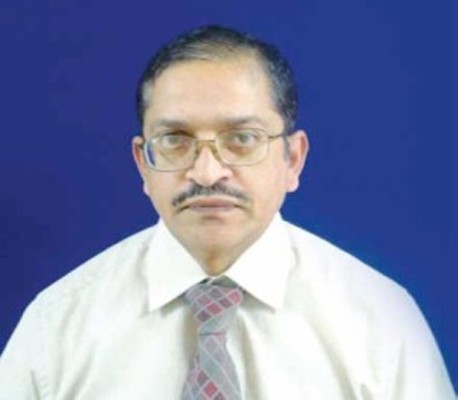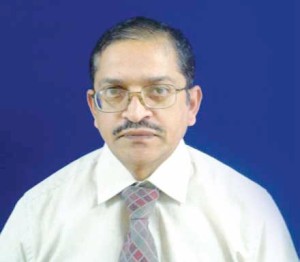 Dr V Balasubramanyam, President: Bangalore Chapter of Indian Association for Medical Informatics,
Professor, Dept of Anatomy, St Johns Medical College
eLearning, a 25 million dollar industry in 2009 is expected to reach USD 107.3billion by 2015(report by Global Industry Analysts, Inc.). Higher education or corporate education, we are moving from traditional teaching to technology enabled teaching, where information is available anywhere, anytime.Besides e-mail, medical education is becoming increasingly dependent on web based and mobile based learning.The pharma industry is probably the best user of eLearning for its salesforce training, followed by equipment manufacturers.The NPTEL experiment involving VSAT based tele-teaching in engineering colleges was a note worthy experiment which culminated in uploading valuable digital lectures in to the YouTube.
We have moved from classroom didactic teaching to interactive distance learning and online learning. Except for skills training, almost all aspects are now covered by eLearning method like case studies, patient logs, clinical decision support systems, virtual patients and medical video games.eBooks, eAtlases, product manuals,teaching databases have made in roads into medical education. Digital versions of several text books are already available across the world and these can be downloaded online fora fee. Besides there are several authentic online open source material maintained by reputed universities.Technology is an amplifier for medical education just like a stethoscope is to a cardiologist.Mass open online courses (MOOC),have picked up momentum and is on the average of getting recognition for earning academic credit points. Centralised and uniform content, easy and one point upgrade lower operational logistics make eLearning an excellent supplementary system of communication in medical colleges and attached hospitals.An online uation session in progress a St Johns medical college, Bangalore. Students are ready for elearning. Are teachers ready?
Medical e learning is just warming up in India.
Teachers and students are increasingly approaching the web for teaching support materials like pictures,audio, videos, animations etc. Learning Management Systems (LMS) are beginning to find utility in India. St Johns Medical College, Bangalore and CMC Vellore have started using LMS to support and supplement traditional teaching learning process. MEDRC Edutech, Hyderabad has release da LMS for preclinical MBBS subjects in recent years and is avail able both as a web based as well as anin campus module. The Medical Council of India (MCI) in its notification dated 1st Dec 2008, has insisted that medical colleges must have a skill lab and adopt information technology in medicine.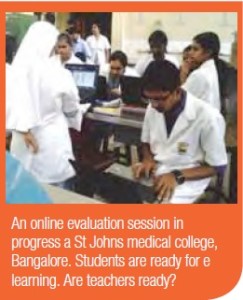 A group learning session using computers at St Johns medical college, Bangalore. Good content must create an immersive learning experience Although many colleges have the hardware component implemented to some extent, lack of good content material in all these institutions is anoteworthy deficiency. Content customised to our Indian medical curricula across all the subjects – is the need of the hour. The present generation of students is very tech savvy and well versed with windows / MAC platforms.Besides they are also comfortable with the mobile platforms, Web 2 and social networking. This creates tremendous opportunities for the e learning industry,in particular the publishing industry to establish collaborative content development with teaching faculty. Access to research data is vital for higher medical education.
While some journals are available on the Net, most of the others are available on payment which is often very high. A consortium based approach for access medical journal is equired. The HELINET consortium in karnataka was a good effort in this direction, piloted by the Rajiv Gandhi University, Karnataka.This system enabled all its affiliated colleges to have access to reputed international medical journals.The time has come for institutions and universities to identify authentic teaching websites for their students.Faculty need to interact with each other and create a list for this purpose.Some of the medical colleges have set up basic skills lab in the domain of high fidelity simulations. But this is not adequate. Traditional medical education is opportunistic in the sense you learn as the cases come to the hospital. In high fidelity systems, customised learning is possible.Further it will be very useful to train students in these simulators before allowing them to handle real patients.MCI must specify the simulators that every undergraduate course must have. Further MCI and the national board of examinations must specify a list of advanced simulators for postgraduate and super specialty courses.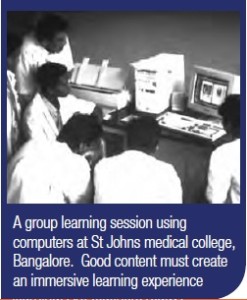 This must be made mandatory and institutions must be made to implement these within a particular time frame.These must be listed in the minimum requirements for approval of courses. eLearning has a tremendous role to play in uation during examinations.Universities must explore possibilities of having a certain percentage of the uation online. Online MCQs alone is not eLearning. A number of assessment modules need to be prepared to test the reasoning and decision making ability of students by creating medical case scenarios. uation in such scenarios is based on how candidate navigates through a particular case rather than whether he reaches a diagnosis. There is also scope for examining certain aspects of practical to be transferred to an online mode details will depend on the subject.Visually rich subjects like anatomy,pathology, radiology and dermatology are lead subjects in this direction. By introducing a component of e uation,an element of objectivity can be brought into the exam system.
There is a strong divergence of views among the teaching faculty regarding eLearning. The younger generation teachers seem to embrace technology more positively and are generally ore comfortable with handling telecommunication equipment.There is a strong need to create awareness about the potential f medical eLearning as a system of education. For example MCI can instruct all regional training centers to include eLearning as one of the topics in the basic or shop on educational technologies being conducted regularly. Besides here is scope for research and development to identify different strategies hat can be implemented on a long basis. For example my own trials with a variant of the Khan Academy model has evoked a good response from my students. One of the best ways of improving adoption of technology in medical education is to incentive's research and development in this field. Institutional managements have a large role to play. Innovative teachers must be encouraged and sent for medical education conferences and CMEs, besides making them publish their work in reputed journals. Lastly institutions must encourage teachers to collaborate with industry to take medical eLearning forward.

Follow and connect with us on Facebook, Twitter, LinkedIn, Elets video