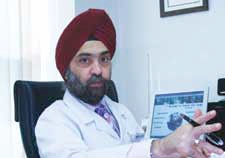 IT in healthcare has seen a level change. The experimentation phase is now over and the latest technologies and platforms are being used to build innovative solutions, says Centre for Sight Eye Hospitals Chairman & Managing Director Dr Mahipal Sachdev


What were the top tech trends in healthcare in the year 2012?
Ophthalmology has seen a rapid growth in technology with respect to precision and efficiency which will continue in the year 2013. As of now, the latest technology is expensive and hence difficult to adopt on a mass scale. At present, the technology such as Femtocataract and Femto LASIK is available in India, though for the niche segment only. The future should see this technology become affordable & a boon for the masses.
What changes have you noticed in healthcare in areas like Health IT, medical equipment, regulations etc?

IT in healthcare has seen a level change. While IT started as an electronic record keeper long time ago, it has grown to be recognised as an overall decision support mechanism and a value builder. Every healthcare organisation is now trying to have an overarching IT vision which is aligned with clinical care requirements, business strategies and longer term goals as well, beyond achieving operational efficiencies. The experimentation phase is over and the latest technologies and platforms are being used to build innovative solutions.
While HIMS remains to be of pivotal importance to any healthcare delivery organisation, technologies like digital social media assists in maintaining a constant connect for disease awareness and prevention and knowledge sharing among clinical fraternity. We were able to achieve a real time multi- location multi business integration of our group by creating private cloud by leveraging upon the latest available technologies. We believe this could happen only as a result compelling transformative vision, strong governance and inclusive engagement of stake holders.
Medical equipment: Ophthalmology is now witnessing the Blade-free revolution. Femtosecond laser had made the LASIK procedure blade-free ensuring greater safety & predictability. This technology has now been adapted to cataract surgery. With the Femtosecond laser, the crucial steps of cataract surgery are now automated, attaining levels of safety & predictability not attainable in traditional surgery.
Regulations: There havent been any major changes or developments in the medical regulations recently.
Follow and connect with us on Facebook, Twitter, LinkedIn, Elets video