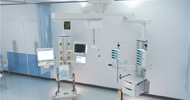 The new Dr¤ger advanced workplace design for ceiling supply units is made of components that make the daily working routine of medical staff easier. The advanced workplace design includes, among other things, a new lighting concept, the volume indicator Noise Display and an additional support arm for lifting a patient. Dr¤ger will continue to develop this system over the next few years.


Lighting concept: Efficiency meets comfort
An ideal lighting concept is designed to allow examinations and treatment in the  room while keeping the patient  comfortable. One option in the new Dr¤ger lighting  concept simulates natural daylight over a course of twelve hours by  modifying the lighting conditions and can create different colour temperatures and moods.
Sudden changes in brightness and the interference of monotonous lighting can effect the biorhythm and may delay the recovery of the patient. Factors such as the concentration levels of the staff can also be affected. During the night, the navigation light on he top side of the arms of the ceiling supply unit and the bottom side of the media column allow nursing staff to move round safely without bothering sleeping patients.

Noise Display: More peace in the hospital room
Noise Display is a volume indicator that  emits an optical warning signal if hospital staff or visitors exceed previously  defined  limits for the room sound volume. With an  additional support arm at the ceiling connection, Dr¤ger now offers  he option of  adding a Guldmann patient lifter to the  ceiling supply unit. The patient lifter can be adjusted electrically or ack-friendly lifting and transferring of patients. It helps to relieve clinical staff and increase patient comfort. The patient lifter is designed for a weight of up to 350 kg.

Follow and connect with us on Facebook, Twitter, LinkedIn, Elets video