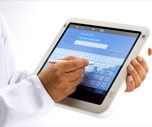 Industry experts believe that Microsoft's introduction of the Surface tablet brings possibilities for applications in health care, but the development of native clinical applications will be important,.
Microsoft tablets offers new possibilities for clinical use, software vendors will need to bring new innovation to clinical app development.
Perhaps the 10.6-inch ClearType HD display, will provide a decent image size for telehealth sessions. Bluetooth and WiFi capabilities are essential for remote-health monitoring, and the unit's wireless capabilities have yet to be announced.
The Surface will come in two models: one running an ARM processor along with Windows RT (the version of the Microsoft OS for ARM devices) and the other a third-generation Intel Core CPU running Windows 8 Pro. Microsoft will release the Windows RT version when Windows 8 ships in the fall, followed by the Windows 8 Pro model about 90 days later.
However, the introduction of the Surface tablet this fall is unlikely to shake the popularity of the Apple iPad in health care, according to industry insiders.
It remains to be seen how EHR applications for the iPad will perform in Surface's Windows 8 environment. Physicians have have demanded IT to introduce a tablet like the iPad or they want a tablet-like device for interacting with patients and colleagues. This actually puts hospital IT and the vendors on notice that they need to start innovating.
Monitoring vital signs such as weight and blood glucose as well as tracking medication compliance are tasks moving to mobile devices.

Follow and connect with us on Facebook, Twitter, LinkedIn, Elets video