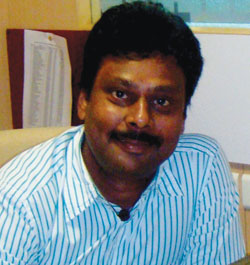 Governments increased focus on healthcare is an excellent opportunity for reliable monitors at  good price point
Munta Suresh Babu
General Manager – Patient, Monitoring & Life Support, Solutions, Mindray

What is the market size of patient monitoring equipment in India? What are the key factors driving growth?
The Indian Patient Monitoring Systems market size is estimated to be USD 65 million and forecast to grow at a Compound Annual Growth Rate of 15 percent. The overall market is driven by advanced but cost effective technologies.
The key growth drivers of this market are: corporate hospitals expanding their network to tier 2 and 3 towns with increased focus; rises in healthcare expenditure; government initiatives to improve healthcare delivery; growing awareness of health insurance.
What are the major segments in this market? What is their respective share of the overall patient monitoring equipment market?
The Patient monitoring market can be segmented in to value, mid-end and high-end monitors. Value segment being a simple non-invasive monitoring of ECG, NIBP and Pulse Oximetry – where the price is the key factor.
High-end witnesses an advanced technologies by having IT solutions integrated , viewing the patient diagnostic reports on patient monitor by connecting to  the hospital information system, wireless connectivity and providing the modularity to  have no limitation of adding any parameter with latest user interfaces like touch screen, remote keypad etc. where the clinical excellence and technology are the prime drivers.
Mid-End is the segment which is more prominent and maintaining a steady growth by balancing the price and features. The value-wise high-end dominates with 46 percent share, mid-end and value with 37 percent and 17 percent respectively.
The volume-wise value and mid-end segment each account for 40 percent share while high-end segment accounts for 20 percent.
Who are the leading vendors in this space in India? What is their respective market share?
Philips is leading this market by sustaining its number one position in this space. Other prominent players are Mindray, GE, Spacelabs, Nihon Kohden, L&T, Schiller, BPL, Draeger etc.
What are the latest and most innovative technologies available in the market of patient monitoring?
Real-time data transmission from the ambulances to the hospitals by using the latest 3G technology helps doctors to suggest an immediate treatment, pre-plan and prepare for the treatment in advance. Remote web and cellular viewing is an emerging trend in the patient monitoring field that enables the specialists being anywhere in the world to access the vital patient information to provide the consultation.
What are the major challenges faced by patient monitoring equipment vendors in India? What are the key opportunities?
As there is no regulatory body in India that regulates the quality system, like SFDA in China and USFDA in US. There are many companies with a short term focus flooding the market with products; many of them are of sub-standard quality at a very low price. Differentiating the quality products and realising the value for quality has become a huge challenge in the market.
Opportunities for healthcare sector in India are tremendous. Bed to population ratio in India is far behind from many developing countries. Governments increased focus on healthcare is an excellent opportunity for the reliable monitors at a good price point.

Follow and connect with us on Facebook, Twitter, LinkedIn, Elets video