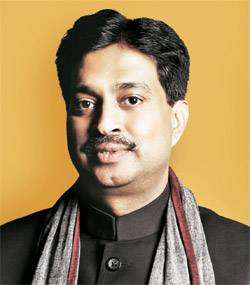 Krishan Guptaa
MD & Global CEO, ORGANIC INDIA Pvt Ltd

Krishan Guptaa, Managing Director and Global Chief utive Officer (CEO) at Organic India, has been having lot of fun as he overcomes new obstacles while leading his company to success.
After passing out as Gold Medalist from LIT Nagpur in Chemical Engineering, Krishan Guptaa started his career in India with Colgate-Palmolive in May88. He has worked in companies like Gillette, Godrej, Benckiser in India, and he has also handled few critical assignments in Europe and USA. From 1999 to 2001, he worked as project manager for a multinational company in Brussels, where his agenda was to improve the levels of efficiency in the company.
He is a hard taskmaster and he believes in leading from the front. He delegates responsibility effectively to deliver time bound results. Krishan always believes in win-win situations. Krishan Guptaa is a firm believer in God. He is a simple and down to earth individual. He loves to read and play golf. He has written a book Clear Your Bottlenecks, which is basically devoted to describing his recipe of success. The book, written in a refreshingly simple, flowing style, is well punctuated with relevant anecdotes, and is a quick and absorbing to read.

Krishan Guptaa has won many Awards like The Mother Teresa Excellence Award, Indira Gandhi Sadbhawana Award, PHD Chamber Distinguished Entrepreneur award, The Royal Leader Award , Young Achievers Award, Transformation Leadership Award, Lufthansa Pioneering Spirit Award and FedEx Emerging champion award.
Krishan Guptaa believes in sharpening his skills regularly. He has picked up the following qualifications – MBA (Masters in business administration) from Amity Business School, Lead Assessor (ISO 9000) and Instructor in Gemba Kaizen (AOTS Japan). He has developed a unique form of Kaizen for Organic India, with splendid results in productivity and quality improvement. He enjoys working in a multi cultural environment. At ORGANIC INDIA, his business strategy is based on enabling everyone in the chain, starting from mother earth, farmers, employees, associates, end consumers and plant as a whole to win. Mother earth wins when we use traditional method of farming (no use chemicals or pesticides), farmers win because they are paid premium prices over the market price as well as assured of buying all the produce in addition to medical support and planet wins as we use only recyclable packaging material (glass).
He has also initiated scholarship for meritorious children of farmers for higher studies and to provide them jobs. Under his leadership a new initiative of stitching classes for farmers wives and daughters is initiated to support them in earning their livelihood. This concept has helped thousands of farmers and their families in India to live a life of dignity and converted thousands of acres of land abused with chemical to Organic Land.
Krishan Guptaa delivers motivational lectures at various public forums and business schools across the globe. It is easy to be inspired by his magnetism. Krishan Guptaa says, We at ORGANIC INDIA totally believe in our culture. We have realised the importance of using authentic organic products. We started with Tulsi tea as Tulsi is the queen of herb and then added total range of formulations, spices and commodities with the latest addition being Desi Ghee from Tension free cows and Chaywanprash.
People need to take responsibility of their own health. The focus must shift from drugs / medicines to a natural way of living. Recourse to drug should be taken only in extreme cases. I feel the key is to start including it in schools to catch young minds. Teach them the right basics and not get their minds corrupt towards use of drugs / medicines instead taking health in their own hands. I feel this is the right way forward and doesnt require any investment from government, says Krishan Guptaa. Technology could play an important role in ensuring that people start living in a natural way in India and across the world.  Government should have good education system for our schools so that they learn the basics of Indias wisdom of over 5000 years and feel proud of our history while industry need to produce only authentic products so that they are effective to develop trust of the consumers on our ancient wisdom which we lost and started aping the west.
Follow and connect with us on Facebook, Twitter, LinkedIn, Elets video