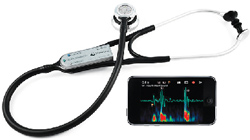 mHealth focuses on wellness and not illness as it stands on the brink of creating a revolution in the recession proof industry
By Shally Makin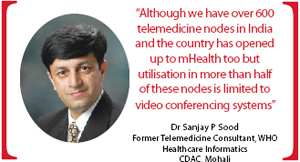 Over the years, the healthcare industry has seen an increased focus on preventive healthcare by the private sector. The technology has greatly transformed the healthcare scenario with a prospective future of mHealth. Mobile health information technology (mHealth) is basically defined as the portable devices with the capability to create, store, retrieve, and transmit data in between the patient and the doctor for the purpose of improving patient safety and quality of care. It is referred to as the 'virtual visit to the doctor'.
Smart phones have brought a new era in the health sector by introducing health application such as blood pressure monitoring, smart-health sensors, fitness training and so on. The development of mHealth has been rapid enough to reach globally with a fusion of wireless smart phone technology with healthcare. Most of the people of different age, whether old or young, have cell phones. This has made the world smaller, connected and easier to communicate with. According to TRAI, by December last year, there were 750 million mobile users with 18 million of them increasing every month. This shows the long expected mobile revolution in health care sector with the introduction of smart phones and awareness in the rural areas about preventive health. Such business models have encouraged traditional healthcare providers in the mobile application market to broaden the utility and aspects of healthcare services. Continued Medical Education (CME), remote monitoring and healthcare management applications are some of the many mHealth applications existing in the market. According to a report, the mHealth market is expected to reach US $4.6 billion by 2014 and 30 percent of the total smart phone users will be benefitting with the mHealth application. The figure below gives the statistics of the mHealth and its market.
As Dr Sanjay Sood, former Telemedicine Consultant, WHO puts in, "mHealth has evolved to a level where these technological marvels can be classified as practical, feasible, beneficial and affordable." mHealth provides great benefits to patient by using medicine reminders and appointment reminders, conducting research on confusing symptoms or connecting to a system such as iPath to ask for assistance in diagnosis, enables last/first mile communication with the patients enabling users to access health information when and as they need. To ensure that patients can find stock of prescribed medicines in a dispensary close-by, this application can also be connected to HMIS-enabled dispensaries in SMS-based query applications. These services will save time and resources travelling to dispensaries that don't have the required medicine.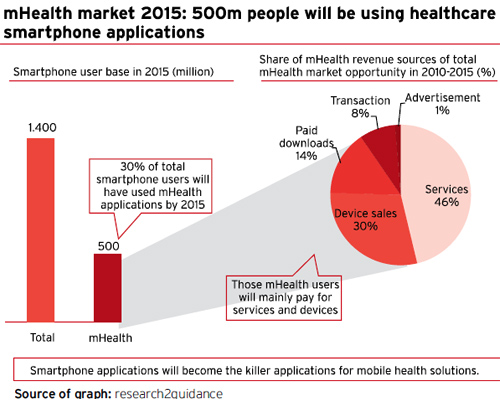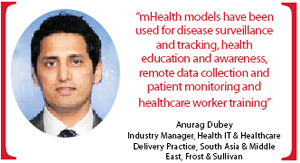 With such technology, doctors can receive a share of revenues from downloads or subscription fees from specialized mHealth app stores; pharma companies will be encouraged to advertise and increase sales through improved patient outcomes by focusing straight to the patient's health; rural areas with shortage of physicians will be benefitted greatly with the mHealth application reaching to specialists' advice directly; and data collection and information distribution will be made much simpler.
Anurag Dubey, Industry Manager, Frost & Sullivan, says, "These types of innovative mobile solutions will revolutionise and enhance the accessibility of health services empowering the population with anytime anywhere healthcare service offerings."
Trends and Future Applications


With increasing technology, Indian railways is introducing internet facility in the next two years for the passengers to help them use mHealth application in emergency. NHS in UK has validated over 40 languages for communicating every patient surpassing all language barriers. In India, a two year MD course in wireless medicine for doctors is being offered for encouraging doctors to involve in mHealth services. Textbooks are also available on mobile such as reference lab on cyber space for matching and diagnosis. Anurag Dubey appreciates the Apollo-Aircel service 'Tele Triage', which empowers patient to connect to Apollo hospitals' consultants round-the-clock to discuss health concerns or symptoms and get advice over precautions and drugs to be taken. Nandu Madhva adds, "3G and low cost smart-phones are helping mHealth information services reach significantly larger audiences in India."
mHealth includes the merger of research and mobile technology with the extensive use of mobile phones, telehealth and GPS. With the advancement in cloud computing and improved connectivity along with mobile health innovations, mHealth has come a long way from idea to innovation. The connectivity base is now expanding to digitise the patient electronic medical records, as well. The 3G technology makes mHealth application to be used efficiently by sharing audio files, video files, visual images between patient and the doctor. Today, mHealth is reaching in rural villages of India, which still do not have a landline and a wired phone but a wireless technology.


Follow and connect with us on Facebook, Twitter, LinkedIn, Elets video