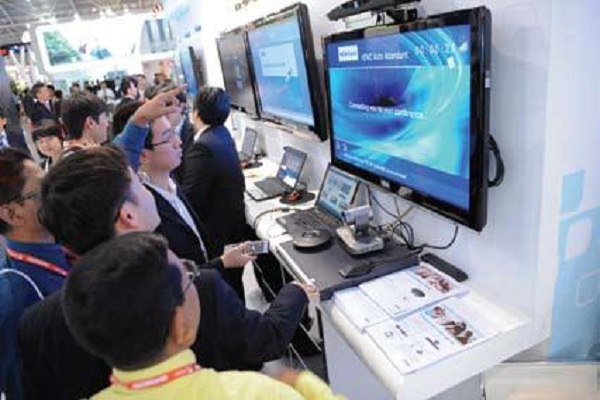 CommunicAsia2010 and BroadcastAsia2010 provided a strategic venue for the exhibitors by bringing buyers and sellers together from across Asia and highlighting the newest technology innovation in ICT, broadcasting and media industries.
CommunicAsia is recognised as one of the premier business events in Asia for the global information and communications technology (ICT), broadcasting and media industries. Held in Singapore from 15 – 18 June this year, the event, CommunicAsia2010 and BroadcastAsia2010 has caught the eyes of the industry when it recorded 15% more international attendees that includes overseas attendees from 100 countries and regions made up to 56% in comparison to 49% last year. There were 55,150 local and international industry visitors, conference speakers and delegates, and were close to 2,000 exhibiting companies from 57 countries and regions at the event. As the event saw more overseas visitors this year the expectation is a double digit growth from a year ago."The increase in overseas attendees, particularly those from the Asia Pacific region, reflects the anticipated rebound in IT and media spending and how companies are ready to invest for further growth in Asia," said Stephen Tan, Chief utive, Singapore Exhibition Services (SES).

Premiere of innovative products and technologies
Organised by the Singapore Exhibition Services (SES), one of the most innovative exhibition and conference organisers in Asia, CommunicAsia aimed to seek the best returns on investments and to determine the best value and latest convergent technologies and applications, since 1979. Into its 21st year, CommunicAsia2010 highlights the newest technology innovation in the ICT industry in the like of today's digital convergence landscape. Products being showcased ranges from the latest technologies in applications, solutions to hardware.
NTT DOCOMO showcased their latest smartphones for the Japan market, including their new separable phone. Yahoo! showcased the new Alcatel One Touch Net mobile, its first handset fully integrated with Yahoo! applications and designed to provide an integrated approach to communicating using a Yahoo! platform.  Skype, a first time exhibitor at CommunicAsia2010, showcased several applications at their booth and announced the availability of Skype on three Sony Ericsson smartphones based on the Symbian platform. Inmarsat's IsatPhone Pro service, its first global handheld satellite phone, premiered worldwide at the show this week. ZTE unveiled the ZXY10 T700, the first integrated HD video conferencing terminal. In addition, mobile application stores were also unveiled by Infindo, Telekom Malaysia (TM), M1, NTT DOCOMO and Research in Motion (RIM) among others.
Spotlight on 3D at BroadcastAsia2010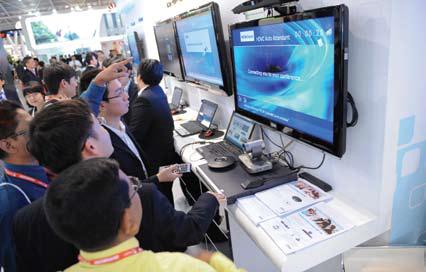 3D technologies dominated the exhibition at BroadcastAsia2010. International and local exhibitors such as AV8 Media, Cine Equipment, Harris Corporation, Panasonic and Sony Electronics announced their latest professional equipment, solutions and technologies for broadcasters and production companies.
The 'live' 3D showcase by exhibitors Broadcast Pro, Dayang, Evertz, Panasonic, Maestro, Ross Video and SeaChange brought 3D to life through the specially created content and gave visitors a feel of the upcoming technology.
Panasonic, a regular exhibitor at BroadcastAsia, presented an action-packed display of live Muay Thai and entertainment demonstrations that were recorded in 3D and instantaneously beamed on projectors above the booth.  Panasonic showcased their latest range of professional equipment and camcorders, including the world's first professional, fully-integrated Full HD 3D camcorder that records to SD card media.  Sony Electronics returned to the show with cutting-edge 3D and high-definition (HD) broadcast and production solutions.  The company also unveiled Singapore's first HD OB trailer built for national broadcaster Mediaorp at BroadcastAsia2010.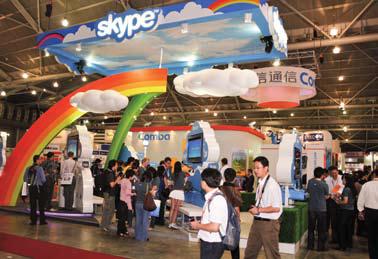 There were exciting launches by exhibitors from Asia, like Altek Corporation, DIGILINK, NTT DOCOMO and ZTE, as well as leading international players viz. Inmarsat, Skype and Yahoo!
Underlining Asia's vast potential for growth
Exhibitors and visitors at the event were impressed with the business opportunities in the region as Asia continues to remain resilient with vast potential for growth.
"CommunicAsia2010 enabled us to meet with over 300 potential and existing customers who hail from regions of Asia Pacific, Africa and the Middle East, a significant increase of more than 40% compared to around 200 meetings in 2009," said Thong Poh Wah, Director (PR), Asia Pacific Marketing and Strategy Department from Huawei Technologies Co., Ltd.
According to Mervin Wang, Head of Marketing Services, Sennheiser Asia, Sennheiser has been exhibiting at BroadcastAsia annually to meet new customers, and to renew business relationships. Even year 2010 has seen good visitorship at its booth.
Further to that, Ken Clark, General Manager International, Fiji TV observed, "Fiji TV will be setting up new TV stations and are looking at purchasing new equipments. At BroadcastAsia and CommunicAsia, I get to hold valuable and quality meetings with exhibitors. My first trip here is definitely a very fruitful one."

Conferences and workshops
The CommunicAsia2010 Summit and BroadcastAsia2010 International Conference featured over 150 conference sessions and workshops and an impressive line-up of over 200 veteran industry speakers from leading companies and organisations addressing various pertinent issues and challenges affecting the ICT, broadcasting and media industries and provided trade visitors with valuable insights on industry trends and growth opportunities. Over 1,400 speakers and delegates participated in the CommunicAsia2010 Summit, BroadcastAsia2010 International Conference and the Creative Content Production Conference. Following to the success of the current event, CommunicAsia2011 and Broadcast Asia 2011 will be held at new venues Marina Bay Sands and Suntec Singapore respectively from 21-24 June 2011.

Follow and connect with us on Facebook, Twitter, LinkedIn, Elets video