The liberalisation of the foreign investment policy and the emergence of private healthcare providers have proved to be a shot in the arm for the Indian healthcare industry, giving rise to specialised fields in healthcare and opening new career opportunities for thousands of job seekers in India. In a short span of time many educational institutes have sprung up providing professional training in the allied fields of medicine. So, this is the time to specialise in these emerging fields for a promising future.
The entry of corporate players in the Indian health industry has not just improved the quality of medical services but has brought in new career opportunities for graduates in medicine and its allied fields. As new private players are entering the market and the existing ones expand their market in health care industry, the private educational institutes are also keeping pace with them by introducing specialised courses to fulfill the demand of trained manpower.
India faces a huge need gap in terms of availability of number of hospital beds per 1000 population. With a world average of 3.96 hospital beds per 1000 population India stands just a little over 0.7 hospital beds per 1000 population. It is estimated that each additional bed has the potential to create 5 direct jobs and 25 indirect jobs.
According to official statistics, the number of clinics and hospitals have increased almost four times from that in the 1950s. The Indian healthcare sector has seen progressive increase in investments in healthcare infrastructure and the booming Indian healthcare sector is in an expansion mode owing to the availablity of several financing opportunities. Currently, the Apollo hospitals' network includes about 26 hospitals while Fortis Healthcare runs 13 hospitals and 16 satellite centres and Wockhardt has 12 hospitals.
The corporatisation of hospitals has resulted in improved infrastructure and medical services and has also opened up new career opportunities in hospitals. There is a rising demand for not only doctors but also for hospital administrators to manage large hospitals.
Areas of opportunities
The Indian healthcare sector constitutes of medical care providers, diagnostic service centers and pathology laboratories, medical equipment manufacturers, Contract Research Organisations (CRO's), pharmaceutical manufacturers, and third party support service providers (catering, laundry). Within the healthcare sector there are some key areas which are undergoing a lot of change and would experience a spurt of opportunities in the near future. These are medical infrastructure, telemedicine, medical equipment, medical textiles, health Insurance, clinical trials, health services outsourcing, medical value travel and training and education.
Hospital Administration

The rapid growth in the Indian economy has led to urbanisation of Indian cities which means better jobs and higher disposable incomes. The improved standard of living has increased awareness among urban dwellers about health and health insurance, which in turn has increased the demand for quality healthcare in India. In addition to that, changing demographics, disease profiles and the shift from chronic to lifestyle diseases has led to increased spending on healthcare.The total expenditure on health per capita has increased $19 in 2000 to $36 (at average exchange rates) in 2005.
The corporatisation of hospitals has resulted in improved infrastructure and medical services and has also opened up new career opportunities in hospitals. There is a rising demand for not only doctors but also for hospital administrators to manage large hospitals. In hospitals, there are several administrators, one for each department. In smaller facilities, they oversee the day-to-day operations of all departments. Administrators make sure hospitals operate efficiently and provide adequate medical care to patients. '
In 2007 Indian hospitals treated 4.5 lakh international patients against the topper Thailand, which treated 12 lakh patients. According to a study by McKinsey and the Confederation of Indian Industry (CII), medical tourism in India could become a $1 billion business by 2012.
"The hospital administrator's job is not an easy one as the administration of a hospital is unlike the administration of any other business. It deals with human beings and not material products. A hospital administrator's job is to effectively manage the management of health system and the effectiveness of health outcomes. "At IIHMR we train our students to manage various core as well as functional areas of a hospital like health delivery, health laws, health infrastructure, health problems and health needs. We train them in logistics, finance, health informatics, hospital waste management, equipment management and quality assurance in hospitals," says Dr S D Gupta, Director, Institute of Health Management Research, Jaipur, which offers postgraduate programme with specialisation in Hospital Management, Health Management and Pharmaceutical Management.
Most of the work which the hospital administrators do in administration does not require medical knowledge and most of the doctors are either not keen on taking charge of administrative matters or are not good at it as they are not trained in administrative sciences. This has raised the demand of non-medical hospital administrators as the large hospital chains require specialised staff with a degree in hospital and health management.
"We prefer to call hospital administrators as hospital managers as the nature of their job is dynamic whereas administration is a one-way process. Hospital mangers facilitate clinicians in better delivery of medical services. Generally doctors lack managerial skills as most of them are not trained in hospital management, so students from non-medical background are more preferred," adds Dr Gupta.
Medical Tourism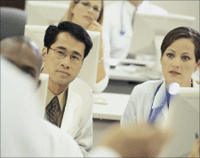 Medical tourism refers to people travelling to different destinations for tourism as well as medical services. The idea behind this concept is to get a cost-effective quality medical care along with a tour to surrounding destinations. India is becoming a hub for medical tourism because the talent of Indian doctors is well-known globally. Other factors which have contributed to the rise in numbers of international patients are opening up of corporate hospitals which provide high quality care in half the price in foreign countries and long patient waiting list, especially in the UK and Europe. Recently India was ranked second in medical tourism. In 2007 Indian hospitals treated 4.5 lakh international patients against the topper Thailand's which treated 12 lakh patients. And, according to a study by McKinsey and the Confederation of Indian Industry (CII), medical tourism in India could become a $1 billion business by 2012.
As travel agencies act as a facilitator between patients and various hospitals, many hospitals with a medical tourism department employ people graduated in tourism and travel management. There are many tourism and travel institutes in India which train students in medical tourism. However students with a degree in hospital administration and trained in medical tourism can have better job openings. Recently, Indian Institute of Clinical Research (ICRI) moved from being a clinical research education provider to health care education provider by launching courses in Healthcare management with a specialisation in medical tourism.
"Though India treats about 5 lakhs patients in a year which is about to grow double in the near future, it is still an unorganised sector. As of now there is not a single institute in India offering a course in medical tourism despite the fact that medical tourism in India could become a $1 billion business by 2012. ICRI is the first institute in India to provide a specialisation in medical tourism. Students taking this course will be placed in hospitals or travel agencies or embassies as facilitators. A part of their job deals with discussing with foreign patients the estimated costs and expenses including the travelling, treatment, the selection of the hospital, where to stay and how long to stay, pre and post surgery care, tourist attractions, translators, nurses etc.," explains Major General M Srivastava, Director, ICRI Health.
Health Informatics
Health informatics or medical informatics is the intersection of information science, computer science and health care. It deals with the resources, devices and methods required to optimise the acquisition, storage, retri and use of information in health and biomedicine. Health informatics tools include not only computers but also clinical guidelines, formal medical terminologies, and information and communication systems.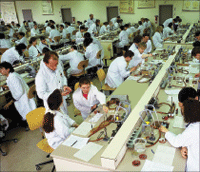 Health information technology (Health IT) allows comprehensive management of medical information and its secure exchange between health care consumers and providers. The healthcare industry is one of the biggest spenders on IT across the globe but despite the IT revolution in India the use of IT in healthcare is confined to peripheral functions. Currently the IT investment in Govt-run hospitals and private hospitals is negligible may be 3 to 7 per cent of the overall hospital infrastructure budgets. However, the experts predict that the growth rate of IT in healthcare is going to be 15 to 20 per cent CAGR.
The Internet has made healthcare more accessible, interactive, and highly useful. Telemedicine, picture archiving and communication systems (PACS), and healthcare information systems (HIS) are a few of the many IT applications in healthcare. The health department of the Delhi government has been working on developing and testing an e-hospital software for a very long time. Very soon the Delhi government will computerise hospital functions of all the government-run hospitals in Delhi by installing Hospital Information Management System (HIMS).
Telemedicine, a good combination of medicine and modern technology, is also raising new hopes in health care. Telemedicine means providing medical assistance at a distance with the help of Information and communication Technologies. Telemedicine is a method by which patients can be examined, monitored and treated, while the patient and doctor are located in different places. The patient's reports can be sent via text, voice, images or even video, and medical advice offered from a remote location. The telehealth segment is growing at a rapid pace and requires professionally qualified people to support this segment. Currently, there are a few institutes in India providing courses in Telemedicine like Centre for Development of Advanced Computing(CDAC), Mohali, School of Telemedicine and Biomedicine Informatics, Lucknow, the Apollo Telemedicine Networking Foundation in a tie up with the Anna University and Tamil Nadu Dr. MGR Medical University.
"Department of Telemedicine, CDAC, has been conducting workshops for healthcare professionals in telemedicine technology since 2007 and we have been receiving a very favourable response from hospitals across the country. This February we have introduced an advance course of eight-week duration in Telemedicine and Medical Informatics for doctors and paramedics. Currently, we are training 18 doctors from across the globe in the first batch and we have been receiving lots of calls from healthcare professionals all over the world especially developing countries to know about the course. Unlike in the West, telemedicine is at a very nascent stage in India and job opportunities are still not much. So in the present scenario it can be a very good value-addition for doctors, paramedics and students of hospital management. In the near future CDAC is stating a masters' program in Medical Information Technology,"informs J S Bhatia, Director, CDAC, Mohali.
There are several institutes and universities running a course in Medical Informatics like Medvarsity; Amrita Institute of Medical sciences, Kochi; Bioinformatics Institute of India, Noida; eHCF School of Medical Informatics, Delhi; and Indian Academy of Health Informatics, Delhi.
Clinical Research

In the span of about four years Clinical research has become one of the most preferred career option for graduates in medicine and its allied fields owing to many factors: the rise in demand for professionally trained clinical research professionals, India becoming a hub for clinical trials, tremendous scope for higher growth, and attractive pay packages. With all major pharmaceutical companies and Contract Research Organisations (CROs) setting their base in India the clinical research business is projected to grow $1.5 billion by 2010 and the demand of CR professionals would be about 50, 000 by 2010.
Currently, there are many institutes in India offering part-time as well as full time post-graduate diploma in Clinical research. There is a huge demand for clinical research professionals in business development, investigation, reporting and trials in hospitals, CROs, clinical study investigating sites, clinical laboratories and clinical trials consulting companies and site management organisations.
Clinical research industry is considered to be a recession-proof industry. Here is an industry expert's views. "Pharma companies are unlikely to get hit, as healthcare is a booming industry even in a recession. The other factor which takes care that the job opportunities wouldn't thin out is the medical infrastructure, thanks to the Drug Authority of India which has played a very positive role in putting together a good structure of regulations. It gives foreign companies enough confidence that the Indian market is secure. Apart from this low costs and easy availability of naive patients will maintain India's status of a hub for clinical trials," says Shiv Raman Dugal, Chairman, Institute of Clinical Research in India.


Follow and connect with us on Facebook, Twitter, LinkedIn, Elets video