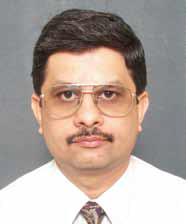 Prakash Kamat
Chief utive Officer
Contact
2, Anand Park, Opp. Anand
Ban Club, Aundh, Pune
411007
Tel: +91-20-66044444
Fax: +91-20-66044545
Email:prakash@softlinkinternational.com
Website:www.softlinkinternational.com

---
Company Profile
SoftLink International, a leading Software Product company with core focus on Hospital Automation and Medical Imaging, has bagged the prestigious order for implementation of Hospital Management Information System at JIPMER, Pondicherry. With more than a decade of indepth experience in the field of Healthcare Information Technology (HIT), Softlink has garnered 150 plus installations globally that span across 12 countries! The core strength of SoftLink lies in its product portfolio, which comprises of a fully integrated suite of HIS/CIS/RIS/PACS, making it a "one-stop shop" for an end-to-end solution approach for any Hospital. JIPMER with a current bed strength of around 1050 and a daily OPD load of around 4500 patients is ranked among the TOP 10 Teaching Hospitals in India. JIPMER offers high quality sophisticated diagnostic and therapeutic facility to all patients "free of cost" irrespective of their economic status. The institute runs under the direct administrative control of DGHS, Ministry of Health and Family Welfare, Government of India and is on par with similar institutes like AIIMS, New Delhi, PGIMER, Chandigarh etc. Recently, JIPMER was declared as an Institute of National importance by way of a legislation approved in Parliament by the Government of India.
SoftLink focuses on three key areas of healthcare automation, namely cardiology, radiology and hospital management by providing software products and turnkey solutions. SoftLink provides a 'One Stop Healthcare Solution' for healthcare organisations, by providing hardware, implementation and consulting services in conjunction with software solutions. The team of technicians has over 100 years of combined experience professionally installing and maintaining customer's servers, workstations, firewalls, mission critical software applications and more.
SoftLink's integration solutions address the issues of interoperability challenges by developing easy to use integration platforms, that help software solutions installed in hospitals to share information when needed and in the required form, there by ensuring seamless integration between HIS-RIS-PACS.
Products/Solutions

Panacea (Hospital Information System):Panacea is an enterprise wide hospital information system with IPD, OPD, scheduling, materials management and other operations. With integration of finance, stores, pharmacy, blood bank, clinical subsystems and PACS, it covers the entire spectrum of hospital automation. Panacea offers option to store and share vital patient data directly from patient monitors, across disparate systems and departments.

HCP DICOM Net (Cardiac PACS):HCP DICOM Net is a multi-modality PC based integrated platform for cardiac image acquisition, storage, review, analysis and reporting with scalability to enterprise level Cardiac PACS. HCP DICOM Net helps hospitals to consolidate isolated patient information and studies from cardiac catheterisation labs, echocardiography, nuclear cardiology as well as electrocardiogram into a centralised archive to achieve improved patient care, greater efficiency and lower costs.

Imagine (RIS-PACS-WEB-3D):Imagine is a thoughtfully construed enterprise suite for radiology, addressing needs of diagnostic centers and multi specialty hospitals for workflow management, image review, post processing and archival. With its open system, scalable yet versatile architecture, it enables hospitals to access medical images at the click of a mouse from anywhere in the world.

Heart Care Plus (Cardiac Information System):Heart Care Plus 5.0 software is tailor-made to carry out the reporting of cath procedures. The data, enough for clinical report and research, is collected. It is a highly user-friendly system based on intuitive Windows GUI. Most of the data can be entered using the point-and-click method, thereby reducing the keying-in efforts and errors.

DICOM Net CD Publisher:DICOM Net Publisher is one of the most comprehensive CD, DVD and BD publisher available in the market today. With DICOM Net Publisher, user gets multiple benefits, from saving cost of printing films and Image storage to improving operational efficiency and benefiting the Image of the organisation.
Follow and connect with us on Facebook, Twitter, LinkedIn, Elets video