With the advancements in technology, ultrasound equipment is becoming a necessary and affordable entity in healthcare centres across the country
Share your comments on ultrasound equipment market in India vis-à-vis the global market.
Radiology has become the backbone of healthcare centers due to developments and advances in the technology including the advancements in ultrasound technology. As one of the most noninvasive, cheap, rapid, with real-time imaging and availability, the ultrasound machines have become one of the most common and essential diagnostic tools in a hospital or diagnostic center.
The market of ultrasound machines is, therefore, increasing constantly as ever with simultaneous increase in the number of manufacturers in the past few years. Even old companies are offering newer advance techniques like 4D, elastography, fusion imaging and contrast agents that is are further expanding the scope and future of ultrasound equipment. As radiologists are better aware of cross sectional imaging and direct link with the findings of ultrasound than sonographers, the countries, including India, where radiologists operate the machines, it is taking a pace and rapid expansion.
Your current operations in India and your expansion plan.
Currently, we are working in primus super speciality hospital and also associated with few other diagnostic centers where we have state-of-the-art USG machines along with the cross sectional modalities. Keeping the load of patients in mind for ultrasound, these are being updated well in advance. Also, we always look forward for the recent advances and to implement them into our institution or hospital.
What are your views on the price-sensitive Indian market?
Price of the USG equipment is of the utmost importance along with the other technical qualities like resolution. Price is a sensitive issue but probably not at the cost of quality, resolution and recent advancements.
What are your views on government regulation or any other challenges faced while operating the Indian market?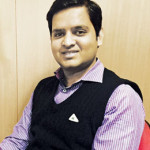 The government bodies issue guidelines before allowing the operations of diagnostic tools in a hospital or diagnostic centre. These guidelines, most of the times, have certain tough legal issues in cases of procurement, installation and operation of ultrasound machines for both the company and the operating doctor, that cause an unnecessary anxiety. Since the machine can be misused for many illegal activities, such as female child foeticide, it causes a lot of trouble for the owner in maintaining machine standards and registrations.
On emerging trend and new technologies
Nowadays, the trend is towards increasing the indications of ultrasounds with more frequent use for diagnostic purposes. Although it will not be a surprise if it is being used by surgeons and physicians on outpatient basis as the technique not just involves diagnostic purposes but also the guided interventions, ECHOs, transesophageal sonography, endoluminal and endocavitary imaging and Doppler. With advances in elastography, fusion imaging, ultrasound contrast agents and 4D imaging technology, the market of ultrasound equipment is repidly increasing fastest not just in major centers but also in the peripheral setups at district and village level.
What are your Hospital's offerings?
At present our hospital offers a decent USG machine with colour Doppler and 3D facilities which serves most of the purposes but we would always like to upgrade it whenever we have more funds. To conclude, USG is an integral part of a hospital and diagnostic centers and have immense potential to expand its utilities if misuse can be checked.
The authors are Head of the Department of Radiodiagnosis, Primus Super Specialty Hospital, New Delhi
For more information visit:

Recommended from all portals