Nikil Rao, Country Manager of Dräger India, tells Elets New Network about Infinity® Omega Plus patient monitoring systems, which not just brings patient care and patient information system closer but also helps to reduce workplace complexity and support building of efficient care processes

Emerging technologies in patient monitoring segment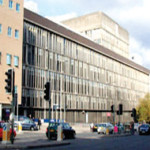 The future of patient monitoring is clearly based on IT integration, data access and capture from across hospitals, and remote access from any point within the hospital or across the globe. The protocol based standardised charting solutions save on time and effort of the care giver, recording the information flawlessly for future access and meaningful interpretation for clinical as well as costs uations.
Today's technologies talk about information access at bedside bringing together vital signs, information from HIS/CIS, laboratory results, radiology images, etc., at acute point of-care to accelerate clinical decisionmaking, improve care delivery and facilitate consultation between clinicians.
Patient monitors should be standardised, scalable and mobile across all care units, thus enabling flexibility in staff utilization and reducing training time. Scalability of patient monitors accommodate all acuity levels and patient types within and across departments, upgrades and expandswith ease, supports the sharing of assets, helps build a tailored solution as the demands grow – smoothly and without redundancy. Standardisation, scalability and mobility also saves time preparing patients for transport and for their return, monitoring same parameters in transit as at the bedside, optimises staff and equipment utilisation. Thereby increases patient safety and productivity.

"We're documenting more data than ever before and we don't have to worry about capturing that data. In addition, the system automatically calculates patient scores to uate the severity of illnesses,†says Dr Gould
Patient monitors should have device Integration to consolidate monitoring – and therapy information – for a better view of patient's care state at a single point, providing a more complete view of decision-relevant patient data, supporting rapid treatment and generating more comprehensive chart-ready documents, automatically.
They should be IT enabled and open a pathway between patient monitoring and hospital IT systems which delivers highest performance, builds on existing, non-proprietary hospital infrastructure , offers literally infinite connectivity through open architectural design, connects effortlessly across multiple sites and finally allows system growth througha partnership between hospital IT department and medical equipment supplier's professional services.
The success story of "Bristol Royal Infirmaryâ€
Quantifying the quality of care
Healthcare costs a lot of money – and critical care is where a significant percentage is spent. That's why healthcare managers are scrutinising that particular part of the business. As a result, hospital intensive care units are being pressured to provide evidence of the quality of care they offer.
Today's ICUs are under a financial microscope. According to Dr Tim Gould, a visionary Intensivist and Critical Care Consultant at the Bristol Royal Infirmary (BRI) in Bristol, England, "The government is starting to want to see value for money. Also, many intensive care organisations in different countries now have to come up with quality outcome measures that can be used to quantify how good an ICU is in terms of value. One measure is mortality, but the government also wants to see metrics regardingpatient safety and quality of care.â€
Long realising the value of research, Dr Gould wanted to be able to look at certain patient groups to see if various steps the ICU was taking – or not taking – had an effect on outcomes. He also realised that it's virtually impossible to do that kind of research on paper.
Moving away from paper In 2005, the BRI needed to replace outdated patient monitors in its General ICU. Dr Gould, who then was Clinical Director of General Intensive Care, wanted to add a clinical information system within that replacement cycle because he was interested in taking the first step in replacing paper-based charting. He also wanted to be able to automatically collect information for research from devices such as patient monitors, ventilators, lab and fluid management systems, as well as manually collected data on medication, intervention and assessments.
"If you use a clinical information system such as Innovian to its full potential, it can allow you to improve the quality of care that you deliver to your patients.†Dr Tim Gould, Intensivist and Consultant, Bristol Royal Infirmary
The BRI asked Dräger to install Infinity Omega Plus patient monitoring systems in the 16-bed General ICU. The solution included an electronic charting system, the precursor of the Innovian clinical information system. Innovian replaced the ICU's manual charting, which consisted of a big A3 paper chart at the foot of every bed – one per day, per patient. So if a patient had a four-week stay, for example, the records were spread across 28 individual charts. Using that data for research was virtually impossible.
Now, Innovian automatically gathers data from bedside devices, including patient monitors and ventilators. "We're documenting more data than ever before and we don't have to worry about capturing that data. In addition, the system automatically calculates patient scores to uate the severity of illnesses,†says Dr Gould. Manual patient scoring is typically time consuming and very often is not done in clinical routine because it requires so much time.
Comprehensive data capture
In 2008, Dr Gould transitioned out of his position as Clinical Director of General Intensive Care to devote more of his time to research. He set up a critical care research group and is supported by three dedicated research nurses.
The mission of Dr Gould's group is to prove that the BRI ICU complies with certain factors that have been set up as benchmarks of quality – such as care bundles for pneumonia patients based on evidence that certain treatments benefit patients.
"Although we do these things in our everyday practice, we still need to substantiate our observations with data. Innovian's data capture is incredibly comprehensive and efficient. The database capability makes it very easy to generate reports describing our compliance with a particular treatment strategy. You can look at various groups of patients and see how well you do against national averages. It's a good way of confirming that our strategies, treatments and processes deliver good quality results,†says Dr Gould.
The BRI participates in audit activities for intensive care that takeplace all over the UK – which measure quality, outcomes and cost effectiveness. Based on data over the last 16 years, the BRI consistently ranks in the top echelon of hospitals.
"Since data capture happens automatically, the nurses are free to spend more time caring for patients. Innovian has allowed us to shift our focus and be more patient-centric.†Zoë Evans, RN, Clinical Information Systems Manager, Bristol Royal Infirmary Infinity
Configurability is key The BRI was able to use a patient data management system as a springboard for research because the platform can be configured. "The configurability of Innovian has allowed us to adapt the system to the specific needs of the unit – which is in essence why we went with the Dräger product over any else's,†states Zoë Evans, RN, Clinical Information Systems Manager at the BRI, who was instrumental in configuring Innovian for the ICU.
Evans was also responsible for transitioning the staff from a manual to an electronic workflow. "A lot of nurses had never used a computer at all, so that was the big challenge. Nurses want the traditional way of caring for patients at the bedside, but their role is becoming more and more technical. So we had to ensure we provided them with the right tools to facilitate that kind of change.â€
Now, nurses are learning that they actually have more time to care for their patients. Since data capture happens automatically, the nurses are now free to spend more time caring for patients. Innovian has allowed us to shift our focus and be more patient-centric.
Evans also configured Innovian to combine documentation for admission and discharge, so for the first time in the hospital's history, doctors and nurses are documenting on the same screen. "There was a lot of duplication between what the doctors and nurses were writing. Now that duplication is eliminated. Two years after going electronic, clinicians look at the system as a computer and not a paper chart. Now that our clinicians are using Innovian, I don't think they would ever go back to paper,†further adds Evans.
Electronic prescribing helps increase patient safety
Dr Gould and his team have configured Innovian to include parameters of the drugs typically prescribed for ICU patients. While Innovian was not designed to check drug interactions, Dr Gould states, "The fact that Innovian lists the drugs in a pull-down menu format where they are written correctly with the appropriate dosage has improved the quality of our prescribing – compared with it being my handwriting on a paper form.â€
Innovian is web-based, so the staff can access the system from anywhere in the hospital – and even beyond. "If you're on call from home in the middle of the night and need to look at something that's not quite right with a patient, you can have all the relevant information on hand to help with the decision making,†says Dr Gould.
Innovian also makes archived data easily accessible to physicians. "During a morning ward round, I can look at an event that happened overnight. Or if a patient has outstanding problems, I can review the archives to see their medical history. Very comprehensive data is available to describe those kinds of episodes, so I can get a clear picture of what went on long after the event,†says Dr Gould.
Another advantage this webbased solution provides is that very detailed information can go back to the pharmacy regarding the way the ICU is using drugs and the amount of drugs it is using, so reordering and stocking of drugs from day-to-day can be optimised. Because of this database capacity, the ICU can generate very detailed information about what it actually costs to treat a patient.
Learning from history Dr Gould believes that anyone who is running an intensive care unit has a responsibility to run as safe and as good a unit as possible. "Being able to look back at the activity in your unit using the database is very powerful because you have a very good description of what you're doing on a day-to-day, week-to-week, month-tomonth basis with patients and their outcomes. You can target specific disease groups and look at those in detail,†he says.
Essentially, what Dr Gould is trying to achieve is more standardised care for every patient. Dr Gloud continues, "By ensuring that you have standardised, best-practice care for every patient, you will improve the overall quality of outcomes for patients. If you use a clinical information system such as Innovian to its full potential, it can allow you to improve the quality of care that you deliver to your patients.â€
The dual-screen Infinity Omega solution combines an Infinity Delta vital signs monitor with a medicalgrade workstation that brings networked information – such as clinical applications, lab values and DICOM images – to the point-of-care. Innovian is a web-based clinical information system that can gather data from bedside devices in critical care and perioperative care environmentspowand documents care-related activities. This allows the ICU to compare patient status by analyzing vital signs and lab values together with patient care activities that physicians and nurses provide.
The Challenge: Hospitals today are under an increasing pressure to quantify the care they deliver.
The Solution: Implement the Innovian clinical information system in conjunction with Infinity Omega patient monitoring solution; configure IT solution as a springboard to create research that helps the ICU address quality, safety and costs.
The Results:
• Generates the research data necessary to satisfy governmental requirements for quantifying the quality of care
• Saves time spent on documentation, enabling clinicians to focus more on their patients
• Provides quick and easy access to current and archived patient data, even remotely
Bristol Royal Infirmary
With roots tracing back to 1735, the Bristol Royal Infirmary is a teaching hospital with close links to Bristol University. It is part of the University Hospitals Bristol NHS Foundation Trust, a dynamic and thriving group of hospitals in the heart of Bristol, England that also includes the Bristol Heart Institute (BHI). University Hospitals Bristol is a leading international centre for healthcare research and education and has a strong reputation for innovative research and development.
The BRI provides acute medicine and surgery, critical care, trauma, orthopedic, and accident and emergency services to the population of the southern part of Bristol (approximately 2.3 million). It also provides the centre for cardio-thoracic services. Infinity and Innovian are registered trademarks of Dräger.
Omega Plus: Infinity Omega + Innovian
Follow and connect with us on Facebook, Twitter, LinkedIn, Elets video