Mobmon records, stores and manages ECG and pulse-ox records in form of EMR using an Android application
Gajanan Nagarsekar,
MD, Kallows Engineering
Looking at the news on Mobile Health (mHealth) technology disseminated over the Internet and other news media, one would imagine that the best devices in the mHealth sector will not be arriving until next year or by 2014. However, an Indian start-up founded by an American and an Indian has leapt ahead of the competition with the release of their first mHealth product.


Kevin Kreger,
Co-founder & Technical Director, Kallows Engineering
Kallows Engineering India Pvt Ltd based out of Goa is already manufacturing and selling advanced and innovative multi-parameter patient monitors, such as their revolutionary Android Smartphone (or Tab- let) based ECG and Pulse Oximeter. Their flagship product has US and Indian patents pending and is known as mobmon 3.0 (an acronym for mo- bile monitoring). This compact and in- expensive product fits in your hand and records, stores and manages ECG and pulse-ox records in form of Electronic Medical Records (EMR) using an Android smartphone or tablet based application (app). All of the hardware and software for the product is designed and manufactured by Kallows in India.
Doctors who have clinically tested the device and the ones who reviewed the demonstration were amazed to see that the 'Tele-ECG' offered by Kallows has a real-time mode wherein a remote physician can view the patient's vitals and waveforms on his mobile while the patient is connected (not as a mere picture or PDF file sent to the remote doctor via email.) In addition, the records are stored and can be browsed online and shared anytime between doctor's mobiles. Speaking to the Managing Director of Kallows, Gajanan Nagarsekar, he ex- plains how the mobmon device (Fig 1) functions:
"Using mobmon is a very easy three- step procedure. First, you connect your patient to ECG cables and/or Pulse oximeter as you would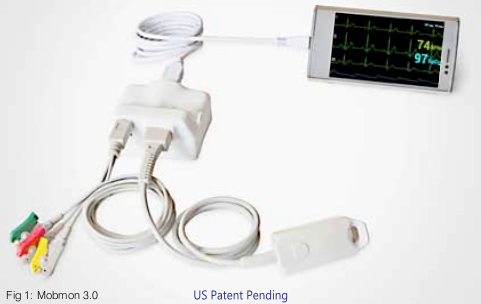 normally. Second, you plug the mobmon USB cable into your Android smartphone or tablet and the mobmon app starts automatically. Third you use the screen on the mobile device to view patient's ECG and SpO2 readings and waveforms. Then you can run the Live- Transfer feature to send the entire EMR to a remote doctor or hospital for instant viewing wherein the waveforms are viewed 'live' from the patient while connected." As per Kevin Kreger, Co-founder and Technical Director at Kallows, "Tele-ECG and EMR offered by Kallows is the fast- est, most reliable and hassle free product used as compared to any other Tele-ECG monitoring in the market. Moreover, we are expanding the product portfolio by 2013 to at least three more innovative mHealth products."
Kevin adds, "The EMR also contains patient info and vital signs along with the ECG and SpO2 waveforms all bundled into a standard DICOM file which can be imported by any standard hospital information system that can read a DICOM file."
These kinds of features and standardization make mobmon devices affordable along with reducing operating cost of ease of use in operation with minimal training. "It is as easy as using your mobmon smartphone app," mentions a smiling Gajanan. In addition, Kallows programming experts can provide customisation of the app to add patient in- formation required by any ambulance company or hospital having special EMR requirements.
Having researched and developed the product for nearly 4 years and being a pioneering company in the mHealth sector Kallows Engineering India Pvt Ltd based in Goa, India is definitely creating waves with its hi-tech products.

Recommended from all portals