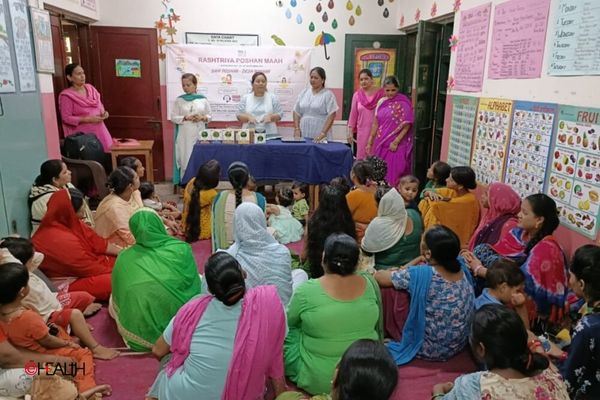 India which organises the annual POSHAN Maah, centered around addressing malnutrition in a mission mode, is celebrating the 5th Rashtriya POSHAN Maah this year. The Department of Social Welfare, Women and Child Development in convergence with all line departments of UT Chandigarh executed numerous activities to celebrate the same.
As part of Poshan Maah Abhiyan, "Shiksha Choupal – Poshan Bhi Padhai Bhi" program was organised for the children enrolled under ICDS and Poshan 2.0 at DadduMajra Colony today. During this program, pre-school children were made to practice various activities like reading-writing, cognitive development, development of art experience and creativity, calculation experience, plantation, physical development, etc. During the program, the department has also conducted some other activities like lectures on the importance of a healthy diet in adolescent girls & girls' education, awareness activities on Kitchen Gardening, slogan writing competition on poshan.
A major event was held today at Mouli village where a low-cost recipes competition among caregivers was organised by the department. In the competition, participants made some flavoursome nutritious food items that were not only pocket friendly in cost but also had great taste and nutrition. Winners of the competition were awarded good prizes. Apart from this competition, an awareness session on Poshan ke Panch Sutra, and a lecture session on TT immunization were also organised here. AWWs also visited the houses of pregnant women who have completed the first trimester of the pregnancy. During the visit, a proper check-up was done & safety instructions were given to them.
A special lecture session on Balance Diet for Pregnant Women and Nursing Mothers was organised at RC Dhanas 1. In this session, beneficiaries were informed about the importance of a well-balanced daily diet. Some other awareness sessions like Diet about Youth Girls & Personal Hygiene and lectures on anemia were also organised by the department today at RC Dhanas 1.
An important program was organised today at Ambedkar Institute of Hotel Management (AIHM), Chandigarh where lecture was given to the students, as they are the brand ambassadors of PoshanAbhiyan & in future, they will provide nutrition to all the beneficiaries & community members. During the session, Consultant (Health & Nutrition) motivated the students about the importance of nutrition, diet & poshanabhiyaan.
At Circle Ramdarbar, a health check-up camp was organised by the Anganwadi centers. Several visitors attended this camp & their health check-up was done by doctors.
On 22 September 2022, various awareness sessions and health club activities related to adolescent girls were organized in the schools of Chandigarh. These activities mainly focused on the 6th to 12th class girls and how they can maintain menstrual hygiene and focus on the nutritional diet during menstruation. In these activities, various awareness sessions and one-on-one interactive sessions were held with the girls of classes 6th to 12th, and the doubts and myths related to menstrual cycle and menstrual hygiene were cleared by the teachers. The girls were also sensitised about healthy practices during the menstrual cycle and the benefits of nutritious food, regular exercise for maintaining proper health before, during, and after periods.
NSS Units of Dev Samaj College for Women Sector 45-B Chandigarh organised various activities to celebrate POSHAN MAAH. Volunteers made colorful posters and displayed them on the college premises, and traditional games like stapo and kho-kho were played with a focus on 'Khel Khel Mein Sehat'. The volunteers also participated in the Poshan Abhiyan Quiz organised by the Government of India. Under the valuable guidance of Principal Dr. Meena Chopra and Programme Officers, Dr. Ila Rathor and Dr.Lovleen Kaur Sohi, students enthusiastically learn about nutrition through these activities.


Follow and connect with us on Facebook, Twitter, LinkedIn, Elets video