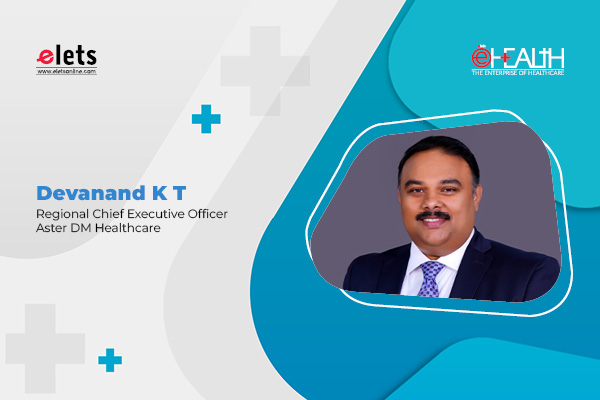 Devanand K T, Regional Chief Executive Officer, Aster DM Healthcare shares his thoughts on strengthening the healthcare infrastructure in the country and the future of digital health. Edited excerpts:
Has India's health care system embarked on a purely digital journey?

Yes, our country has taken the strategic decision of moving ahead with the digital health ecosystem as is evident from the recent budget. The allocation for the National Digital Health Mission is raised to Rs 200 crore from the existing Rs 30 crore. The mental health sector received an allocation of Rs 40 crore for the first time. The evolution of United Health Interface combined which focuses on the integration of various stakeholders of the eco system will rapidly accelerate the journey. The factors like rising growth of smartphone users, rapidly expanding healthcare IT infrastructure, people more conscious of the value of fitness and wellbeing, rise in volume of patients with chronic conditions, growing venture capital investments and economies of scale that bring down cost of digital health solutions will provide the necessary impetus to this drive.
How do you see the role of technology in pre-and post Covid healthcare?
Even pre-covid, patients were becoming more digitally savvy, and doctors were getting increasingly open to using digital platforms and tools. Covid has accelerated this trend leading to removal of many behavioural barriers to digital health adoption. There is a behavioural shift in regulatory and reimbursement trends that provide further opportunities for rise in digital health adoption. Telemedicine witnessed a spike in usage during covid that made inroads or at least made companies and users to place other components of digital health like AI, data mining, machine learning, biosensors, etc into high accelerated development mode. The effective combination of these technological tools will provide a digital ecosystem of comfort, improved quality, continuum of care, better outcomes, and lower healthcare costs.
What are the various technologies and tools you see making a difference in the healthcare segment in the coming times?
Tele-health has already made a huge difference in providing convenience to patients in accessing healthcare. The extensive use of AI and machine learning can do wonders in predictive analysis especially in areas like Oncology. Remote/Bio-sensing devices can provide ease of access to information and can provide vital real time data for better treatment outcomes by effective interventions.
How can technology be used to strengthen the health infrastructure in a country like ours?
The health infrastructure in our country is lagging, especially in rural areas. There are issues related to lack of accessibility, affordability, and awareness in these areas. The technology can provide the necessary impetus to overcome these challenges by providing services like Tele-ICU, Tele-Emergency, Tele-Radiology, etc. Cowin App was one such classical example of technology reaching the mass population in driving vaccination services. Such PPP models involving technological interventions can really help in addressing many concerns related to health infrastructure in a country like ours. Telehealth enabled Mobile Medical Services launched by Aster DM Healthcare is one such step taken by our organization to provide accessibility to the rural mass.
What are the policy initiatives you foresee in the Health IT space that will create a healthcare system of the future?
There should be clear policy guidelines on patient data privacy and security. The cyber frauds should be mitigated by enforcing some clear protocols. Universal Health Card unifying all government schemes can really help in mobilizing the entire population towards health coverage. This can help in reducing budget allocation to various Govt. schemes too. The steps taken by the Government of India in creating United Health Interface and higher allocation of budget to tele-health are clear indications towards this transformation. All healthcare providers to be incentivized for enabling healthcare digitalization. Linking various analytical/predictive tools using machine learning to this huge database can provide a plethora of information for Population Health Management.


Follow and connect with us on Facebook, Twitter, LinkedIn, Elets video