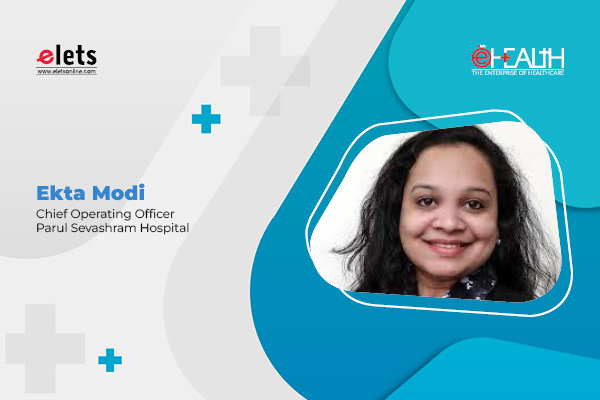 Ekta Modi, Chief Operating Officer, Parul Sevashram Hospital shares her thoughts on the paradigm shift witnessed by the healthcare sector in the pre and post covid era. Edited excerpts:
Has India's health care system embarked on a purely digital journey?

No, we are on the "Health-tech" path! To deliver continued improvements to the world's health, healthcare will need to be transformed, with digital playing a central role. Digital Journey has provided a much-needed jolt of efficiency by tailoring experiences to the individual & hospital. As we realize there's no one-size-fitsall approach to proper care, so customization is key. Innovation is the name of the game here, with the main goal of streamlining physicians' work, optimizing systems, improving patient outcomes, reducing human error, and lowering costs through amazing web and mobile experiences.
How do you see the role of technology in Pre and post Covid healthcare?
It's a Paradigm Shift! Healthcare on finger tips is what technology has advanced from Pre to Post COVID. It has bridged the gap; the virtual care model is quite acceptable now.
A major difference post COVID worth mentioning; health care providers are embracing electronic medical records & enabling artificial intelligence (AI) to extract insights from patient data to deliver better treatment. The availability of telecom bandwidth is making medical expertise reach underserved rural markets through telemedicine and tele-consulting programs, delivered over mobile phones. Skyrocketing costs, unbearable wait times, inefficiencies in drug development and limited access to insurance and healthcare providers are all being improved (or at least addressed) through digital journey post COVID.
What are the various technologies and tools you see making a difference in healthcare segment in coming times?
Technology infusion — along with expanded infrastructure and efficiencies from process improvements — could help improve health care accessibility and affordability. Tech-infused tools will be integrated into every step of our healthcare experience to counteract two key trouble spots: quality and efficiency. A whole host of software, tools and applications are making it easier for hospitals to handle their growing administrative workloads. Digital transformation in healthcare is the positive impact of technology in healthcare.
How can technology be used to strengthen the health infrastructure in a country like ours ?
Technology is going to play a key role in India's roadmap for health infrastructure. Pandemic has taught India and the world that a well functioning healthcare system and healthy population are critical to the economic and social wellbeing of a country. Building a strong infrastructure with institutionalised planning capability, efficient implementation, centre-state dialogue and cooperation between private and public institutions are essential components to achieve this goal. Need of the hour is to respond to the disruption with digital and innovation initiatives that enable new business models, address the challenges of increasing demand and escalating costs.
What are the policy initiatives you foresee in the Health IT space that will create a healthcare system of the future?
Our health care industry is becoming more and more attractive for startups with technology-led innovations. Patient waiting times are declining and hospitals are more efficiently staffed thanks to artificial intelligence and predictive analytics. Health driven applications are asking patients preliminary questions and prioritizing schedules so doctors can use their time more efficiently; this will be the future. Home Health care is increasing to a greater and wider era, and hence policy governing those will bridge the gap from knowing to doing !


Follow and connect with us on Facebook, Twitter, LinkedIn, Elets video