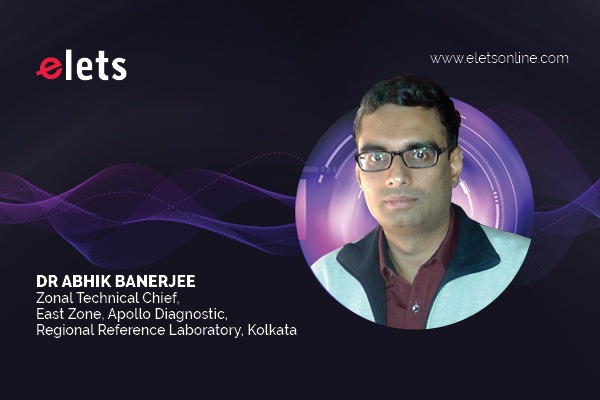 Dr Abhik Banerjee, Zonal Technical Chief, East Zone, Apollo Diagnostic, Regional Reference Laboratory, Kolkata shares his insights on what lies ahead for the diagnostic sector in the country.
What is the framework required for the creation of a futuristic diagnostic sector?
The advantages of the Indian diagnostic sector are its highly competent manpower along with its service which is quite affordable in comparison to European or American markets. However the disadvantage lies in the unorganized, unregulated, fragmented players which largely dominate the Indian market.
Reaching the masses is a challenge for the Indian health sector due to the country's huge population. If we consider rural areas and remote places which are relatively far from metro cities or towns, there are lots of scopes for improvement. Practically, it is not possible for the government alone to have infrastructure everywhere. On the other hand, the organized private players are concentrated mostly in urban areas. Hence to ensure availability of adequate and timely health care service, PPP model has a great role to play in India. PPP in appropriately selected segments may actually be the role model in India to materialize the dream for "Health for all".
Setting up more laboratories and hospitals in rural and remote areas, digital pathology, telemedicine, point of care devices (bedside testing), mobile health care applications, better availability of government authorized healthcare training and lab technician training courses, promoting basic quality norms and importance of accreditation. Moreover, the Government should invest more in healthcare product manufacturing units so that the country can be selfsufficient especially in life saving medical devices and equipment.
How has digitization and IoT accelerated the pace of innovation in diagnostics?
Innovation in diagnostic processes and digital technology will definitely improve diagnostic accuracy, precision and will thereby promote better diagnostic facilities for patients. Use of point of care and home monitoring devices, bar codes, robots, artificial intelligence, machine learning in diagnostics will ensure faster operation, workflow efficiency and better safety by minimizing human interface in laboratories. Moreover technologies enabling remote diagnosis through digital pathology will reduce cost burden and help easier access to the latest diagnostic facility for patients residing in remote areas.
Though we have seen a lot of development and enhancement in connectivity, communication, and digitalization and automation, there is a long way to go to achieve the best benefits of these technologies as the laboratories are still skeptical and cautious about their implementation beyond a certain point. Everyone is expecting someone else to make the first move and see the result. Significantly, the Union Health & Family Welfare Ministry of India has recently approved the Health Data Management Policy of the National Digital Health Mission (NDHM). This is going to be a major step forward for gradual implementation of "Security and Privacy by Design" for the protection of patients' data privacy during healthcare delivery.
What are the scope and opportunities in the Lab Automation Market for enhancing diagnostics operations management?
Today the expectation from a modern medical laboratory is not only limited to accuracy and reliability of test results but a faster turnaround time (TAT), "state of the art" technology with global quality standard, affordable cost and reports carrying simple and useful information preferably with a direction to therapy. To meet such ever increasing demands, modern medical laboratories in India have adopted several ways and no doubt automation, robotics and use of artificial intelligence (AI) are cornerstones of this attempt.We have already seen commissioning of automated extractors by many laboratories in their Molecular Pathology departments to minimize manual handling of COVID 19 specimens.
Whereas automation has helped medical laboratories streamline their day to day operation and more rational utilization of the workforce, too much dependence on automation may have its own drawbacks. Inertia of staff to go back to manual operation especially during automation downtimes, lack of accountability, engagement, deterioration of manual skills are some of the major challenges which the clinical laboratories might face due to over dependence on automation. Moreover "Man behind the machine" will always remain important. Even with the highest degree of automation in a clinical laboratory, the need for continuous supervision of equipment function and requirement for daily, weekly or monthly maintenance by laboratory staff cannot be overlooked.
If we aspire for better quality laboratories and a good standard in laboratory medicine in India, at least a basic level of automation is mandatory for all laboratories. Hence it is high time that we think about customized and commercially viable automation for these small but important players also. The "Made in India" initiative has led to the launch of smaller but fully automated compact and robust bench top systems with wider test menus. Such automation has made it possible to reduce outsourcing of important test parameters (e.g. hormones, tumour markers etc.) by these small labs and rather process them in-house with better confidence and lesser cost. This has also made such tests easily available and affordable even in remote areas which were beyond imagination even a few years back. With such an encouraging picture, it is expected that, Government would consider investing more in all types of laboratory equipment and reagent kit manufacturing units so that the cost of automation in a laboratory can be drastically reduced. Automation under supervision of a trained laboratory medicine practitioner has already proved to be a game changer and can significantly reduce errors in a laboratory.
With every passing day, the cost of manpower is increasing in India. The laboratories will have to spend more to attract and retain efficient manpower. With a slow but steady increase in the number of diagnostic chains in India, even smaller laboratories need to spend more on automation and cutting edge technology to stay competitive. Peer pressure on laboratories to consistently deliver accurate and timely reports will go on increasing and judicious use of automation, robotics and AI under supervision of trained, competent manpower can be laboratory's response to all these challenges. However, we need to remember that automation comes with a price. The balance between revenue generated from the workload of a laboratory and cost of automation must be carefully balanced.
What are your views on the need for Accreditation for ensuring quality testing and outcome?
Raising awareness of quality, sensitizing the unorganized, fragmented healthcare facilities (HCF) to follow basic quality norms, regulation and standardization should be the foremost agenda of the Government and health department. Accreditation can play a major role here. Accreditation bodies and Government authorized agencies should come forward to arrange for regular CMEs, symposiums so that the owners of private healthcare facilities understand the competitive advantage that accreditation confers and also the potential cost savings that HCFs can achieve through continuous quality improvement. Once the basic quality practices are ensured, organizations should be encouraged to achieve the next level of quality standards for further improvement.
What are the factors that will drive the change in the diagnostics sector in the coming times?
COVID 19 pandemic has increased awareness towards the need of preventive healthcare. Predictive testing is rapidly gaining momentum. Hence laboratories which will invest time and money in molecular testing will be benefitted the most as such tests are integral parts of personalized, predictive, preventive medicine.
With the rapid growth in the online healthcare space, laboratories should implement online test booking platforms and related digital services to reach the mass population. Digital pathology, point of care testing, molecular pathology, integration of morphology and molecular pathology and automation are going to be the game changers in the future in vitro diagnostic industry.
What are your business expansion plans to align yourself to the changing requirements of the sector?
Apollo Diagnostics has already spent crores to achieve a high level of automation in the form of fully automated, high throughput Haematology and Biochemistry analyzers since the last few years. Further expansion by opening new centres are also on cards. The company has very recently set up its Diagnostics Global Reference Lab (GRL) in Hyderabad with a menu of over 3,000 tests to cater to its clients from across India and South East Asia. The infrastructure available here can support processing of over 1.5 lakh samples per day.It has the most modern molecular biology lab with RT PCRs, CB NAAT and GenXpert testing. The end-to-end biochemistry, immunology, and hematology services with flow Cytometry for routine testing on the same floor with immunoflourometry, are on par with the international standards. This Reference Lab is one of the few labs performing maternal and newborn screening tests in the country. We are also going to launch the latest Genetic laboratory very soon at this facility.Like all our laboratories, GRL will be frequently enrolled in stringent clinical laboratory proficiency testing (PT) programs that are used to validate our testing protocols. Periodic review of QC results is a frequent tool for maintaining quality control of patient samples.


Follow and connect with us on Facebook, Twitter, LinkedIn, Elets video