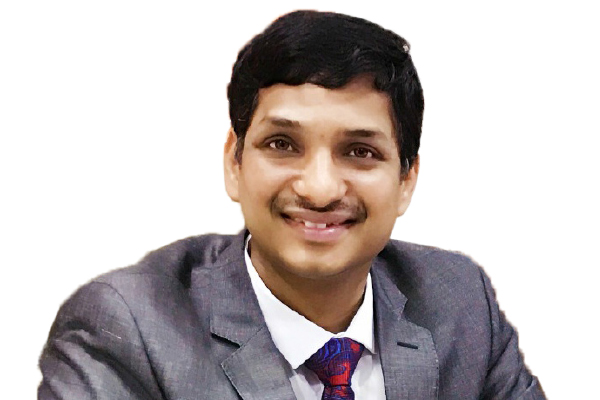 Ahmedabad-based Finecure Pharmaceuticals Ltd has embraced Digitalisation in various aspects of its operation that the company's Director Vishal Rajgarhia avers has enabled it to tide over these unprecedented times and stay relevant for stakeholders, in an interview with Mrinmoy Bhattacharjee, Assistant Editor, Elets Technomedia Pvt Ltd.

Q How does your top management view Digitalisation?
Digital business transformation is happening on a scale that is both intimidating and promising. With the Covid-19 pandemic making digitalisation a competitive imperative and not an option, the speed has further accelerated. We believe that Digitalisation has now become 'New Normal'. We believe that we must harness the power of digital information and technologies to improve business performance. To achieve this, clarity of purpose is essential and we must have the vision and competence to direct this digital makeover in our people and the workplace. We believe that while senior executives must take the lead, this change must include the entire workforce and equip them with the ability to effectively use information, as analytics progressively becomes an even larger part of the capabilities of the workforce on all levels.
Q How do you see Digitalisation as a means of achieving leadership in the pharma industry?
India's pharmacy market is pegged at Rs 1.5 lakh crore. The potential is immense. However, it has become more and more evident that in order to survive in this Covid-19 era, one must combine digital activity with very strong and determined leadership to stay relevant and competitive. The Covid-19 pandemic has heightened the need for companies to adopt a digital business model as Digitalisation can only provide the flexibility, scalability, and modernism required for this changeover.
Finecure has initiated the necessary procedures to accelerate its digital strategy. For us, the Digitalisation of our work has helped improve our efficiency and effectiveness. Our acceptance of Digitalisation on a significant scale has put us on the leading edge amongst pharma companies as we achieved an increased customer outreach, higher productivity, more consistent and qualitative processes that have met our preset goals. It has made our work more consistent and qualitative. Integrating conventional records, information and data into digitalised form has made it safer, more easily accessible and helped initiate a better informational exchange with our customers, vendors and other stakeholders, as well as ensured continuity of our business growth.
Q Many pharma players are witnessing fewer face-to-face interactions between medical representatives and doctors during unprecedented times. This is likely to continue in the short term. How are you building your digital channels to reach out to doctors?
It is true that doctors do not want to meet medical representatives owing to the pandemic and paucity of time. In this situation the only way to reach a doctor is digital, the calls, appointments; everything has to be done virtually. Hence, we have indoctrinated the change in how our medical representatives engage and interact with the doctors. We have trained them in technologies like cloud, social media, mobile apps, and data analytics to enable them to adapt to the latest in digital pharmaceutical marketing. For our medical representatives, the traditional form of interaction has become history and they have embraced digital marketing like E-detailing, engagement portals; social media management, E-mail marketing, web conferences and other similar web platforms.
Q To make your suppliers and business partners comfortable in doing business with you during the Covid-era, which digital technologies are you adopting? How has been the experience so far, and what outcomes do you want to achieve in the future?
We have accelerated our Digitalisation process for our suppliers. Virtual meetings have become a regular scenario to stay in touch with suppliers and business partners. We believe that Digitalisation has eased the stakeholders' concerns and enabled them communicate directly. Artificial intelligence and Data Analytics have become crucial to ensure that the suppliers and business partners stay in touch with each other through transparent, informative, and accessible digital channels.
Q Pharma companies are either slowly adopting or are looking at industry 4.0 tools (AI, Blockchain, Advanced Analytics, Cloud based networking, etc) for reducing manufacturing costs, improving quality, and increasing supply chain flexibility while making deliveries more reliable. How do you look at this scenario?
The importance of Industry 4.0 tools cannot be underestimated. It is extremely relevant and failing to adapt and adopting it will cause organisations to fall behind in this increasingly competitive atmosphere. The Industry 4.0 technology assists in managing and optimising all aspects of one's manufacturing processes and supply chains. It provides instant access to the real-time data and insights that help in making smarter, faster decisions about one's business, leading to greater efficiency and profitability. Furthermore, it makes one more competitive and prepared to take on their business rivals.
Q How are you using digital communication tools to enhance consumer engagement?
Not only our company but the entire industry has been forced to rely heavily on digital channels to do their business as travel and physical interaction is being greatly restricted. In practical terms, this means a greater than before dependence on websites and apps, email and video conferencing to drive engagement with the pharma buyers. Finecure has retained its trust and faith in its customers and it is evident in the increased sales. We have always been conscious of the need to go digital and hence we were able to change gears effectively.


Follow and connect with us on Facebook, Twitter, LinkedIn, Elets video