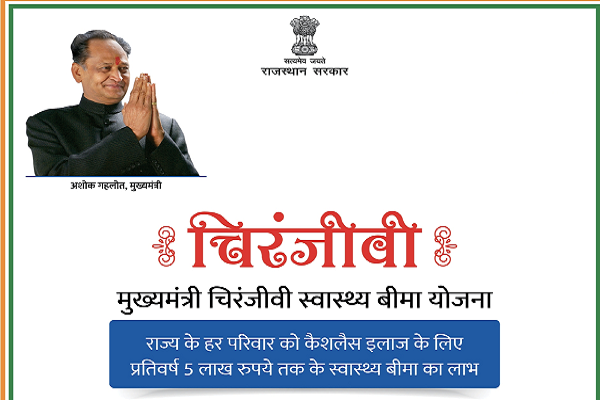 In a bid to widen the reach of the benefits of the recently-launched Chief Minister's Chiranjeevi Swasthya Bima Yojana, the Rajasthan government has decided to carry out free registration for its ambitious healthcare scheme. This decision was arrived at by Rajasthan Chief Minister Ashok Gehlot after a high-level review meeting with the officials held for the implementation of the flagship programme.
Gehlot has directed that 100% registration be obtained in the Chiranjeevi Swasthya Bima Yojana that aims to offer cashless medical treatment of up to 5 lakh to every family of India's north-western state.
No registration fee and charges for depositing premium and document printing at e-Mitra kiosk will be required for Chiranjeevi Swasthya Bima Yojana that comes into the effect from 1 May, he said.
Also read: Rajasthan Launches India's First Health Insurance for All: Mukhyamantri Chiranjeevi Swasthya Bima Yojana
The Rajasthan government will provide Chiranjeevi Swasthya Bima Yojana scheme to about 1.10 crore families. This is besides offering the scheme to 13 lakh small and marginal farmers, and families of over 4 lakh contract workers under the ambit of National Food Security and Socio-Economic Census 2011. The government's healthcare scheme will be available for other families for Rs 850.


Follow and connect with us on Facebook, Twitter, LinkedIn, Elets video