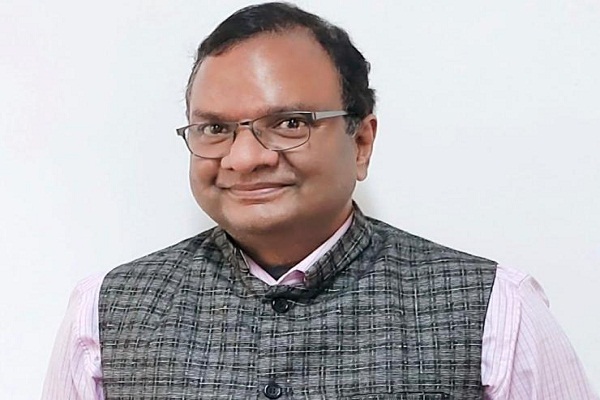 With the objective to make people avail accessible and affordable healthcare, the Government has come up with a series of initiatives including the National Digital Health Mission and policy framework on telemedicine. These initiatives would leverage technology to bridge gapson various front, paving path for enriched healthcare experience to masses, says Dr K Madan Gopal, Senior Consultant (Health), Niti Aayog, Government of India, in conversation with Nisha Samant and Mukul Kumar Mishra of Elets News Network (ENN).
Q The National Digital Health Mission is aimed to improve digital health infra across the country.Tell us about the Government's vision to improve the healthcare system?
In an endeavour to improve and innovate the Indian healthcare delivery system, the government is undertaking several reforms. It has the vision to create Electronic Health Records for all its citizens in a secured manner, set up a network of an effective telemedicine network, and use technology for surveillance and monitoring of its programmes.
It envisages to use and has already started using IT for data-driven governance, dissemination of information as well as increasingly used for capacity building and training.
Many of these initiatives are already being perused. There already exists an institutional framework viz.
1. Center for health informatics at National Institute of health and family Welfare, New Delhi.
2. National Resource Center for electronic health records at CDAC Pune.
3. National Resource center for telemedicine at SGPCI Lucknow
4. Digital health blueprint which envisages building blocks for digital health across the country and the National Health mission through National health authority.
Also read: NDHM: Beckoning quality universal healthcare in India
The NDHM is a complete digital health ecosystem with personal health IDs for every Indian, digitization of health records as well as a registry of doctors and health facilities across the country. The digital platform has been launched with four key features – health ID, personal health records, Digi Doctor, and health facility registry.
The government has already invested in some of these building blocks like
Integrated Health Information Platform (IHIP)-This is a web enabled nation-wide near-real time electronic information system with a vision to collect information and connect to more than 200,000 Health facilities, besides providing a platform for convergence and coordination with data from other programmes.
Comprehensive Primary Healthcare Programme (CPHCNCD): Name-based, population based screening has been initiated for 5 non-communicable diseases viz. hypertension, diabetes, 3 common cancer (Oral, Breast, and Cervical).
Hospital Information System (HIS): This is in operation and covers the majority of Public Health institutions based on a workflow which is HL7 compliant and ISO/IEC 9126 certified and an Integrated HMIS Suite consists of HIS, LIS, RIS, PACS, Blood Bank, and Telemedicine Suit.
National Medical College Network (NMCN)–An innovative network for collaboration network for doctors/students for tele-education, remote learning, live surgery, CME.
The other initiatives being – My Health Record System – PHRMS, Online Registration System (ORS), Mera Aspataal – My Hospital, Reproductive Child Healthcare (RCH), Kilkari, Mobile Academy, TB Patient Monitoring System "Nikshay", e-RaktKosh, mCessation, Drug & Vaccine Distribution Management System (DVDMS), eVIN, EMR Standards, National Health Resource Repository (NHRR), National Identification Number (NIN), Mobile Apps for citizen services, health promotion, directory services, eOffice Dashboards/ Portal, Telemedicine in Health & Wellness Centres (HWCs), and Telemedicine OPD for COVID Management.
Q How do you see the role of digital technology to offset challenges during COVID-19 like pandemic?
COVID has exposed the need for technology as an accelerator towards containing and mitigating the impact of epidemics. Technology has helped and will further strengthen the following:
Data sharing between states and centers to coordinate detection and response. This will help in understanding trends, planning, resourcing, and implementing steps for mitigation and early control.
The use of digital tools for resource mobilization and monitoring will help the inadequate deployment of resources and monitoring of utilization and trends.
Treatment protocol dissemination and monitoring through digital means would help in standard treatment protocols across the country and maintenance of compliance.
The use of digital tools for Vaccine monitoring and dissemination with help monitor vaccine dissemination and reach.
Use of technology for patient management – tele consultations, telehealth, telemedicine, eICU s, etc.
Q Affordable technology, improving overall efficiency and delivery of care is a need of the hour. Your comment!
Yes, utilization and efficiency of delivery can be improved by technology. The use of technology can be used to reduce the cost of delivery and increase access. e.g. telemedicine, eICU, etc. Technology would also help in driving innovative and affordable solutions that have maximum impact on the masses.
Q Can you list out some of the biggest learnings from the pandemic which will prove crucial for the healthcare fraternity in coming years?
1. The pandemic came to light because of a digital message in a social group from a practicing doctor about SRDS like symptoms, which led to further escalations etc. This kind of vigil can be automated in the country's disease surveillance systems.
2. Data sharing – official and crowd sourcing has been very effective in increasing the understanding of pandemic across countries, states, and districts.
3. Digital editions of medical journals and rapid dissemination have improved the understanding of pandemic management and maturity in COVID cases, which is evident and reflected in better management and reduced case fatality rates.
4. Prevention is the best possible solution for any health condition. How the practice can be built into technology, not vice versa. The fraternity must focus on prevention and education of the community and efforts made to sync practice, practitioners, and the technology for arriving at solutions and efficiency with effectiveness and human touch.
5. Early detection and treatment by the established protocol is the best way to treat patients. The use of such detection and treatment protocols is essential. The use of pre-approved and safe methodologies can improve the outcome without resorting to costly solutions.
Q Infrastructure has always been a barrier as far as the public healthcare system is concerned. Telemedicine could be a game-changer in this regard. Tell us about the govt's strategy to leverage the tool?
The government has encouraged telemedicine through legislation and the promotion of telemedicine. It remains on the sector to utilize the reforms and innovate. Telemedicine may be the game-changer for poor and marginalized sections of society and provide easily accessible care in remote areas of the country.
The eSanjeevani Telemedicine Platform Providing
1. Telemedicine in Health & Wellness Centres (HWCs) rolled across more than 12 states with 70+ Doctor HUBs created by States. Linked with 3,500+ HWCs providing doctor to doctor consultation. About 100,000+ consultations provided and about 12,000 professionals trained.
2.Telemedicine OPD for COVID management allowing registered medical practitioners(RMPs) to provide healthcare services through telemedicine.
3. eSanjeevani application modified for providing online consultation to patients directly.
Q How crucial are the public participation and collaborative approach in the overall delivery of healthcare services?
Public participation and collaborative effort are crucial for healthcare delivery. The healthcare delivery system becomes successful only when the public recognizes their rights and duties towards the maintenance of health.
The public can help on following ways:
1. Prevention: Prevention depends on the public entirely and helps a lot in reducing the need for health services. Preventive efforts are simple, cost-effective, and help a lot in avoiding the utilization of healthcare services.
2. Education: An educated and informed public helps a lot in reducing the burden on health services. The public should get educated on their role in the prevention of diseases and steps to mitigate the effects of the disease. They must also recognize the need to seek care and where to seek care.
3. Innovation: Public must come forward with innovation, ideas, and suggestions for govt to undertake steps to incorporate them. Various innovators across the country have shown great examples of innovation which may help in providing unique healthcare solution to the masses.
4. Advocacy: Public needs to drive advocacy efforts towards systemic change and reforms in healthcare.

Follow and connect with us on Facebook, Twitter, LinkedIn, Elets video