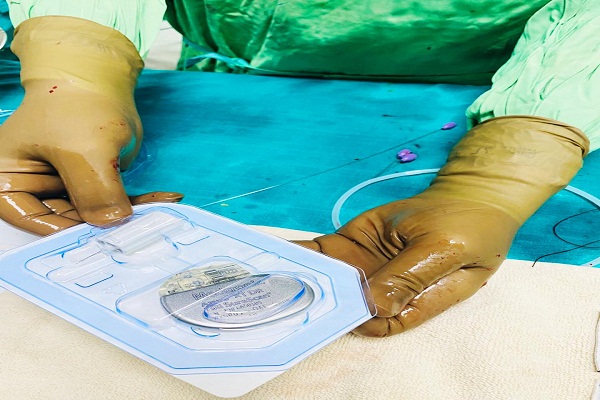 Doctors at Max Super Speciality Hospital, Saket are among the first in India to implant a Bluetooth enabled pacemaker. This technology allows remote monitoring of the patient, which has proven to be resulting in higher survival rates.
The advanced Bluetooth enabled pacemaker technology, which helps in giving access to critical information anytime, anywhere procedure was fitted on the patient, Ram Kali Devi, a resident of Delhi, who had been admitted to the hospital complaining of hypertension and fainting spells.

According to doctors, her coronary angiography revealed single vessel disease due to which she had to undergo dual chamber permanent pacemaker implantation which was done in the same sitting.
Also read: Max Healthcare to conduct COVID testing for 24000 employees, in-patients to ensure safety
Elucidating about the advanced pacemaker, cardiologist, Dr. Viveka Kumar, Principal Director & Chief of Cath Labs (Pan Max), Cardiac Sciences, Max Super Speciality Hospital, Saket, said "The reason why we decided to go ahead with a Bluetooth enabled pacemaker was the fact that the patient, at her age and health condition, would not have to keep coming back to us for physical follow-ups. The Blue Synctechnology allows for tablet-based programming and app-based remote monitoring. Also, despite being so technologically advanced, its battery lasts 14 years. It was the perfect fit for the patient as these are already troubled times and we wanted that she can be at her home comfortably, without the botheration of coming to us every now and then."
The hospital also informed that they are opting for this novel pacemaker as it allows remote monitoring which has proven to be resulting in higher survival rates, reduced visits to the hospital, and even reduced length of hospital stay. Patients can simply use their smartphones to transfer heart device data via the app, even outside the home, replacing the bedside monitor and can even view select pacemaker data including model name and battery longevity. The use of Bluetooth Low Energy is designed to minimize battery drain of this first-ever FDA approved pacemaker and automatic notifications keep patients informed of the pulse transmission status.
"Bluetooth pacemaker is the next big thing in the field of heart surgeries and pacemakers. Traditional pacemakers had a lot of issues with them especially since the patient had to frequently visit the doctor to get it checked. However, Bluetooth enabled pacemakers are bringing a whole new world to the doctors as well as patients. They are quick in detecting and reducing cardiac arrhythmia thereby providing patients with the highest standard of medical care. With these pacemakers, the follow-up time is faster as there are fewer in-office visits and improved connectivity and support. It also allows doctors the option to control max atrioventricular interval as notifications can be programmed and viewed only by the clinicians such as AT/AF burden notifications, lead impedance, and rapid heartbeat episodes. Its PR Logic Algorithms help in accurate AF detection by reducing AT/AF false positives while its reactive ATP reduces progression of AF thereby reducing the risk of persistent AF," Kumar added.
This Bluetooth pacemaker has been enabled, for the very first time, to automatically and securely communicate with smartphones and tablets. Due to its High-Density Integrated Circuit, it reduces the current drain, hence increasing longevity and is upgradeable throughout the lifetime of the device. The adoption of this unique technology seems particularly well-suited to the Indian market as recent studies reveal that almost 503 million Indians own a smartphone and 90 percent of Internet data usage is only on smartphones. Also, India Ranks amongst the top five for health-related searches. Patient monitoring, even outside the home, helps deliver the quality of care and push notifications to help patients stay connected, transmit on time, and verify that transmissions were sent.

Follow and connect with us on Facebook, Twitter, LinkedIn, Elets video