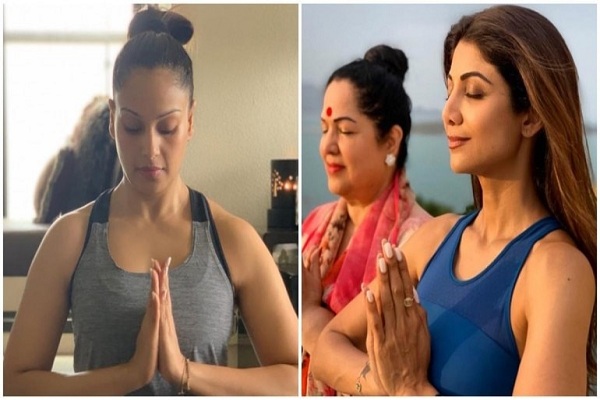 June 21, is observed as the International Yoga Day and this year we are ringing in the 5th International Yoga Day. This day has gained momentum ever since the Prime Minister of India, Narendra Modi has announced its establishment on 21st June,2015.
Just like us, the Bollywood industry is also celebrating the day by practicing yoga and posting pictures and videos all across the social media.
From fitness enthusiast Shilpa Shetty Kundra to Twinkle Khanna, bollywood celebrities took to social media to become a part of the fifth International Yoga Day celebrations. Yoga has become a part of their fitness regimes inspiring people all across the country to imbibe it in their day-to-day lives.
On this day, Bollywood actress Shilpa Shetty Kundra who is known for being a huge fitness enthusiast and an avid practitioner of yoga, took to her Instagram to post a video of her enjoying a yoga session with CISF, CRPF and NCC cadets in Mumbai.
Also read: International Yoga Day: 5 major benefits of Yoga
Time: 7 am
Where: Gateway of India
What a huge turnout , No better way to celebrate #internationalyogaday than practicing it with the CISF ,CRPF and NCC cadets and officials..
The high point.. we continued with… https://t.co/CotXJx8GvA

— SHILPA SHETTY KUNDRA (@TheShilpaShetty) June 21, 2019
Another celebrity fitness enthusiast, Anupam Kher took to Twitter to celebrate this day, posting pictures of him practicing yoga with his Yoga teacher.
Happy #InternationalYogaDay to you all. "Let your whole body breathe." Says my yoga teacher #ManglaDuggalJi. ?? pic.twitter.com/s0th2dnEcj

— Anupam Kher (@AnupamPKher) June 21, 2019
Another celebrity in the list is someone who never fails to create a buzz in the internet. On International Yoga Day, Twinkle Khanna was seen posting posting pictures of her favourite yoga books, celebrating this day in her own way.
I started practising 15 years ago and though it took almost 7 years to kick in-tore down established neural patterns to form the ones that fit the life I have now-largely due to doing my pranayama and meditation every day. These two books have been invaluable #yogaeverydamnday pic.twitter.com/NIMwFDrz8v

— Twinkle Khanna (@mrsfunnybones) June 21, 2019
Joining hands, fitness enthusiast Bipasha Basu, who is known to be an avid yoga practitioner was seen sharing a heartfelt message on twitter, marking the International Yoga Day. She also put up pictures of her nailing asanas to celebrate the day.
Happy #internationalyogaday ?
Loved what @SadhguruJV said- Yoga is not just about twisting and turning… it's about existing in union with the rest of the creation?
Have a wonderful practice?Have a wonderful day? https://t.co/dXanjcG9vj

— Bipasha Basu (@bipsluvurself) June 21, 2019

Follow and connect with us on Facebook, Twitter, LinkedIn, Elets video