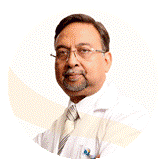 Vulnerable groups become more prone to catching cough, cold and throat infection even pneumonia when exposed to smoke-like condition that has currently engulfed New Delhi and NCR "than a normal populace, says Dr Rakesh Gupta, Doctor of Medicine (MD), Internal Medicine Department, Indraprastha Apollo Hospital, in a conversation with Dipen Pradhan of Elets News Network (ENN)

Which group of population is more prone to health hazards caused by smog that has engulfed countrys capital and its surrounding areas?
When fog combines with smoke, it becomes smog. Delhi and its surrounding areas have become a cauldron of smog because of its landlocked geography "beside stubble burning and political reasons, adding to already polluted air condition, post-Diwali. The current air scenario is vulnerable in manifold, especially for people with bronchial asthma, bronchitis, chronic obstructive pulmonary disease (COPD), heart disease, diabetes, HIV positive, cancer, etc., or a person above 55-year-olds, or a children very young at age "than a people with normal health"to catching cough, cold and throat infections, including pneumonia.
What measures can the vulnerable group take to prevent pneumonia?
As recommended, all vulnerable groups along with normal populace should take Blue Vaccine or an Influenza Vaccine once-and-every year to prevent infections such as pneumonia. Although various medicines are available for an already pneumonia-infected person, however, if the vaccination is taken on time "usually before the disaster like the current smog strikes "one can be safe from the infection. The Government should also promote the use of this vaccination on a larger scale.  
How can the Government play a role in spreading the awareness of pneumonia and promote the practice of such vaccination?
The awareness of pneumonia is not much in our country. One is aware only when the infection strikes someone close. Pneumococcal Pneumonia, for instance, is potentially a fatal infection. A simple vaccination to treat a patient with the infection costs around Rs 1,000 to Rs 1,200 in India. Most of us think that immunisation is only meant for children, so the adult immunisation or vaccination is mostly eluded. Some of the people are not even aware if such vaccine exists. This vaccination should be given to local populace in line with other vaccination such as hepatitis A and B, influenza, etc., if not all, then at least for the vulnerable group. The Government can play an active role in sensitising the practice of promoting the use of these vaccines.

What could be the reasons that such vaccination is not practised widely across the country?
There are few countries, including India, which have not yet come to the fore to set a protocol to immunise all its population, young and adult, with the vaccination. Immunisation for children are accepted everywhere but its not easy for every government to take adult immunisation for every person "as it is expensive. However, some governments "for instance, Finland, Sweden, and England have already considered adult immunisation for its every population. Even World Health Organisation (WHO) recommends this vaccination be given to every populace from time-to-time. I believe that in near future, adult immunisation would be on the programme list of every country.
What is your message for November 12 -World Pneumonia Day?
I think, days like World Pneumonia Day is a good forum to emphasise and spread awareness on the infection. The hospitals and doctors, on the other hand, are sensitising the need for vaccination in their own way. For instance, at Apollo, we have a lot of preventive health packages, health educators sensitising the need for vaccination. In fact, we are moving towards a direction where immunisation can be a protocol-based, but as of now, were in a stage promoting the need for vaccination in our own way.
Follow and connect with us on Facebook, Twitter, LinkedIn, Elets video