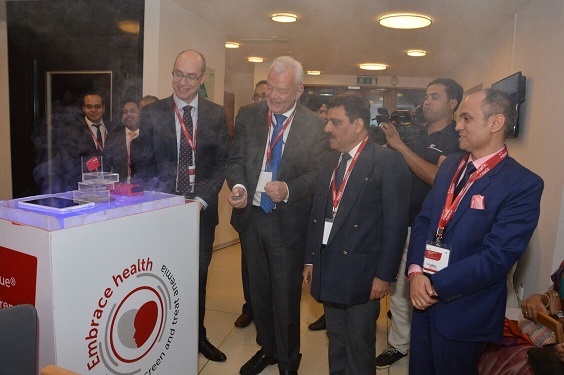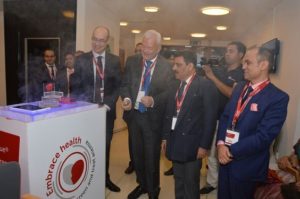 HemoCue, a global leader in point-of-care diagnostics, has launched HemoCue HealthTrender Anemia — the world's first real-time anaemia screening and monitoring system — at the Embassy of Sweden in New Delhi.
Anaemia has become a burgeoning health concern not just in India but across the world. The Government of India acknowledges the urgency of the situation and is committed to battle out the epidemic, said Dr Ajay Khera, Deputy Commissioner, Ministry of Health and Family Welfare, while addressing the event on Wednesday.
While we are doing our best, we face formidable challenge, especially vis- -vis quick and reliable diagnosis of anaemia.Technology-based interventions can deliver fast results in terms of speedy and accurate screening as well as data collation," he added.
India was chosen for the launch of HemoCue HealthTrender Anemia due to its high anaemia prence rate, which is among the highest in the world.
Anaemia affects over half of all Indian women, a fourth of all men and 79 per cent of children aged 6"59 months. Causing 20 per cent of all maternal deaths, anemia presents a formidable public health challenge in the country. Early and accurate diagnosis can play a key role in improving treatment outcomes in anaemia.
HemoCue HealthTrender Anemia is an innovative device that when integrated with community health programmes, especially in rural areas, can help address the issues of delayed and incorrect diagnosis.
It is a cloud-based solution that offers immediate insight using real-time data captured from the HemoCue Hb201+ analyser in the field. A stream of data over time can help policymakers manoeuver the direction of programmes and also facilitate consistent monitoring of hemoglobin levels in the target groups.
Talking about anaemia screening, Bjorn Christ, President, HemoCue AB, said, To diagnose anaemia and make early crucial decisions related to managing anaemia in patients and to monitor response to therapy, haemoglobin measurement remains the prime focus. And that is where HemoCue can make a difference with its technology-enabled products. We have been able to achieve great results in other countries as well."
"We strongly believe that the real-time data that it helps generate and analyse can be instrumental for decision makers to create policies around anemia management," said Deepak Sharma, Regional Sales Director Asia Pacific, HemoCue.


Follow and connect with us on Facebook, Twitter, LinkedIn, Elets video