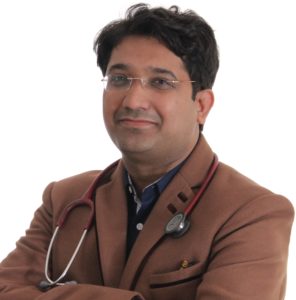 In the field of oncology, Dr. Sajjan Rajpurohit is a renowned name. With an experience of more than 10 years, he has been trained in Cancer treatment at Rajiv Gandhi Cancer Institute, Tata Memorial Hospital and MD Anderson Cancer Center Houston, Texas. He also received a specialised training in neuroendocrine tumours from Singapore. He specialises in Medical oncology with a keen focus on immunotherapy and celluar therapy for Cancer. In an exclusive interview with Elets News Network (ENN),  Dr Rajpurohit, M.D. DNB, ECMO, Medical Oncology, shares his views on cancer care in India.
How cancer treatment in India has evolved in the light of increasing incidents of this disease?

Over the last two decades, there has been a paradigm shift in cancer management. As a result of the clinical cancer research, more people are surviving cancer than ever before. The current survival rate has tripled over the last two decades. Patients are being identified with cancer at an early stage leading to higher cure rates and patients with advanced stage (3rd and 4th) are leading healthier lives compared to before.
What are the key areas that need to be addressed in order to contain this disease?
As per the statistics, there are 14-15 lakh new cancer patients each year in India. In accordance with this fact, the focus should be on its prevention. We also need to make sure that the care we provide offers real value to our patients and we should put in an effort to improve the affordability and quality of medical care. The National Cancer Control Programme should be change-driven in terms of attitude and practice with regards to cancer detection and management.
Corrective steps like cancer screening programme should become a part of health awareness camps. There is a need to create awareness among physicians to facilitate early referral to cancer centers for improved outcomes.
What steps have been taken by premier cancer institutes in providing patient care. What are the steps taken to make the treatment more inclusive?
Cancer is one of the worlds most serious illnesses. According to WHO statistics, cancer will become the leading cause of death by 2030. Currently, it is the third most common cause of death. Cancer treatment at tertiary cancer center has the best results.  Premier cancer institutes in India stand high among the best institutions across the world. Under one roof, patients can get multidisciplinary and evidence-based treatment. We have tumour  board for collective decisions for difficult cases
Cancer Surgery has become advanced with latest gadgets and use of robots. Newer surgeries like HIPEC and keyhole reflects advancement in the treatment of this disease.
In radiation, machines like Cyberknife, True Beam, SBRT and IGRT are providing treatments that have made Radiosurgery and precision radiotherapy possible.
Newer Immunotherapy and cellular therapies are making the cure possible, even in advanced cancers. Supportive care in cancer has improved markedly making most cancer treatment possible on OPD basis and with near normal personal and professional life.
The addition of the 'home care team' and 'pain management' department is to help patients achieve the highest possible quality of life throughout every stage of illness.
What are the key trends emerging in diagnostics and treatment of various cancers in India?
Cancer diagnosis has become faster, staging has markedly improved with functional imaging like PET-CT  and More treatment options are available to patients, treatment on OPD basis with oral targetted drugs. Also, in the current scenario blood cancers and solid tumours are more treatable than what they used to be a decade back.
How is the technology involved in helping cancer patients survive longer?
The landscape of cancer treatment has dramatically changed over the last two decades. Radiation techniques, surgeries, and drugs have become much safer, patient-friendly and with lesser side effects. There are newer surgical techniques which include robots. Robotic surgery has many advantages over conventional surgery with lesser blood discharge, faster recovery, small incision, almost no scarring along with good results. Along with that, the side effects of chemotherapy and immunotherapy have also gone down.
The future of cancer treatment is bright and cure is knocking on the door!

Follow and connect with us on Facebook, Twitter, LinkedIn, Elets video