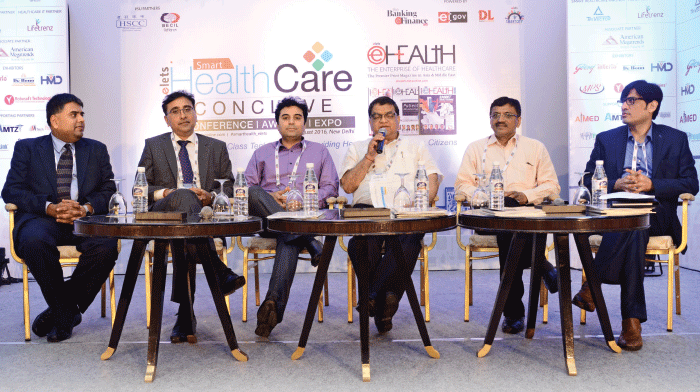 L to R: Sridharan Mani, Director & CEO, American Megatrends India (P) Ltd; Dr Shuchin Bajaj, Founder Director, Cygnus Hospitals, Gurgaon; Gunjan Kumar, CIO & Head New Initiatives, Regency Healthcare, Kanpur; Moderator: Dr D S Rana, Managing Director/Chairman, Sir Ganga Ram Hospital, New Delhi; Alok Khare, Vice President " IT, Jaypee Hospital, Noida; Nikesh Singh, Group CEO, Meenakshi Mission Hospital and Research Centre, Madurai.
Key Takeaways:
One solution does not fit everything! Its always business first, then the technology comes the next. We need to understand the core competency of business, then we can always get external vendors to add on top of this.
ICT is the only way to promise healthcare to the population.
We can use very good and high-end technology as and when we require it, but the problem is that the healthcare stakeholders must be willing to adopt these technologies and have enough human resources to implement those technologies.
We need to know the switching cost & hidden cost before collaborating with an IT vendor.
There should be a decent level of redundancy built in to ensure that whatever are being committed to the clinicians & internal service providers are predictable, reliable and consistent.
We know that technology can bring a lot of improvement in economy, setting process and healthcare/cure; however, it can become an expensive affair, especially to have enterprise solution for bigger hospitals, and when there are no standard processes.
The IT is a good differentiator between good and normal organisations.
Achievements of Participating Hospitals:
Cygnus Hospitals, Gurgaon: Started in 2011 and we have now 11 hospitals. Entire HMS runs on cloud.
Regency Healthcare: By 2018 end, we will have seven hospitals up and running.
Regency Healthcare: We started working on a truly medical-grade infrastructure, which was initially considered a passive investment.
Jaypee Hospital, Noida: For selecting IT vendors, we identified four to five parameters, such as whether they are using the latest technologies, open sources or proprietary services, whether they have really healthcare domain knowledge or not and last important point was whether this will address mobile technology or not.


Follow and connect with us on Facebook, Twitter, LinkedIn, Elets video