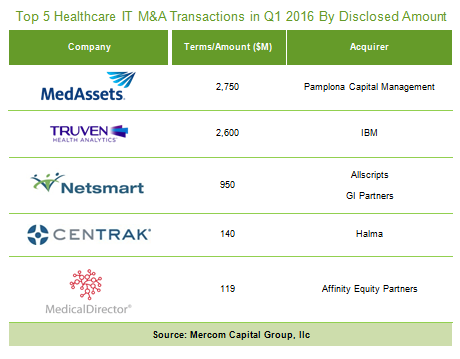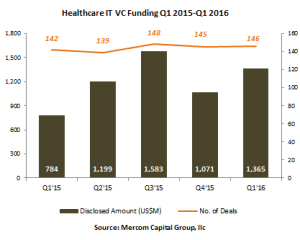 Mercom Capital Group, a global communications and research firm, released its report on funding and mergers and acquisitions (M&A) activity for the Healthcare Information Technology (IT) / Digital Health sector for the first quarter of 2016. Mercoms comprehensive report covers deals of all sizes across the globe.
Venture capital (VC) funding, including private equity and corporate venture capital, in the Health IT sector increased 27 per cent quarter over quarter (QoQ), coming in at $1.4 billion in 146 deals compared to $1.1 billion in 145 deals in Q4 2015; it was also up 74 per cent compared to the same quarter of last year. Total corporate funding raised in the sector including VC, Debt and Public Market Financing for Q1 2016 came to $1.5 billion.
The Health IT sector is off to an impressive start this year with significant funding activity in the first quarter led by wearables, data analytics and telemedicine. Data analytics and telemedicine companies reached a significant milestone, each crossing $1 billion in funding raised to date. Health IT public companies, meanwhile, continued to underperform, commented Raj Prabhu, CEO and Co-Founder of Mercom Capital Group.
Healthcare practice-centric companies received 42 per cent of the funding in Q1 2016, raising $569 million in 49 deals compared to $360 million in 44 deals in Q4 2015. Consumer-centric companies received 58 per cent of the funding this quarter, bringing in $796 million in 97 deals compared to $711 million in 101 deals in Q4 2015.
Top funded areas in Q1 were Wearables/Sensors with $260 million, Data Analytics companies with $197 million, Telemedicine with $171 million, mHealth apps with $120 million, and Consumer Health Information/Education with $100 million.
There were 53 early-stage deals at or below $2 million, including 14 Accelerator and Incubator deals.
The top VC deals this quarter included the $175 million raised by Flatiron Health, $165 million raised by Jawbone, $95 million raised by Healthline, $70 million raised by Health Catalyst, $46 million raised by inviCRO, and $40 million raised by higi.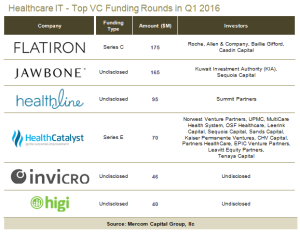 A total of 318 investors, including threeAccelerators/Incubators, participated in Healthcare IT deals this quarter. A total of 27 investors participated in multiple rounds this quarter. Chicago Ventures, Jazz Venture Partners, Jump Capital, Lux Capital, Sequoia Capital, Social Capital, Tribeca Venture Partners and UPMC were involved in the greatest number of funding deals with three each.
Health IT VC funding deals were spread across 16 countries in Q1.
There were two IPOs this quarter; Oneview Healthcare and Senseonics together accounted for $91.5 million.
There were 58 M&A transactions (nine disclosed) in the Health IT sector this quarter compared to 53 transactions (13 disclosed) in Q4 2015. This quarter had the highest recorded number of M&A transactions in a single quarter.
mHealth apps companies were involved in the most M&A transactions with nine, followed by Practice Management companies and Personal Health companies with seven each, Data Analytics companies with five, EHR companies with four and Telemedicine companies with three.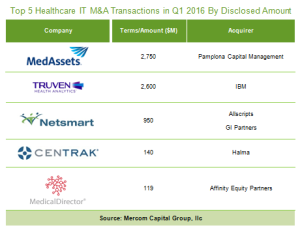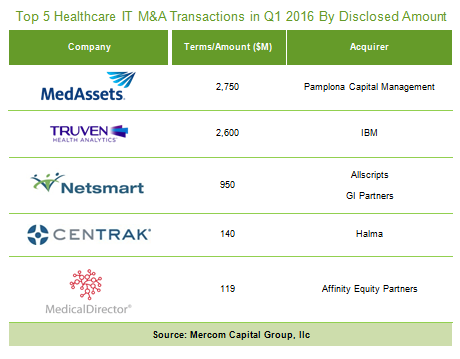 The Top 5 disclosed M&A transactions were the $2.75 billion acquisition of MedAssets by Pamplona Capital Management, the $2.6 billion acquisition of Truven Health Analytics by IBM, the $950 million acquisition of Netsmart Technologies by Allscripts, the $140 million acquisition of CenTrak by Halma, and the $119 million acquisition of MedicalDirector by Affinity Equity Partners.
There were a total of 615 companies and investors covered in this report.
Follow and connect with us on