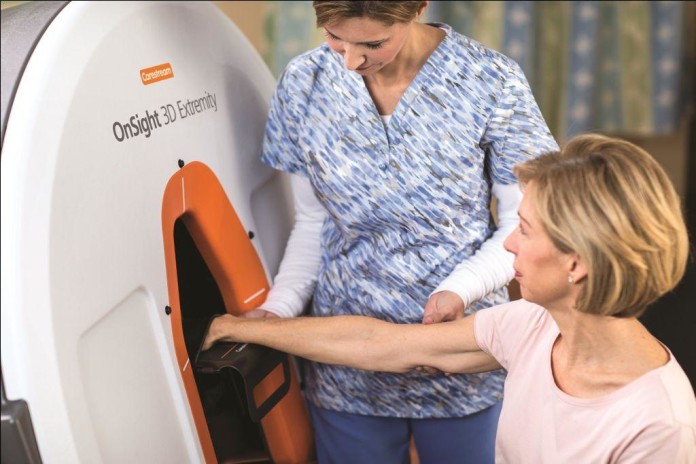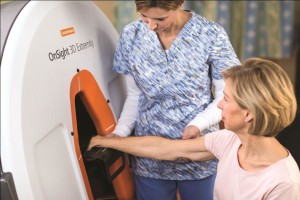 Carestream showcased its Carestream OnSight 3D Extremity System that uses cone beam CT (CBCT) technology to capture weight-bearing and other types of extremity exams at the American Academy of Orthopaedic Surgeons (AAOS) annual meeting recently. This affordable system is intended to offer high-quality, low-dose 3D imaging for orthopaedic practices and other healthcare providers. The CBCT system is being designed to include advanced image reconstruction and artifact correction technology.
Our CBCT system is designed to allow orthopedic practices to capture high-quality 3D extremity images and conduct a patient consultation in a single visit, said Helen Titus, Carestreams Worldwide Marketing Director for X-ray & Ultrasound solutions. This is highly productive for orthopedic specialists while simultaneously delivering greater patient convenience. Pre-surgical and post-surgical exams can also be performed by this system.
She adds that orthopedics is a major area of focus for Carestream because of the prence of musculoskeletal conditions among people of all ages.
The company is currently conducting trials and research studies of the CBCT system in the United States and Europe. UBMD Orthopedics & Sports Medicine (Buffalo, NY), Erie County Medical Center (Buffalo, NY) and Carestream are conducting an institutional IRB-approved clinical study designed to help orthopedic surgeons more accurately and objectively diagnose the degree of instability of the patella (knee cap).
We compare images obtained on a conventional CT scanner to those obtained on the prototype CBCT scanner while the patient is standing, the quadriceps is active and the knee is flexed to 30 degrees, said Dr John Marzo, a physician with UBMD Orthopedics & Sports Medicine, Associate Professor of Clinical Orthopedics, Jacobs School of Medicine & Biomedical Sciences, University at Buffalo and former Medical Director, Buffalo Bills.
The orthopedic specialists involved in the clinical study are extremely satisfied with the image quality from the CBCT scanner and have provided positive feedback on the benefits delivered by the use of this technology for weight-bearing exams, he adds.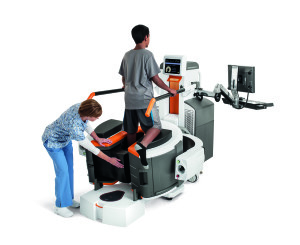 Radiologists, technologists and other team members at Erie County Medical Center (ECMC) have provided valuable feedback on the systems design and performance during research studies and trials conducted at their facility. Medical staff from Great Lakes Medical Imaging"a leading radiology group and official imaging service of the Buffalo Bills and the Buffalo Sabres"also have provided support to these patient studies.
ECMC includes an advanced academic medical center with 602 inpatient beds, on- and off-campus health centers, more than 30 outpatient specialty care services and a 390-bed long-term care facility. It is a major teaching facility for the University at Buffalo.
HUS Medical Imaging Center, based in Helsinki, Finland, is the site of the first European clinical study of Carestreams 3D extremity system in pre- and post-operative cases. During the six-month project, experienced radiologists will uate the systems image quality in bone structure, fractures and the level of metal artifacts. In addition, a medical physicist will assess the physical image and radiation exposure.
These clinical studies and other research projects will help guide Carestreams development of new CBCT systems that use less radiation than traditional CT; are compact, affordable and portable; and could be used in a wide range of facilities.
This CBCT scanner has the potential to become a non-invasive tool to uate a host of orthopedic conditions that affect the biomechanical behavior of the joints, such as arthritis, meniscus loss, instability and malalignment syndromes, Titus reports.

Follow and connect with us on Facebook, Twitter, LinkedIn, Elets video