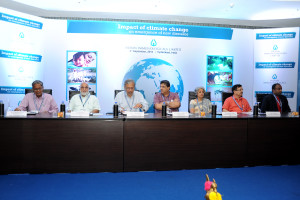 Indian Immunologicals had organised a workshop on Impact of climate change on emergence of new diseases in Hyderabad to provide insights into the impact of climate change on infectious disease patterns, in human and animal populations, and the factors influencing them.
This initiative was based on the dire need to understand the growing emergence of new diseases which affect humans as well as animals in coming years.

Shri T Nanda Kumar, Chairman, Indian Immunologicals Limited said, We at Indian Immunologicals, have always focused on understanding the future needs of the health industry and initiate actions.  Through this workshop, we have tried to bring all the stakeholders together and deliberate on the repercussions of the climate changes and how we can possibly work towards a common objective of preventing the diseases emerging as a result of these changes. It is believed that the temporal and spatial changes in temperature, precipitation and humidity will affect the biology of pathogens, vectors and consequently the risk of disease transmission and its incidence. Hence, we feel, the outcome of this workshop will help in developing a future road map for research on preventive health products and help our countrys preparedness to combat new diseases.
Dr Soumya Swaminathan, Secretary, Department of Health Research & Director General, Indian Council of Medical Research, Ministry of Health & Family Welfare, Government of India called for an interdisciplinary approach across various organizations to arrive at a road map, Due to dietary changes, the nutrition value has gone down. Additionally the treatment is becoming costlier hence, community involvement is necessary to make the desired changes to control the diseases.
Ashok Kumar Angurana, IAS, Secretary, Department of Animal Husbandry, Dairying & Fisheries, Ministry of Agriculture, Government of India said, There is an acute shortage of veterinarians in the country. As this issue is inter disciplinary we also seek support from state Government for allocating more and more resources to address the issue of disease control. He also appreciated Indian Immunologicals Limited initiative of bringing together all the relevant stake holders for a dialogue of this issue. The outcome of workshop will help in developing future road map for research and help in country preparedness to combat new diseases.
The first session was addressed by Prof. Andy Morse, Professor of Climate Impacts, School of Environmental Sciences, University of Liverpool, UK on the projected impact of climate change on infectious diseases of animals. Dr. R. C. Dhiman, Scientist G, National Institute of Malaria Research, Delhi gave a situational analysis of Climate change and vector borne diseases. Dr. Anthony Wilson, Research Leader, Mathematical Biology of Vector borne diseases, The Pirbright Institute, UK spoke about the attribution, prediction and mitigation of Climate change and vector borne diseases and Dr. Arindam Basu, Senior Lecturer Researcher, Health Services Assessment Collaboration (HSAC), University of Canterbury, Christchurch, New Zealand spoke about How Climate change is related to infectious disease outbreak and how we can prevent it

Follow and connect with us on Facebook, Twitter, LinkedIn, Elets video