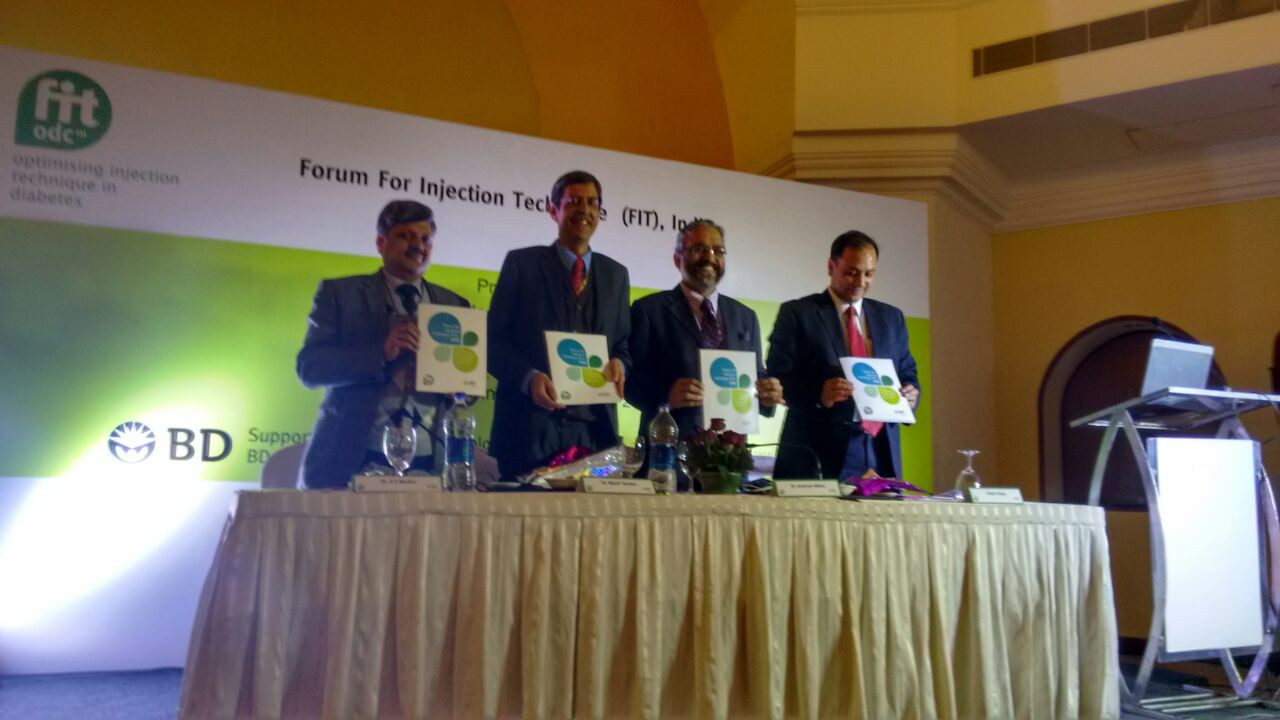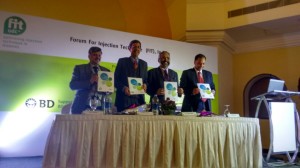 FIT Insulin Injection Day was observed in Delhi, with the release of new recommendations for insulin injection usage and a call to combat Psychological Insulin Resistance (PIR) or resistance to initiating insulin therapy and to commemorate the 93rd anniversary of first successful insulin administration on 11th January 1921, at Toronto General Hospital, Canada.
On this occasion, doctors from various hospitals including AIIMS, GTB & Medanta Medicity and Advisory Board members of Forum for Injection Technique (FIT) presented clinical findings suggesting nearly two-thirds (64.4%) of people injecting insulin have Lipohypertrophy (LH) or swellings at injection sites. Of the patients who correctly rotated sites, only 5% had these swellings while, of the patients with swellings, 98% either did not rotate sites or rotated incorrectly. Also, 39.1% of patients with these swellings had unexplained low blood sugars and 49.1% had varying blood sugars. The experts also provided tips on overcoming needle phobia for insulin injection dependent patients.
As per the new recommendations, special emphasis is to be given to counter allergic reactions arising out of incorrect usage of injections and usage in special groups like pregnant women and people with weak immunity. In pregnant women, injections should be given into the abdomen using a raised skin-fold. In the first trimester women should be reassured that no change in insulin site or technique is needed. In the second trimester lateral parts of the abdomen can be used to inject insulin, staying away from the skin overlying the fetus. In the third trimester, insulin can be injected over the abdomen while ensuring the skin fold is properly raised. Apprehensive patients may use the thigh or upper arm to inject themselves.
Highlighting on the need to adopt correct injection technique, Dr Nikhil Tandon, Head Dept of Endocrinology, AIIMS and Chairperson, FIT Advisory Board, India said, With only about 3 million injecting insulin out of 67 million who live with diabetes, India has low rates of insulinisation.  This is a road block in the optimal management of diabetes. Patients fear initiating insulin because of fear of needles and a sense of life-long dependence on insulin. Also, many clinicians hesitate to put their patients on insulin therapy as they apprehend losing their patient's confidence to this fear. However, awareness on correct insulin administration technique plays a critical role in therapy adoption, adherence and management of diabetes. FIT emphasizes the importance of appropriate insulin technique in insulin with healthcare professionals and patients; hence, optimize the management of diabetes therapy in India.
The FIT recommendations suggest that correct injection technique can help protect against lipohypertrophy (LH), unexplained hypoglycemia (low blood sugar) and blood glucose variation. Shorter needles can provide safety from injecting into muscle, as an insulin injection in the muscle may lead to hypoglycemia. Several factors including regular inspection of injection sites, preventing reuse of needle, correct site rotation, influence the success of insulin injection therapy.
Dr SV Madhu, Head, Dept of Endocrinology, GTB Hospital said, More than 80 % of people have psychological resistance to even initiate an insulin therapy, despite it being indispensable for glycemic control to manage the disease. Where a patient is injecting insulin on his body is an important concept to understand, but many patients dont understand why this is critical. The recommendations by FIT India have improved the overall acceptance of insulin delivery and injections. FIT2.0 talks about best practices such as always using a new needle for every injection, always rotating injection sites and more.
The success of insulin injection therapy and the adherence to it depends on several factors such as a smooth insulin initiation process with counselling that alleviates the fear of needles, the insulin regime, length of needle and the method of administration, For example, it is always preferable to keep injectable therapy at room temperature, use a new needle for each injection, choose shorter needles with a smaller diameter, and inspect and palpitate the skin prior to each injection to ensure a comfortable injection experience.
Added Dr Ambrish Mithal, Medicity, As insulin treatment is vital for blood glucose control, inappropriate injection skills compromise the dosage accuracy and its effectiveness. The importance of swellings at injection sites  is not only cosmetic but also has an impact on insulin absorption, and hence glycemic control. How and where you inject is as important as what you inject. Some people find it convenient to reuse especially if they are injecting four times a day. FIT India recommends that ideally needles should not be reused as blunt needles can damage tissues.
In November 2012 Forum for Injection Techniques (FIT India) and BD India had come together to launch the first Indian clinical recommendations for best practices in insulin injection techniques in India.
Varun Khanna, Managing Director – BD India said, Living with diabetes is a challenge and BDs goal is to make managing the disease as comfortable as possible. We understand that collaborations are often crucial for transforming communities, and working with FIT India is one such step towards achieving this possibility. We are pleased to have the opportunity to engage with Indias leading experts in a development effort so closely linked with the countrys health agenda at this time.
On the occasion, Dr Nikhil Tandon was elected as FIT Chairperson and Dr Ambrish Mithal and Dr SV Madhu appointed as FIT advisory members.


Follow and connect with us on Facebook, Twitter, LinkedIn, Elets video