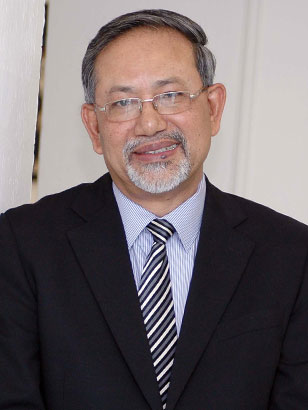 Born in Dubia, Sonitpur district in Assam in 1950, Dr Nomal Chandra Borah started out with next to nothing. Hailing from a poor peasant family, Dr Bora faced many odds in life to become a doctor and later, a successful entrepreneur. With little financial backing, Dr Borah set up Guwahati Neurological Research Centre (GNRC) in 1986-87. Today, GNRC stands tall with state-of-the-art facilities and is one of the best hospitals in eastern region.
In an interaction with K S Narayanan of Elets News Network, Dr Borah recalls how he turned into an entrepreneur with the aim of providing Quality Medicare at an affordable rate, and holds forth on his future plans on changing the healthcare landscape in North-East India. GNRC, a super-specialty hospital, is spreading across Assam, other North-Eastern states and neighbouring south East Asian countries.
Recently, the GNRC Hospitals launched a special facility to provide emergency medical care to accident and emergency patients. Could you please elaborate on this?
The scheme will cover patients suffering from stroke, heart attack and other medical emergencies also. The free facility will cover doctors consultation, bed charge, essential medicines, oxygen, CT Scan, ECG, X-Ray and limited blood tests. We are concerned over the spurt in fatal road mishaps in Assam, accounting for thousands of deaths and injuries every year. Accidents are one of the most common causes behind the untimely and sudden loss of life. In such a situation, the sooner they are treated, the better their chances of survival. Keeping this in view, and for the overall well-being of the society, GNRC has taken a bold step towards providing free treatment within the first 24 hours of an accident. We are setting an example by treating 50 to 60 patients daily free of charge. It is just two months since we launched. I hope we can sustain and expand it.
India is notorious for road accidents and the numbers have risen sharply in recent times. Whats your take on that?
Indians do not follow basic traffic rules. Road conditions are very bad. This is the reason why India has the highest rates of road accidents in the world. Both the government and the private sectors should sit together and chalk out a strategy to prevent these accidents as early as possible.
Do all the stakeholders like hospitals, government, police and community realise the importance of Golden Hour in saving a life in a road accident?
Slowly, the sensitivity is developing. People are talking about it. But, we are yet to work to find a solution. We had promoted the concept of air ambulance in this region. Authorities are thinking of having helipads along the national highway.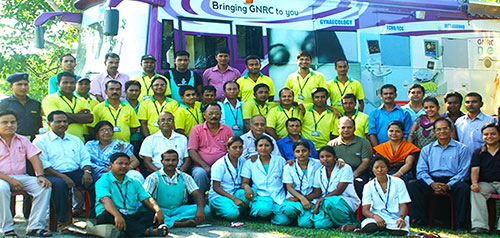 You started GNRC after you gave up a secured job in a government hospital. What is the GNRCs footprint?
There were no super-specialty hospitals in Assam or anywhere in the North East before we started GNRC in 1986-87. We were the first to set up Neurosurgical facilities, Cardiovascular, Angioplasty facilities. Currently, we have three hospitals in Assam. We have plans to set up facilities in neighbouring states like West Bengal, Jharkhand and Bihar. In Assam, all the three hospitals are in Kamrup only.
Any further plans to foray into foreign soil?
We are planning to go to Bangladesh, Myanmar, Bhutan and Nepal and also explore African countries. We have developed a model which is very suitable for the developing world where affordability is the issue.
Why is GNRC not expanding to other North-Eastern states before expanding to other places?
We will expand to other parts of North East also. It will be done in a phased manner. Our expansion plan is within the North East, outside the North East and outside India, where need for low-cost health services and solutions is high. At least, ten new centres will come up by next year in all these regions I mentioned.
For a healer, its a huge and unenviable task. How will you find finance to fuel such ambitious project, as setting up healthcare facilities is a costly issue?
We have different models. For some, we will look for local partners. It would be based on franchisee model where GNRC will offer technology, process protocol and how to create low-cost hospital. Most of the hospitals to be created outside Assam will be based on this cost model. The World Bank is advocating us to take the model outside India.
How do you plan to serve the rest of North East?
We are planning to initiate air ambulance and medical outreach programmes using helicopters to remote areas of North-East India. The service will regularly ferry doctors from GNRC to difficult-to-access locations across the region and provide doorstep medical support to the population across the North-eastern states of Arunachal Pradesh, Assam, Meghalaya, Manipur, Mizoram, Nagaland, Tripura and Sikkim.
How are the talks with the World Bank progressing?
We had preliminary talks with them. Some positive results will come. They are also keen benefits of this model is made available across the globe. That is why, the World Bank Group (WBG), through its India Development Marketplace (IDM) initiative, chose GNRC to receive a grant of US$150,000.
Could you tell us more about GNRC ultra low-cost model?
This is affordable to common people. It is primary, secondary and tertiary care. All combined together, it is quality care. This facility should be available to many more communities. The challenge is scaling it up. The World Bank money would be used for scaling it up.
When building a health care system, we should avoid polluting air, water and environment and conserve energy while offering health services to people.
In all our hospitals, we strictly follow the energy conservation principles. The GNRC, formerly known as Guwahati Neurological Research Centre, works on this eco-friendly sustainable model. This is first of its kind.
What is GNRC model and what is unique about it?
GNRCs uniqueness is in many areas. It is one of the worlds eco-model hospitals. To limit expenses, bamboo cladding is used extensively in the buildings exterior. That acts as a natural insulator and allows the hospital to do away with air conditioning in common areas such as lobbies and reception. This resulted in saving electricity and reducing maintenance cost. We asked local contractors to tailor-make hospital beds instead of ordering them from pricier multinational manufacturers. The result: beds have no frills but meet the needs of the patients. Both bamboo and water are recycled.
It has gone for gold standard certification by rating agencies. We plan to patent. The National Institute of Design has been given the mandate for this. We will patent all the process protocol and procedure model. It will be known as GNRC Model.
The World Bank award money is a trickle compared to the kind of mission you have set for yourself?
We have drawn up plan for Rs 300 crore over the next two years for scaling it up.
Are you in talks with corporate for you expansion plans?
Tata Sons hold equity in GNRC. We definitely will approach Tata, ONGC and State Bank of India and Ministry of Development of North Eastern Region (DONER).
What needs to be done to set up more super specialty hospitals like GNRC in North-eastern states and Central India?
Innovative solutions in infrastructure — build, operate and transfer mechanism should be introduced in healthcare system too. Several multi-lateral institutions like the World Bank will come forward to finance them.
How does the GNRC initiative, hospitals on wheels work?
We have examined 1,00,000 patients so far. Last year, we began dispatching Hospitals on Wheels buses, re-purposed as mobile hospitals equipped with X-Ray machines, sonogram equipment, and a patient exam room. These buses, along with a group of doctors, visit several remote parts of Assam to screen and treat patients free of charge. The new hospitals, we are planning now, will have Hospitals on Wheels as an extension service.
Do we have BOT mechanism in India?
Not yet. But, definitely, we can make a beginning. The new government can encourage it.
Any plans to encourage medical education?
We have a nursing institute which is affiliated to SNDT Womens University, Mumbai. We also run Assam Health Science University and conduct post-MBBS courses in Clinical Neurology, Critical Care, Head Injury and Trauma. About seven candidates were registered for Neurology and they successfully completed the course.
What about a full-fledged medical college in Guhawati?
The kind of model we are creating now with a 300-bed hospital, there is an ample opportunity to start a medical college. The hospital has to be run for three years before we can start a medical college and 80 percent occupancy — that is the requirement.
What is the state of neurology in India?
Currently, we have 1,500 neurologists in India. They are too few in numbers. In developed world, for every 18,000 people, there is one neurologist. But, in India it is one neurologist for one million people. We need critical number to provide good care. And mind you, not all the 1,500 are working in India. About 20 to 30 percent are settled abroad. And the rest are working in metropolitan cities.
What is the way out?
The Neurological Society of India wants to restrict the numbers to maintain quality. I dont agree completely. What is more important is that people and their needs matter. So, norms should be relaxed. That is why, along with Health Sciences University of Assam, we have created innovative two-year courses and training in areas like Neurology, Cardiology, Critical Care and Head Injury.
GNRC publishs a monthly health magazine called GNRC Swasthya. They also bring out health and medical encyclopedia in Assamese, besides health columns and health capsules every day.
You have heralded a health renaissance in North East. Do you see Assam emerging as a hub for the region and the neighbouring countries?
The GNRC is empanelled by the Bhutan Government. Many Bangladeshis and Nepalese are treated at GNRC.
How are you able to attract and retain talents to work in North East with doctors who have done their super specialisation?
That is one of the challenges. Doctors are willing to join us. We have all kinds of specialists. Besides affordable health services, GNRC has also ventured into grocery retail. We have ten GNRC Medi Shops which house grocery, FMCG and personal care. They are sort of neighbourhood stores. We are planning to scale it up in coming years.
Who is Dr Nomal Chandra Borah? A doctor or an entrepreneur?
Practicing medicine is my passion. At the same time being an entrepreneur, I am able to create more healthcare facilities for people and wealth for the nation. That is also another responsibility. Nothing came to my plate so easily. To provide neurological care, I need equipments and services and this forced to become an entrepreneur.
You are an inspiration to the North East and India. You have been featured in the university text books. I feel humbled. It has increased my challenges to do more and leave better world for them.
You are an inspiration to the North East and India. You have been featured in the university text books.
I feel humbled. It has increased my challenges to do more and leave better world for them.

Follow and connect with us on Facebook, Twitter, LinkedIn, Elets video