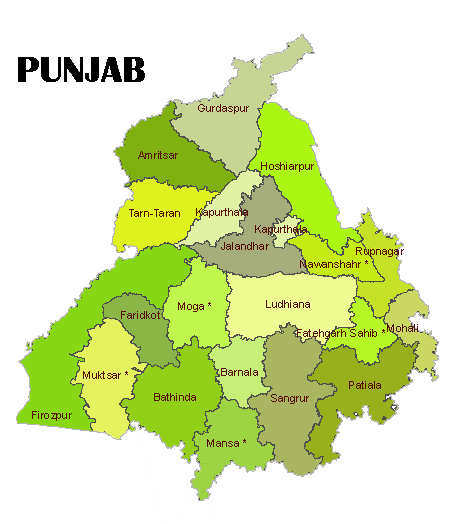 The increasing seizures of drugs, especially heroin, in recent years shows that Punjab has emerged as a major transit point for those in the illegal drugs trade. But the state itself, facing a worrying drugs menace, is hooked to pharmaceutical intoxicants.
Well-placed sources in the Punjab Police say the consumption of intoxicants with a pharmaceutical origin has become a major problem in the state.

The seizures of pharma-based intoxicants in recent years tell the story. Against over 6.1 million pills and capsules seized in 2012, three crore such intoxicants were seized last year.
The recovery of pharmaceutical injections went up from 30,572 in 2011 to 323,056 last year. The seizure of intoxicant powder went up from 321 kg in 2011 to 613 kg last year.
Habit forming drugs include Parvon Forte and Spasmocip, apart from Fancidryl (Phencidryl) ough syrup. Synthetic drugs include Diphenoxylate Hydrochloride and Codeine Phosphate.
"Heroin consumption locally in Punjab is minimal. The incidence of smack consumption has increased. The worrying factor is the high consumption of pharmaceutical-origin intoxicants, especially by the youth. The seizures of these have gone up," a senior police officer associated with investigations in the Punjab Police campaign against drug cartels told IANS.
"We have been able to break the transit and supply lines of the drugs cartels operating in India. The consignments were being sent by Pakistan-based drug smugglers via the Pakistan occupied Kashmir and Jammu and Kashmir border," Inspector General of Police (Amritsar Border) Ishwar Chander said.
To take action against smugglers of opium, poppy-husk, charas and other intoxicants, Punjab Police teams have investigated in several other states like Himachal Pradesh, Haryana, Rajasthan, Uttar Pradesh, Uttarakhand, Jharkhand and Chhattisgarh to arrest top smugglers and effect seizures.
The seizure of poppy husk by the police went up from about 76,000 kg to over 236,000 kg in 2013. The recovery of 'bhang', a local intoxicant, went from a mere five kg in 2011 to 632 kg last year.
Last year, the Punjab Police had claimed to have busted a Rs 6,000 crore ($1 billion)international drugs cartel dealing in synthetic drugs.
Those arrested by the Punjab police in the last 15 months include drug lords, smugglers, owners of pharmaceutical companies, leading traders dealing in chemicals, police officials, sportspersons, non-resident Indians (NRIs) and several others. A number of foreigners, including those from Myanmar, Sri Lanka, Nepal, African countries like Burundi and European countries and others are also being investigated.
The recent increase in seizures by the Punjab Police, Border Security Force and other central and state agencies has clearly indicated that Punjab is now a major transit point for smuggling of heroin. The supply mainly comes from the Afghanistan-Pakistan route.
In 2011, the Punjab Police recovered around 101 kg heroin. This went up to nearly 279 kg in 2012 and over 416 kg in 2013. In the first six months of this year, the state police has already seized over 350 kg of heroin.
The BSF, which mans the 553-km long international border between India and Pakistan in Punjab, has seized over 245 kg heroin this year. All of this was seized in the first five months of this year.
"Due to the breaking of the supply lines and distribution system in the state, there is no availability of drugs to consumers. As a result, former consumers are flocking to de-addiction centres in large numbers. In the last fortnight over 80,000 former consumers have been treated as OPD patients and over 1,200 as indoor patients in the state hospitals, community health centres and de-addiction centres," a police spokesman said.
(Jaideep Sarin can be contacted at jaideep.s@ians.in)
With inputs from IANS

Follow and connect with us on Facebook, Twitter, LinkedIn, Elets video