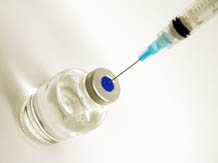 The Indian government Thursday introduced four new vaccines, including one for Japanese Encephalitis (JE), in the national immunization programme, which will now provide free vaccines against 13 life-threatening diseases to 27 million children annually.
The decision to introduce the vaccines for rotavirus, rubella and polio (injectable) as part of the universal immunization programme was announced by Prime Minister Narendra Modi, an official here said.
The JE vaccine would be available for adults in 179 districts in nine states where the disease is highly prent.
"The introduction of four new lifesaving vaccines, will play a key role in reducing the childhood and infant mortality and morbidity in the country.
"Many of these vaccines are already available through private practitioners to those who can afford them. The government will now ensure that the benefits of vaccination reach all sections of the society, regardless of social and economic status," said Modi.
"India is committed to tackle child mortality and provide health for all through multiple initiatives taken up by the government. Strengthening routine immunization is an essential investment in India's children and will ensure a healthy future for the country," he said.
The decision to introduce the vaccines represents one of the most significant policy initiatives in public health, the release said adding at least one lakh infant deaths and that of adults in working age group would be prevented by this decision.
Diarrhoea caused by rotavirus kills nearly 80,00,000 children each year and results in up to 10 lakh hospitalizations, pushing many Indian families below the poverty line while rubella causes severe congenital defects in newborns.
The Injectable Polio Vaccine (IPV) is being introduced together with 125 countries in a globally synchronized manner. India has been certified polio free in March 2014 and the introduction of IPV in addition to the oral polio vaccine (OPV) will provide long lasting protection to the population against the virus.
The recommendations to introduce new vaccines had been made by the National Technical Advisory Group of India (NTAGI), the country's apex scientific advisory body on immunization.
With inputs from IANS

Follow and connect with us on Facebook, Twitter, LinkedIn, Elets video