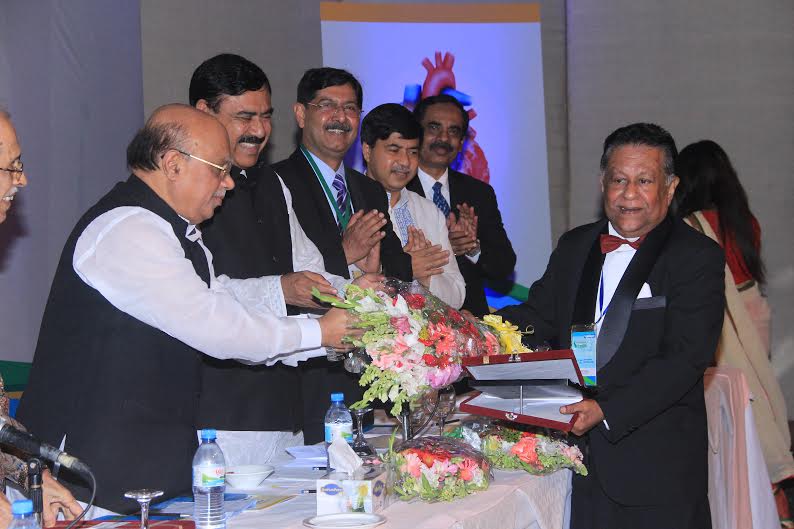 Legendary Cardiac Surgeon and Padmashree Dr K M Cherian who is also the Founder and CEO of Frontier Lifeline Hospital was honoured recently with BACTS award during an International conference held on June 19, 2014 at Dhaka. This award was bestowed upon Dr K M Cherian in recognition of his outstanding contribution for development of Cardiothoracic Surgery in Bangladesh . The award was presented by Honble Minister For Health Mr Mohammed Nasim and Honble Minister of Shipping Mr Shahjahan Khan in the presence of National Professor Brigadier Abdul Malik.
I am extremely happy and honoured to have been recognised for my contribution and infact this contribution has been achieved due to my teams support. This award has further motivated my team of doctors and me to work harder to ensure best medical care for our patients. We will continue to discover breakthroughs in the field of cardiology that will benefit not just our patients but every patient in the world affected with heart diseases, Dr K M Cherian said after receiving the award.
Dr K M Cherian is a world-renowned and distinguished cardiac surgeon who is also the pioneer of cardiac surgery in India. Dr Cherian has won innumerable awards in the past and the list is endless. His accomplishments, his astute clinical judgment, and his surgical dexterity are the envy of every Indian cardiac surgeon. Be it the first pediatric heart transplant in India, the first bilateral lung transplant, the first successful coronary artery graft in India, the first auto transplant or the first internal mammary artery graft in the country, Dr K M Cherian has done it all.

Follow and connect with us on Facebook, Twitter, LinkedIn, Elets video