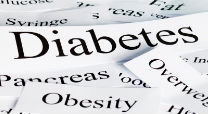 Inhibition of a novel enzyme could enhance a signal that promotes insulin secretion and reduces blood sugar levels, a study showed – raising hope of developing better therapeutics against diabetes.
Insulin is an important hormone in our body that controls glucose and fat utilisation.

The secretion in the blood of insulin is dependent upon the utilisation of glucose and fat by the beta-cells and the production of a novel signal that they discovered named "monoacylglycerol".
An enzyme called alpha/beta hydrolase domain-6 (in short ABHD6) breaks down monoacylglycerol and thus negatively controls insulin release, the researchers discovered.
"Despite significant research on the mechanisms implicated in insulin secretion, the signal molecules involved in this process remained enigmatic; the identification of these signals is necessary to develop better therapeutics against diabetes," said Marc Prentki, a professor at the University of Montreal in Canada.
"When sugar is being used by the insulin secreting pancreatic beta-cell, it produces monoacylglycerol, a fat-like signal and this is associated with insulin release into blood," said Murthy Madiraju, a researcher at the University of Montreal Hospital Research Centre (CRCHUM).
"We found that the production of monoacylglycerol is essential for glucose-stimulated insulin secretion by the beta-cell," Madiraju added.
The study appeared in the journal Cell Metabolism.
With inputs from IANS

Follow and connect with us on Facebook, Twitter, LinkedIn, Elets video