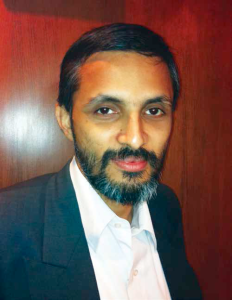 Pradeep Achan, co-Founder and CEO, Amrita Technologies, in conversation with Rajesh K. Sharma of Elets News Network (ENN) in important role RIS/ PACS plays in delivering quality healthcare
How do you perceive the growth of the healthcare segment in the IT market?
The tremendous potential of Indian healthcare is being realized now, with the private hospital chains coming up demanding EMR driven systems to ensure efficiency and quality patient care. At the same time, state governments have been emphasizing the modernization and automation of public hospitals. We believe the Indian healthcare IT story is on a fast track, and will see significant growth over the next five years.
While IT/HIS adoption is not new to Indian hospitals, what is changing is that hospitals now want systems built according to global standards, are integrated, and can scale up very quickly. Amrita Technologies has had many hospitals reach out to them for this. Hospitals have finally realized that to succeed, they need next generation systems to take advantage of advances in image technology and gigabit networks
By introducing RIS/PACS solution, hospitals are one step closer to being alldigital, thus meeting the need for improving the delivery of care to its patients. Whats your take on this?
When Amrita Technologies launched its fully integrated healthcare suite in 2003, its intention was to fully integrate the front office, back office and clinical functions at hospitals. An important aspect to this is an integrated and modular RIS/PACS solution. The days of printing X-Rays, MRIs on films with their associated delays of providing to the patient, transferring to the physician, storage, etc are long gone. Today, it is difficult to imagine going paperless without an integrated RIS/PACS solution.
How important is innovation for customers in the growth markets?
Innovation is a buzz word that many companies simply pay lip service to. In the end, innovation becomes more of a mindset " an approach to functioning rather than a mandated process.
Very simply, you need to innovate to survive. Healthcare IT companies come up with very good one time innovations, but unless it is a part of the mindset, it will not last. Many IT vendors have come and gone in the healthcare space in the last 5-10 years. This is not an area for making a quick buck " most enterprise healthcare projects are complex, dealing with disparate users, and take time to implement. Patience and innovation are key to staying and growing in this sector.
How do you differentiate your products while serving small and medium hospitals and clinics as well as big hospitals? Is pricing an important factor?
Sector segmentation is quite important in Healthcare IT. They key difference in these segments is often the degree of automation that the hospital wants or is able to afford. Typically, the product used and services rendered are quite similar across hospitals regardless of size.
Many smaller and medium hospitals in the past had not adopted PACS/RIS systems mainly due to budget issues as well as due to an ad-hoc, non-integrated approach to automation. Pricing is – and in my opinion – will remain a major driver in this segment. However, cloud based solutions may be able to fill in this vacuum, providing a fixed set of automated services catering to this segment alone.
This is not an area for making a quick buck " most enterprise healthcare projects are complex,
dealing with disparate users, and take time to implement
Tell us about your RIS/PACS solutions.
The Amrita MedVision application and the Picture Archive and Communication System (PACS) is a next generation system that helps you archive, retrieve, distribute, and viewing of radiographic images of patients. Amrita PACS is built with advanced integration frameworks to support new generation machine modalities " multiple slices, pet CT scans, etc. Also, it has been optimized for web delivery " today it is essential to cater to radiologists at different physical locations, and even when they are on the move sometimes.
PACS offers a complete range of image management protocols and tools, for image storage, display, and distribution. By delivering images and information within the context of the EMR, the patients electronic medical record, PACS makes the images and reports available online. A doctor can quickly display these images using the MedVision DICOM viewer at any time from across the hospital, including OPD, office, nursing ward, ICU, and OT, at the click of a button.
The HMIS solution integrates with the Picture Archiving Communication System (PACS) and MedVision application. All images taken by the modality are captured and archived by PACS. These images can be accessed and viewed at any time by a doctor or a technician using the MedVision DICOM viewer.
So a clear statement, RIS/ PACS are here to stay as part of the overall and ongoing transformation of healthcare?
Definitely. The hallmark of good quality clinical care is access to quality radiology investigations. As customers demand better quality of care, and hospitals invest in systems to streamline operations and avoid paper, RIS/PACS solutions will become an integral part of an HIS/HMIS offering.
What is your prediction for this market in the next decade in India? What are the growth contributors in the industry?
India is on the cusp of an explosion in healthcare services. Hospital beds are expected to double in 5-8 years, and there is tremendous consolidation in this space. Running large and complex hospital operations with more demanding and knowledgeable patients and medical staff will drive the growth of Healthcare IT tremendously. Now, after the successful Maharashtra MEDD deployment (many of the Largest Hospitals and Medical Colleges in Mahastrashtra on Amrita HIS and RIS/PACS) many state governments are floating tenders and EOIs for HMIS and PACS solutions. As I said earlier, patience and innovation will be the key to growth in this space.

Follow and connect with us on Facebook, Twitter, LinkedIn, Elets video