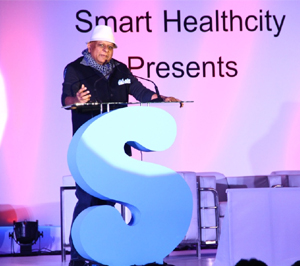 – Smart Living is the flagship initiative of Smart Health City
  – Smart Global plans to invest about $250 million in the healthcareinitiatives and make Saket City Hospital a 1,000-bed unit by 2016
Smart Global, a US$ 2 billion diversified conglomerate announced the launch of 'Smart Living', a unique and holistic initiative that aims to provide comprehensive curative, regenerative and preventive solutions. The launch witnessed discussions by distinguished panelists including Dr Pervez Ahmed, Vice Chairman & Lead Director, Saket City Hospital; Dr Roger J. Howe, PHD, utive Chairman, Stemedica USA and Chief utive Officer, Stemedica International; Dr JeyaPrakash, Director, Medical Park and Aesthetic Surgeon & Age Management Consultants and Sameer Maheshwari, Founder CEO, HealthKart. Â
Singer Ms Carlyta Mouhini gave a scintillating live performance on Senorita song from the blockbuster movie 'Zindagi na milegi dobara' at the launch event. Â
Commenting on the launch, Dr. B.K Modi, Chairman, Smart Global, said "As India continues to advance and raise its benchmark of development, the need for a modern, proactive and sensitive healthcare ecosystem is most immediate. Smart Living will offer the best expertise and the highest quality of services. By 2016, we aim to invest about $250 million in the healthcare initiatives and make Saket City Hospital a 1,000-bed unit. Smart Health City is a $3-billion project and we are confident that we will contribute significantly to the growth and development in this segment. Delhi will be the first Global City coming out of India."Â
"We see a tremendous opportunity in our Smart Living initiative which is set to revolutionize the healthcare sector. Our main vertical for growth in India will be healthcare segment. We have already invested $100 million in developing the healthcare facilities in India, which includes refurbishing of the Saket City Hospital in Delhi as well as the Smart Living initiative", he further added. Â
Smart Health City is based on the concept of adopting a holistic and mindful approach to wellness through curative and preventive intervention. Smart Health city represents the healthcare vertical of the Group comprising Saket City Hospital and Smart Living. Smart Health city will consist of facilities offering premium, multi-dimensional services in wellness in the fields of Yoga, Meditation, Age Management, Stress Management, Assisted Living, Vipassana, Stem Cell Therapy, Wearable Health Devices, Wellness Spa, Aesthetic Medicine, etc. All these services will be offered through experts with whom Smart Health City have exclusive tie ups and partnerships. Smart Health City shall also house facilities like Alternative medicine block, convention centre, medical office building, research & testing centre, medical recuperation, serviced apartments, education & training block and residential block.
Â
Smart Health City will be located at Saket in South Delhi, spread over an area of 15 acres and is expected to be completed in a phased manner by FY 2016/2017. Jones Lang La Salle has been appointed as the infrastructure partner for Smart Health City.Â
Speaking at the event, Dr Pervez Ahmed, Chairman & Director, Saket City Hospital Pvt Ltd and Chairman & Managing Director – Aapka Urgicare Pvt Ltd, said, "In today's era, Technology has left behind medicine and we will see Telemedicine and clinical research to create benchmark in the segment. Saket City Hospital and Smart Living will be leading pioneers for all edge cutting technology in the healthcare segment". Â
Dr Roger J. Howe, PHD, utive Chairman, Stemedica USA and Chief utive Officer, Stemedica International mentioned that stem cells will be one of the major transformation that the overall industry will witness in the times to come. Stem Cells can create miracles and we are thankful to Dr Modi for bringing the latest technology to India which is set to transform the overall healthcare system in India. Â
According to industry estimates, Indian Wellness Industry is worth INR 490 Bn and shall grow at a CAGR of 20% of reach INR 875 Bn in the next three years. In addition, it has a potential to create nearly 3 million jobs including a demand for over 600,000 skilled wellness personnel.