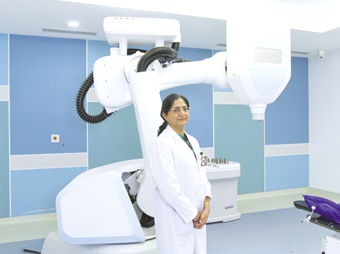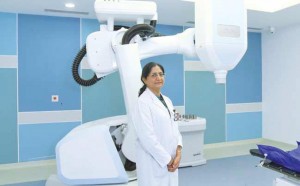 CyberKnife has a huge role to play when cancer incidence is on the rise worldwide ,asserts Dr Tejinder Kataria, Radiation Oncology Head at Medanta Hospital
Lung cancer has the highest incidence in both the developing and developed countries accounting for 12.7 percent of all cancer cases followed by breast cancer at 10 percent and colorectal cancer at 9.7 percent. The research and advances in screening, surgery, chemotherapy and radiation have changed the  overall survival in breast cancer for early stages reaching more than 80 percent.
Lung cancer is difficult to treat as compared to other cancers with 75 percent of all patients losing their battle to the disease for want of adequate treatment modalities. According to the National Cancer Registry Project, India, more than 60 percent of patients are diagnosed with cancer at the late stages due to poor awareness of symptoms. Curative surgery is possible in only 20 percent of lung cancer cases as the tumour spreads to the lymph nodes and distant organs before being detected. Most of the lung cancer patients have co-existing conditions like chronic pulmonary disease or cardiac disease due to smoking and age-related changes and are not able to undergo either anaesthesia or surgery.
In fact lungs infected with cancer are home to distant metastases from colorectal, kidney, breast, pancreas, sarcomas and cervical cancers. The possibility of cure in patients with less than three cancer deposits in brain, lung, liver or bone i.e. oligometastatic cancer has remarkably improved due to availability of focussed radiation by way of stereotactic radiation in the last decade.
Cyberknife is a Robotic Radiosurgery device that has the capability of treating tumours anywhere in the body without the need for anaesthesia. Approved by US-FDA in 2001 and CE-marked for cancer and noncancer treatments, it is a new hope for cancer patients and can treat all kinds of cancers at different stages.
Though its name may conjure images of scalpels and surgery, the Cyberknife treatment involves no cuts. It provides a pain-free, non-surgical option for patients who have inoperable or surgically complex tumours, or who may be looking for an alternative to surgery.
Treatment time with CyberKnife is limited to 30-45 minutes for channelising 100-120 radiation beams from 1,200 areas to the targeted tumour. The patient is completely conscious during the procedure. Also it needs only 3-5 fractions with little or no recovery period allowing patients to almost immediately return to normal activities.
With CyberKnife, localised treatment of cancer is possible by singling out the tumour and sparing normal tissues. Differential radiation is possible by increasing radiation dose for tumour while lowering dose for surrounding normal tissues.
The flexibility and ease with which the CyberKnife is able to  reach even the deep seated tumours is unmatched. Treating certain tumours like in the lung is challenging because those tumours move as you breathe, making it difficult to target them accurately with radiation. The CyberKnife can track, detect and treat tumours that move with respiration in organs like the lungs and liver with extreme accuracy.
It has the capability of reaching targets as small as five millimetres and as large as 10 centimetres with negligible risk to the organs surrounding the target. This enables Cyberknife to deliver radio-surgical doses to cancerous and non-cancerous tumours in delicate organs like the brain and spinal cord. In fact the treatment results are matched or at times better than open surgery.
CyberKnife offerings
There is no head- frame required to be fixed on the patient, breath holding which is difficult for some patients has also been dispensed with. The combination of image guidance cameras, robotics, and the latest computer technology ensures that the CyberKnife System is able to overcome the limitations of frame-based radiosurgery systems such as the Gamma knife and Linac based such as X-knife.
Unlike some radiosurgery systems, which can only treat tumours in the head, the CyberKnife System has unlimited reach to treat a broad range of tumors throughout the body, including the prostate, lung, brain, spine, liver, pancreas, and kidney. More than 100,000 patients have been treated so far with 250 installations worldwide.


Follow and connect with us on Facebook, Twitter, LinkedIn, Elets video